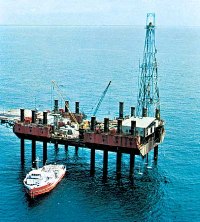 Several weeks ago, the Southern African Development Community (SADC) released a public objection to the presence of American soldiers in all Southern African countries under the jurisdiction of SADC. Similarly, over the past week, Nigeria has begun efforts to freeze the progress of the US military in erecting a military base in West Africa. The oil-rich Gulf of Guinea has been a target of US wooing, as many analysts argue that the US Africa Command's (AFRICOM's) primary objective will be to protect US oil interests. However, rising opposition from African governments as well as military and economic organizations makes AFRICOM's presence on the continent increasingly contentious.

According to Defense sources within the Nigerian government, "Nigeria is not taking the issue lightly at all and the government is not going to allow the US to establish any military base anywhere in the [Economic Community of West African States] ECOWAS region." 
This statement comes after a heightened terror alert on September 6th from the US government in Nigeria. Critics argue that the alert had less to do with true terror risk and may simply be used as justification for the necessity of AFRICOM. Furthermore, reports from This Day in Africa indicate that the Nigerian federal government has begun discussing the issue with the African Union (AU) in hopes that the new US Africa Command might be stopped entirely. There is talk that African Union representatives may present a proposal to the US Defense Department, arguing that the AU is capable of defending and protecting its own land without American soldiers.
Admiral Henry Ulrich, Commander of US Naval Forces in Europe, argued that a US presence in the Gulf of Guinea is not meant to subvert African forces, but is an expression of concern for countries like Nigeria that may need to fend off maritime criminals. However, the projection that 25 percent of US oil will come from Africa by 2015 hardly portends a purely altruistic reason for establishing AFRICOM.
Throughout the debate over where AFRICOM headquarters will be established, it is important to remember that the US military already holds some jurisdiction over the continent. Africa is currently covered by US Central Command (CENTCOM), US European Command (EUCOM), and US Pacific Command (PACOM); AFRICOM only creates a more cohesive force. Thus, AFRICOM is not new in its militarization of Africa but in the fact that it is including humanitarian work in its mission. The US began militarizing the continent years ago; that damage is already done. What AFJN is working to combat is the use of military personnel in civil society and humanitarian works.
AFJN applauds Nigeria and SADC for publicly announcing their concerns and objections. Currently, the debate seems to be focused on precluding the establishment of a military base, not necessarily the mere presence of American forces. Thus, the line remains to be drawn between which countries or organizations will refuse a base but permit armed forces and which will permit neither.
The United States ought to heed the opposition stemming from the continent and take into consideration any proposal that emerges from African governments or the AU. AFJN continues to follow the development of AFRICOM and encourages you to educate those around you to take an active voice on this issue. To learn more about AFRICOM and what you can do to support better US policies, visit US Military Policy in Africa Basic Facts and Want to Help? sections of the AFJN website.