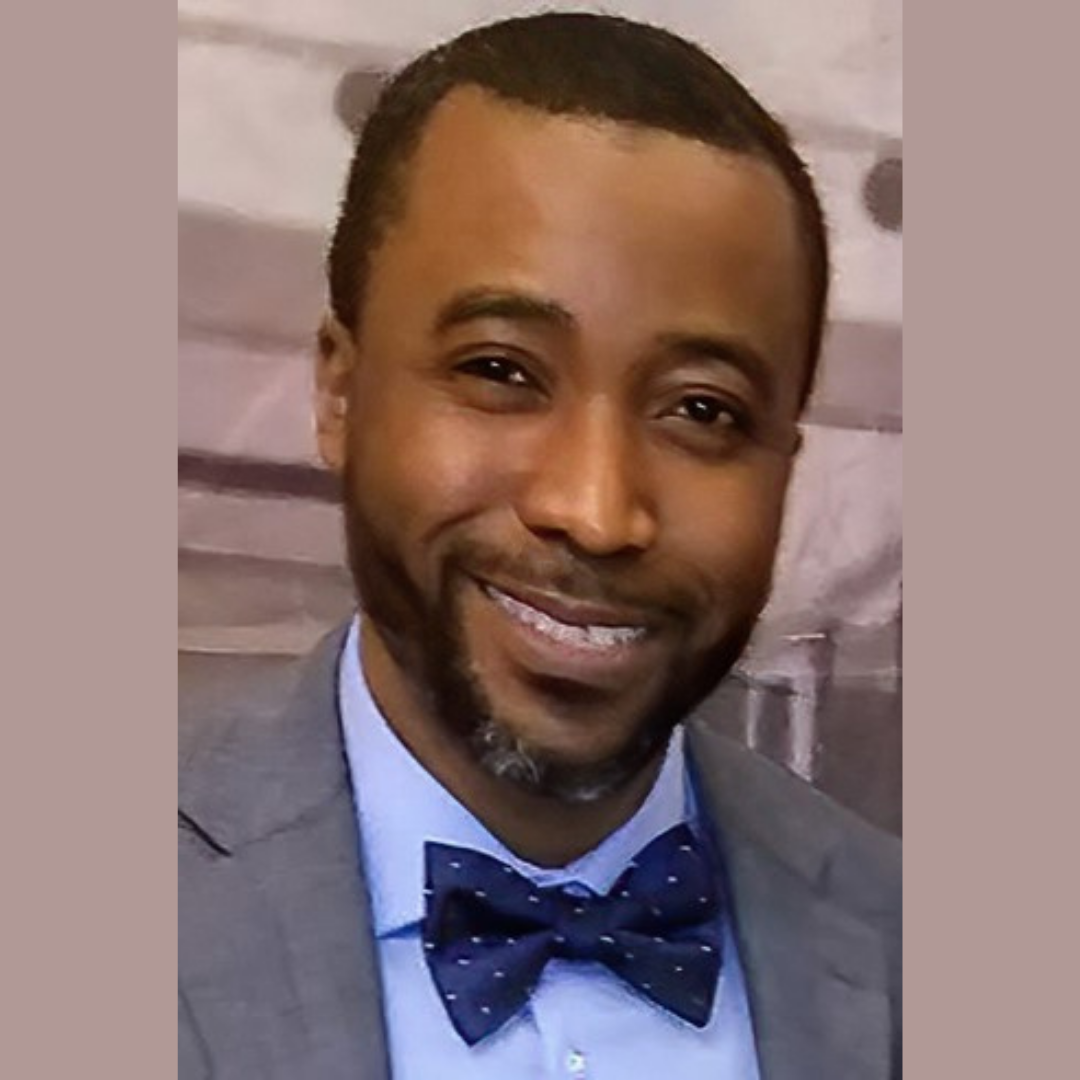 Steven Nabieu Rogers, PhD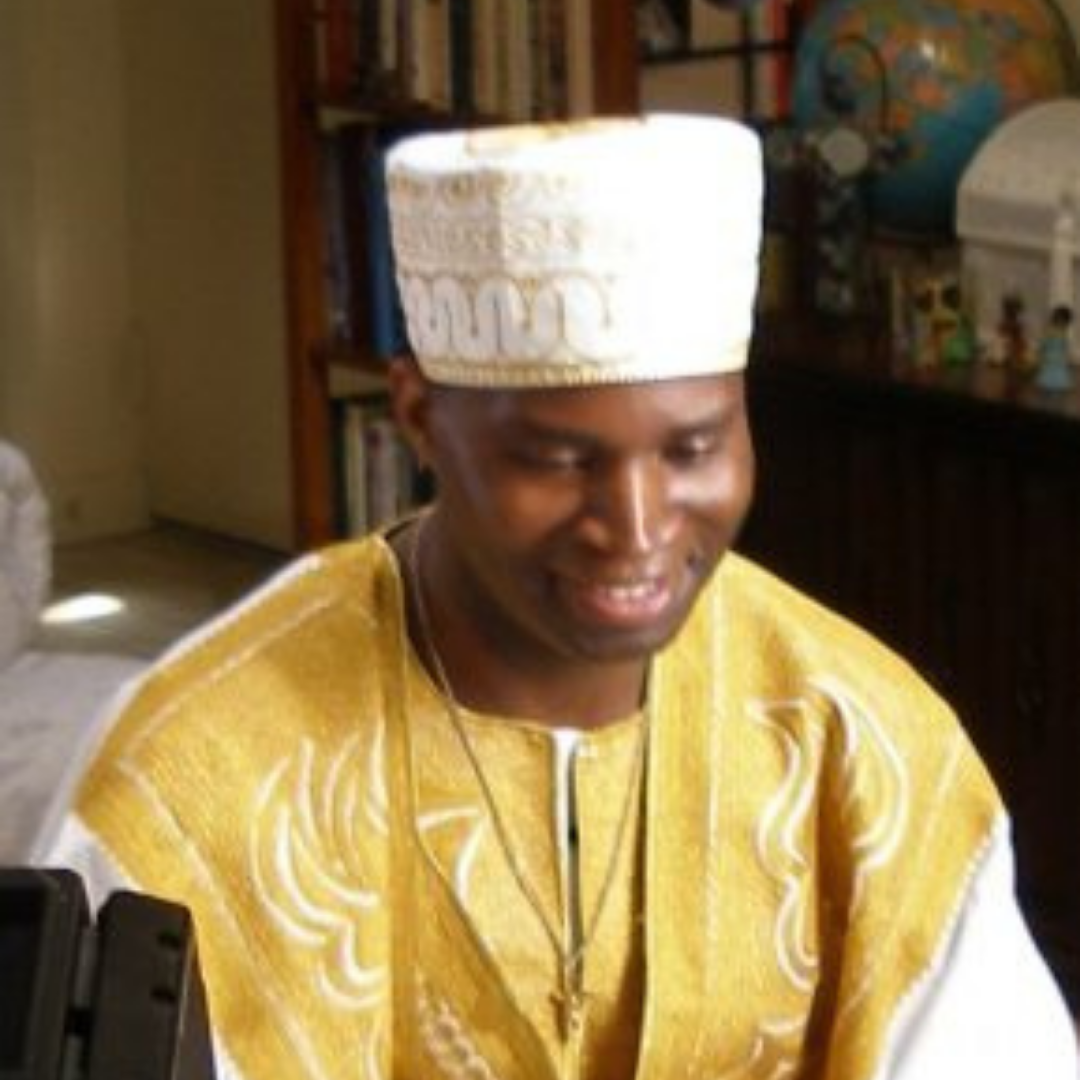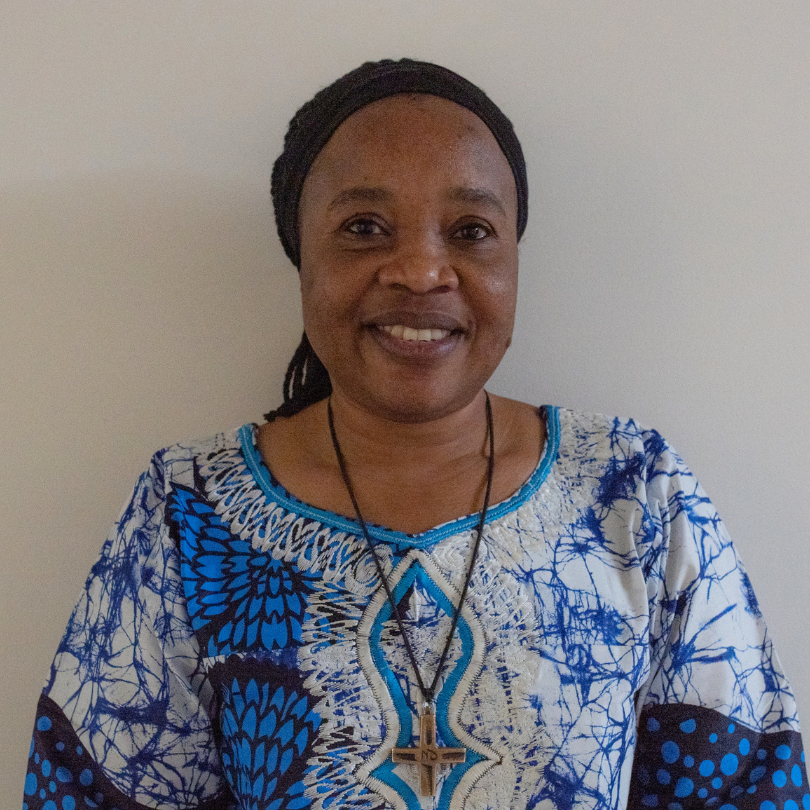 Eucharia Madueke, SNDdeN
Women Empowerment Coordinator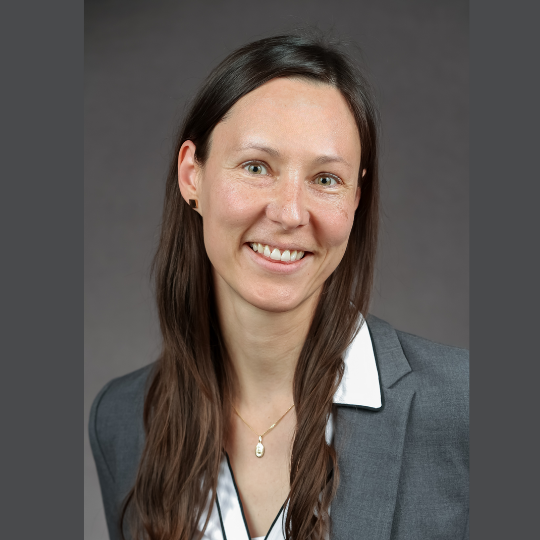 Lydia Andrews
Operations & Communications Manager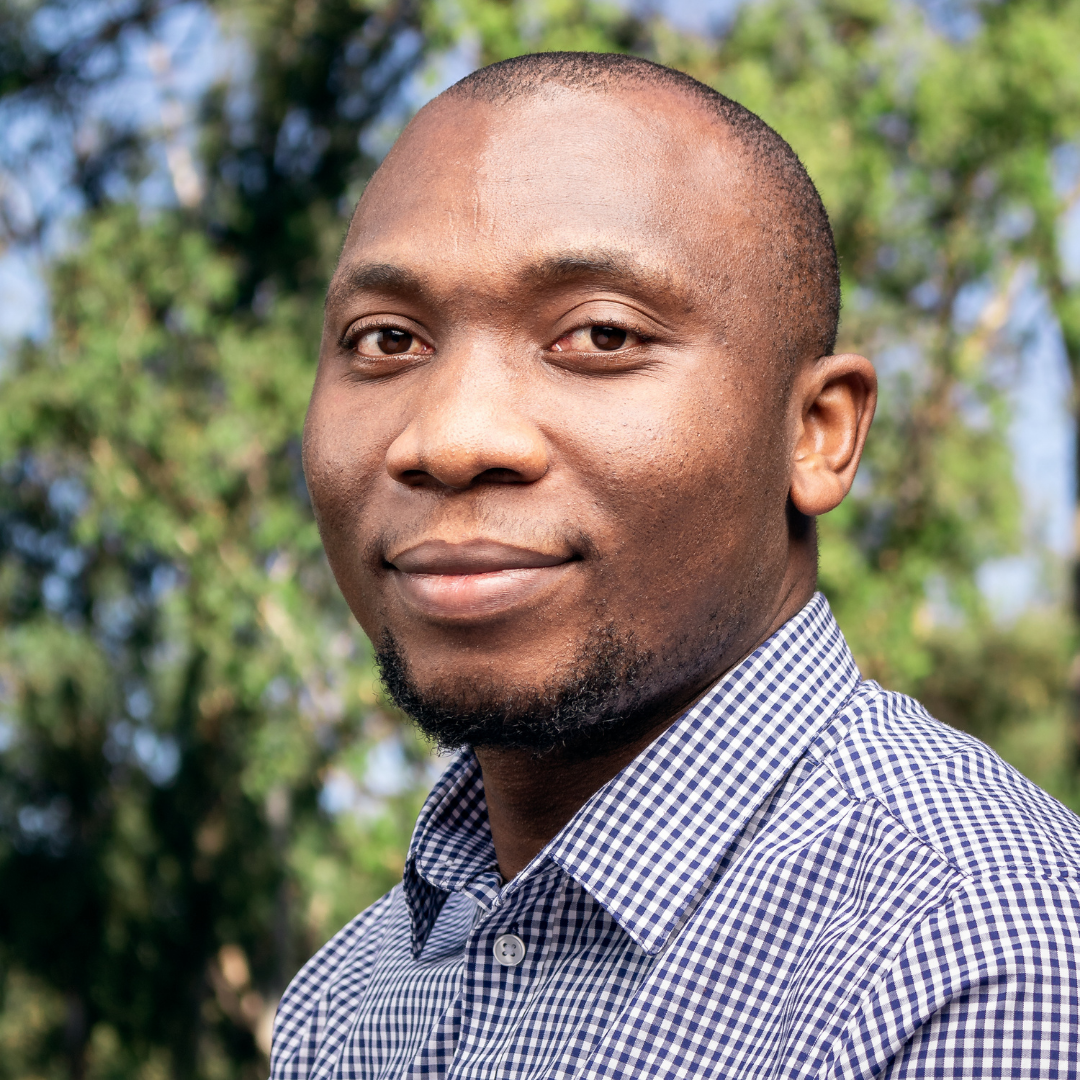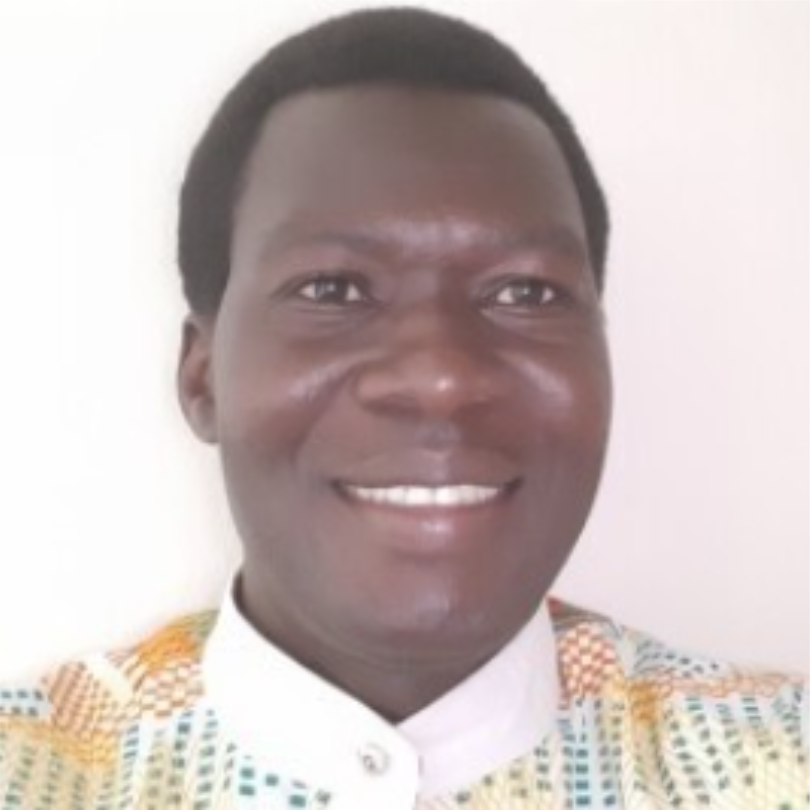 Fr. Barwendé Médard Sané, SJ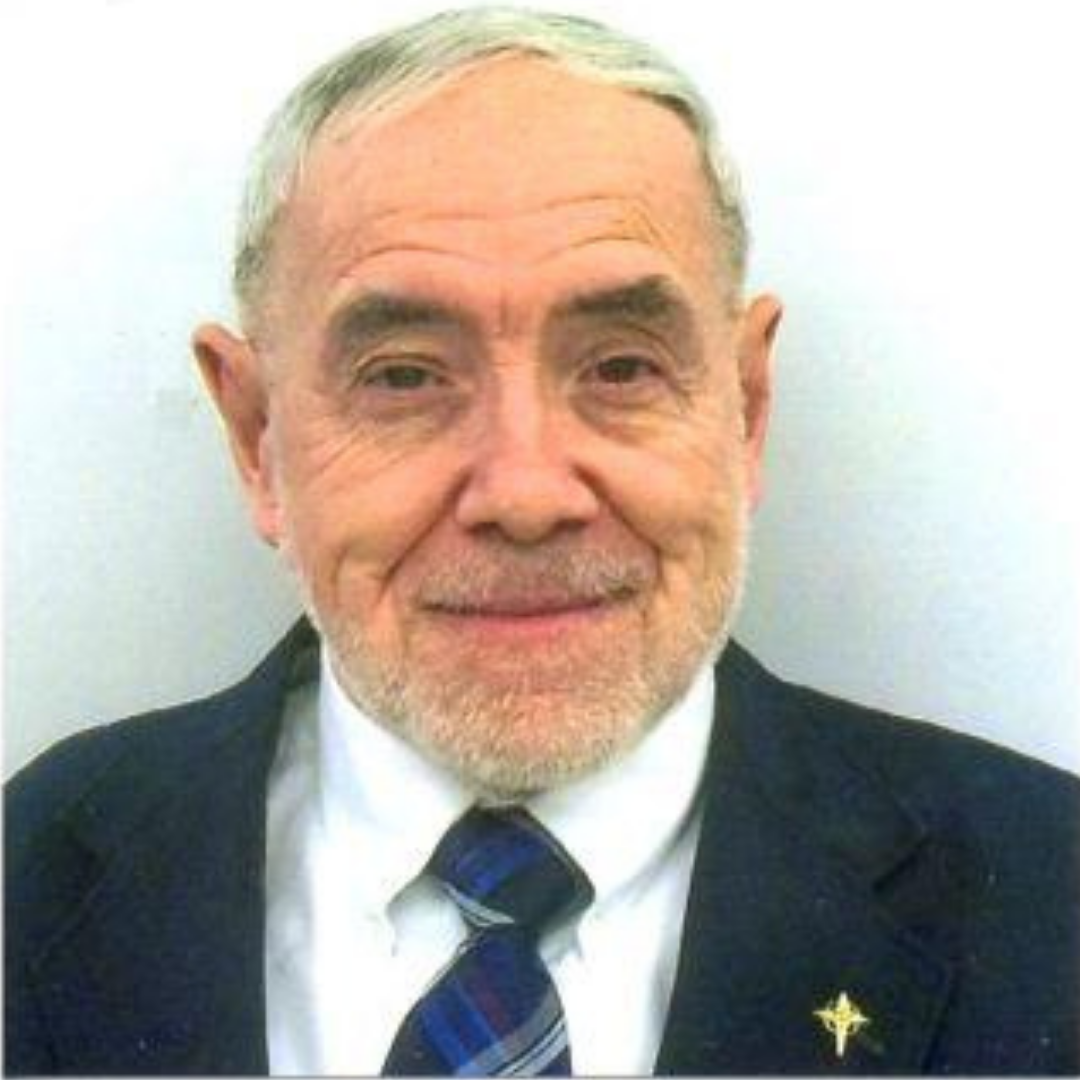 Br. David Patrick Mahoney, CFX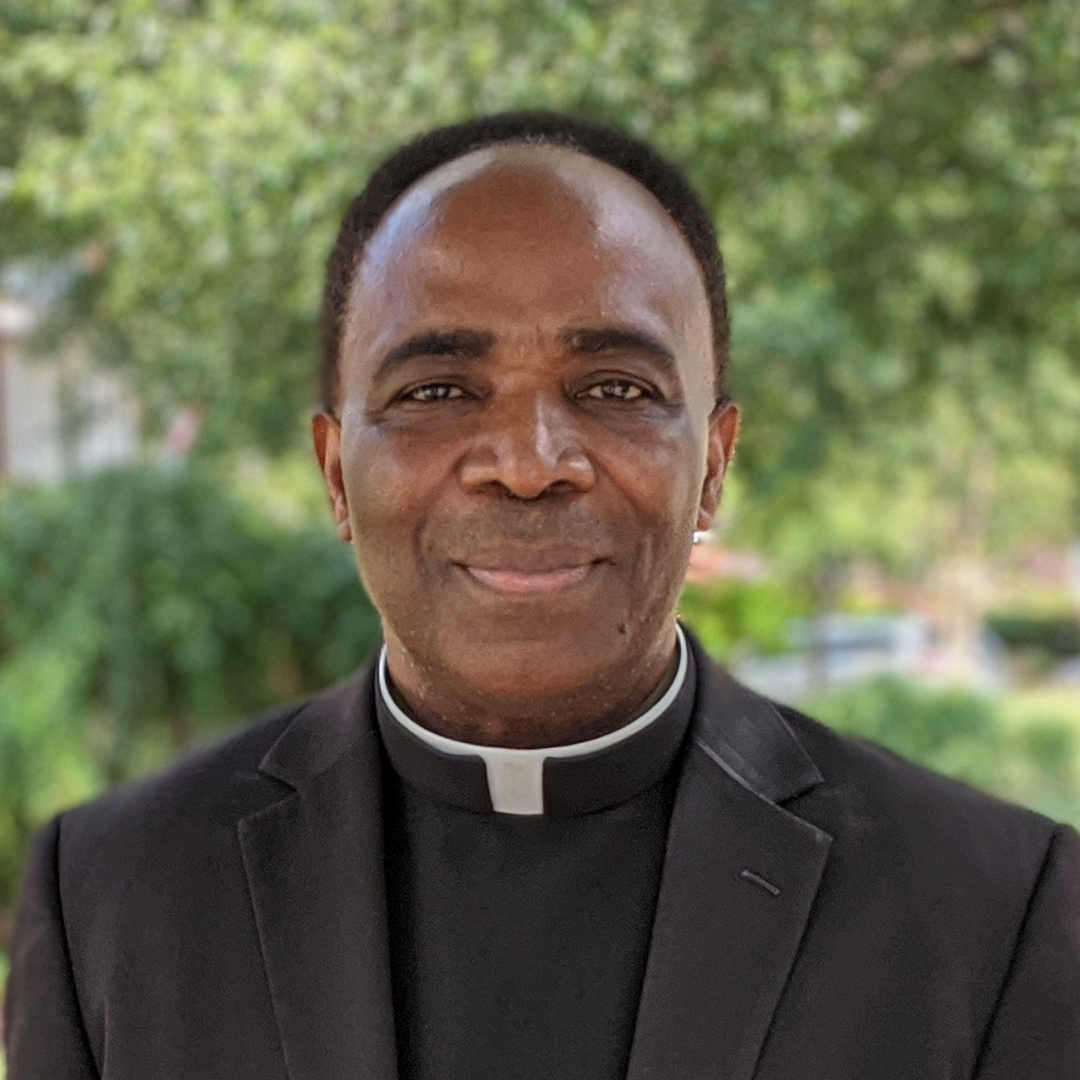 Aniedi Okure, OP
Consultant
(Former Executive Director)
Board of Directors
Executive Committee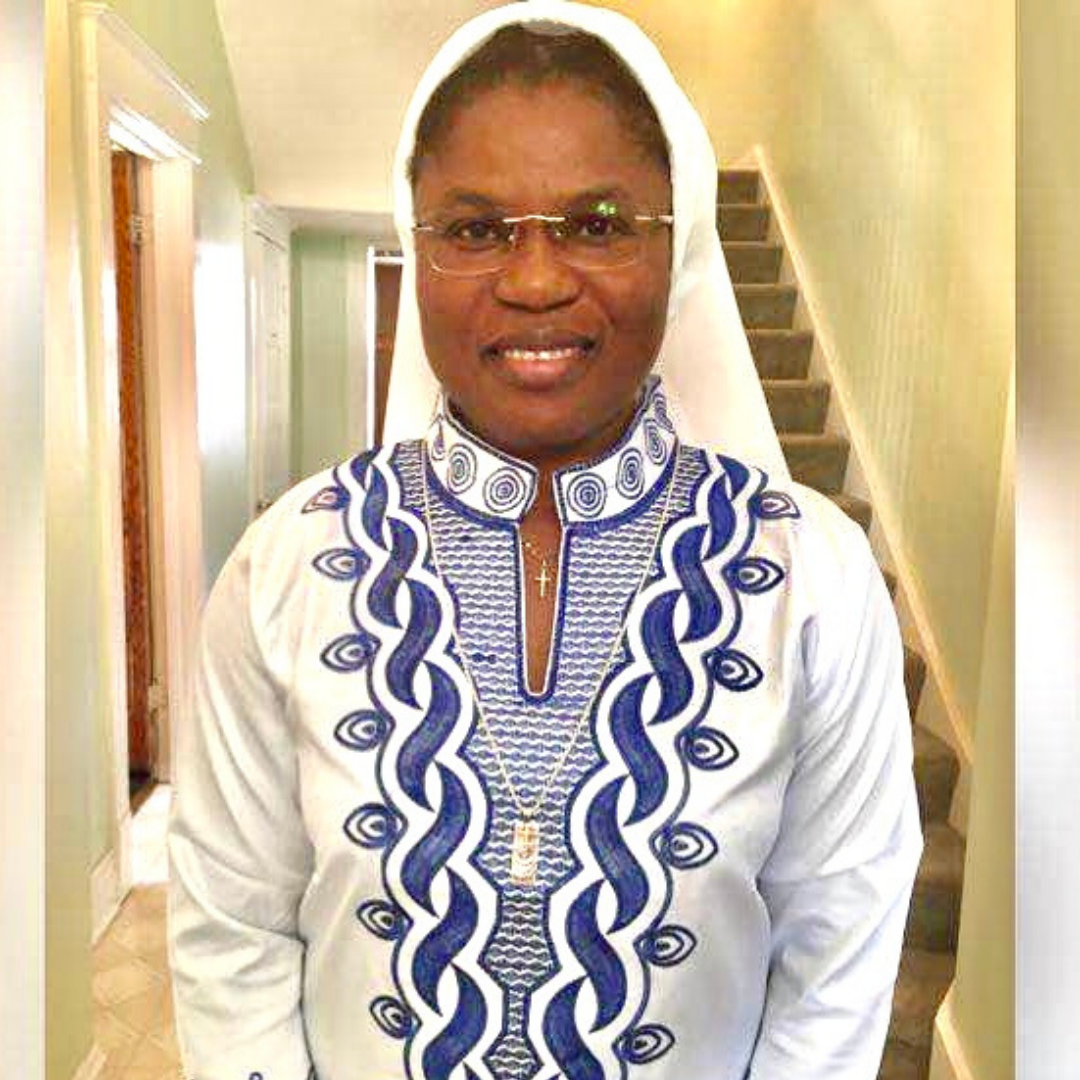 Nkechi Iwuoha, PHJC
Board Chair
Whiting, IN
Elected October 2022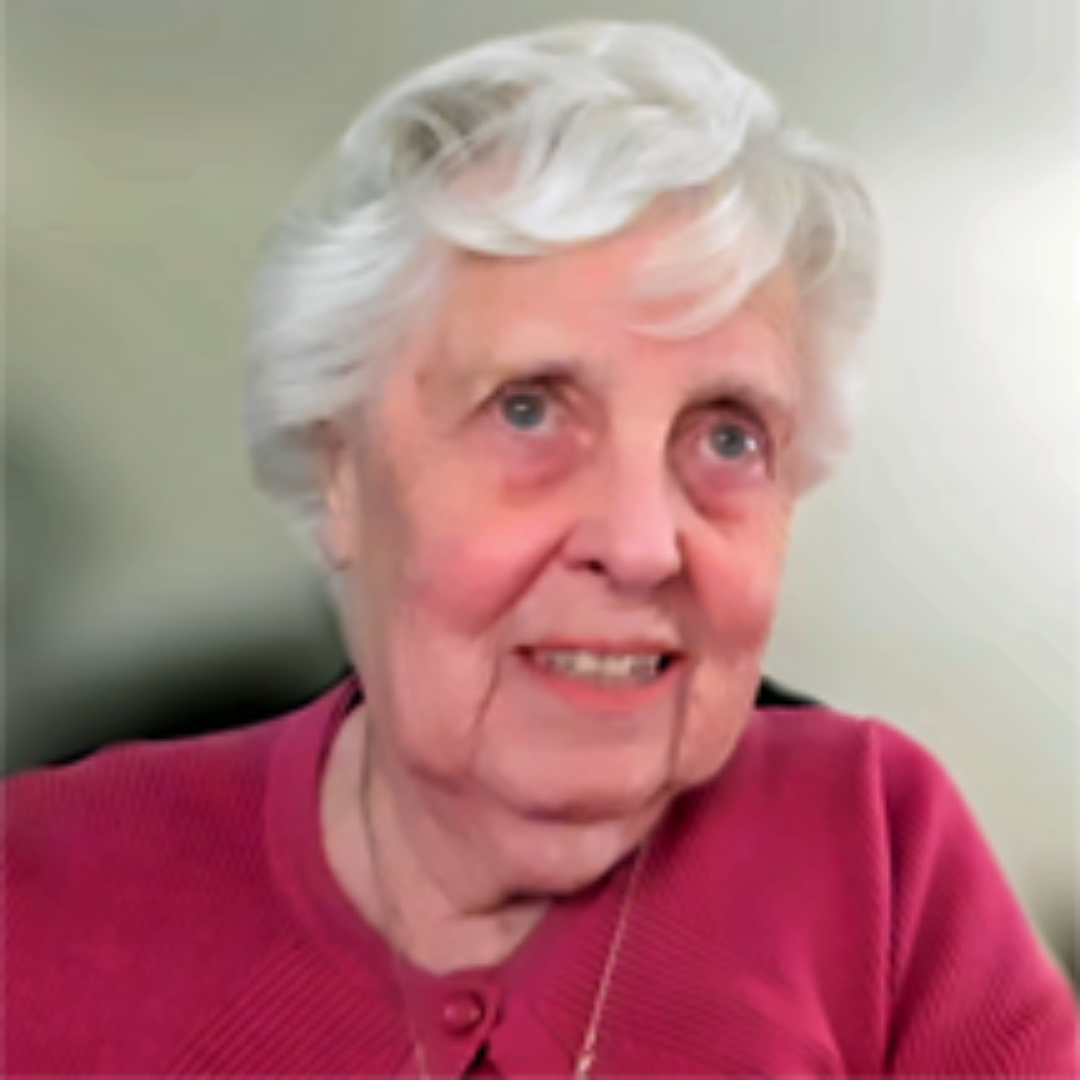 Maura Browne, SNDdeN
Board Vice-Chair
Washington, DC
Elected October 2022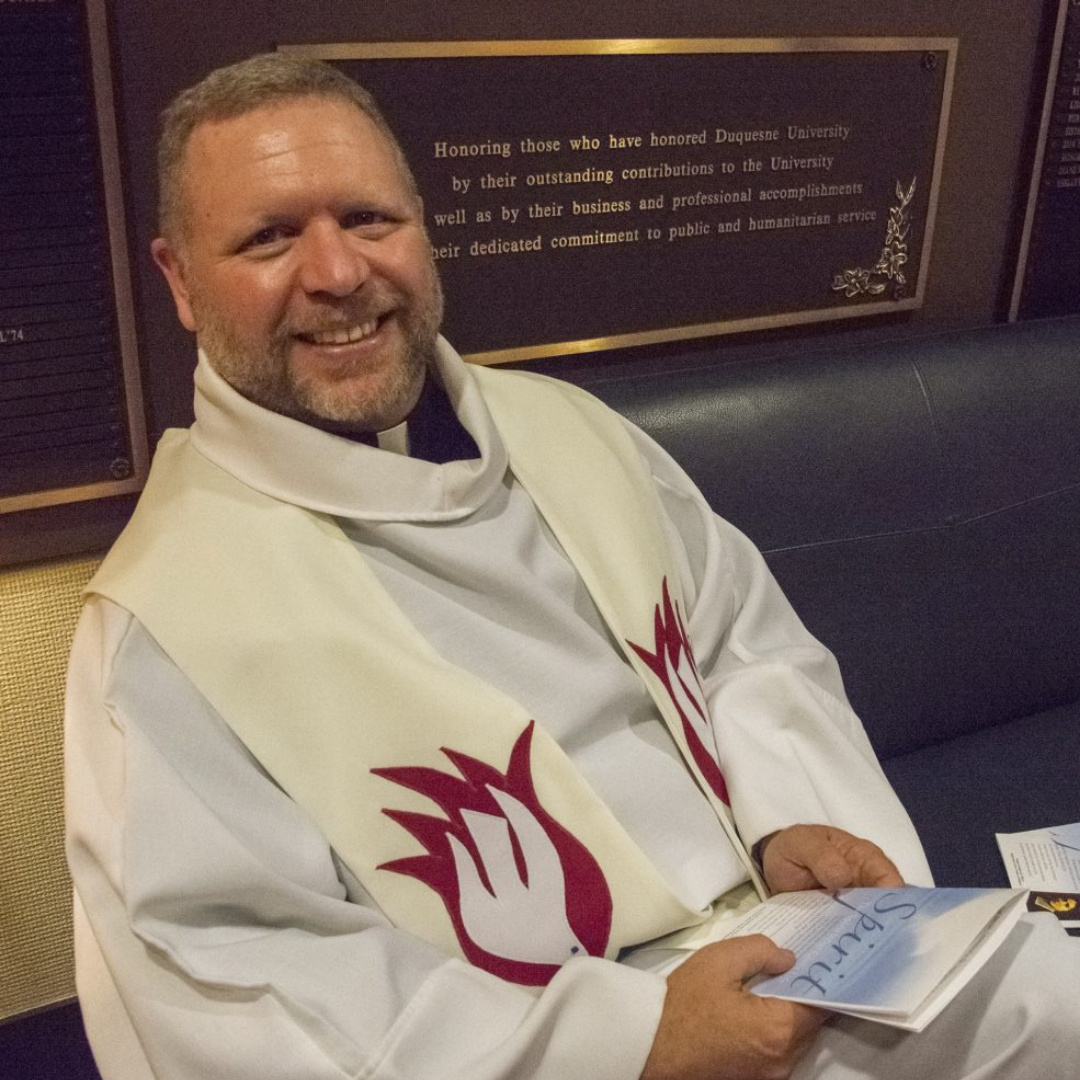 Bill Christy, CSSp
Board Secretary
Pittsburgh, PA
Elected October 2022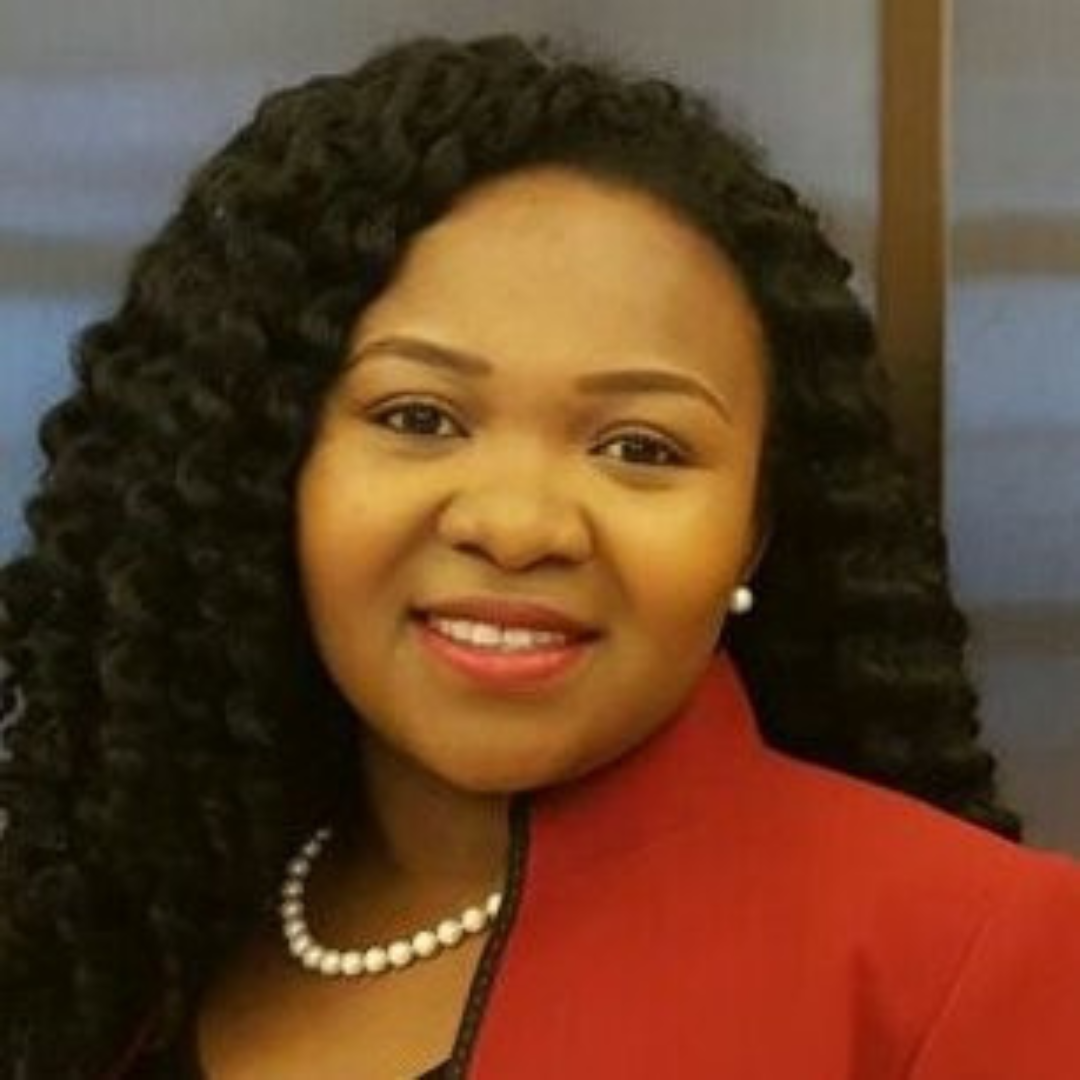 Ms. Jemima Andan
Board Treasurer
Bear, DE
Elected October 2022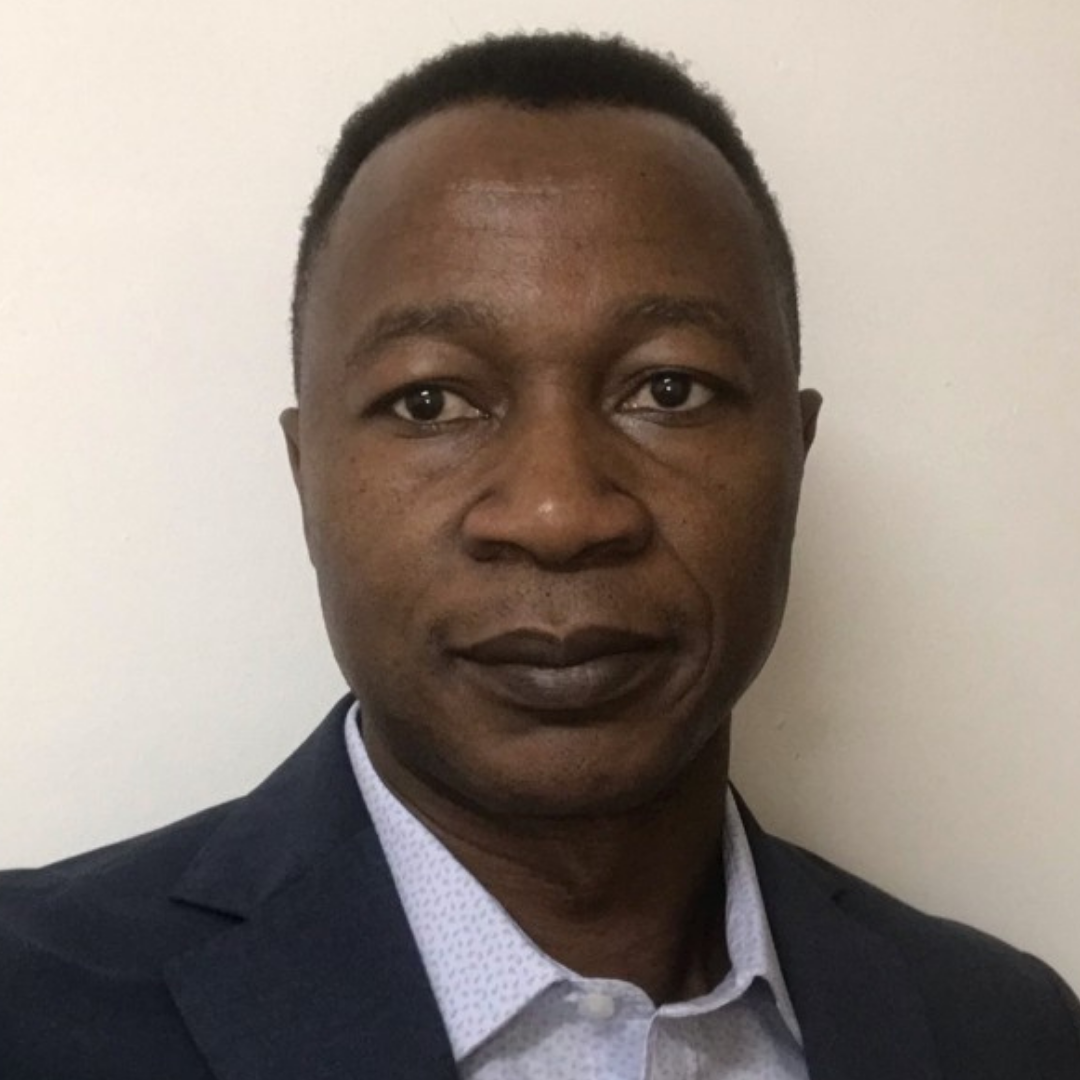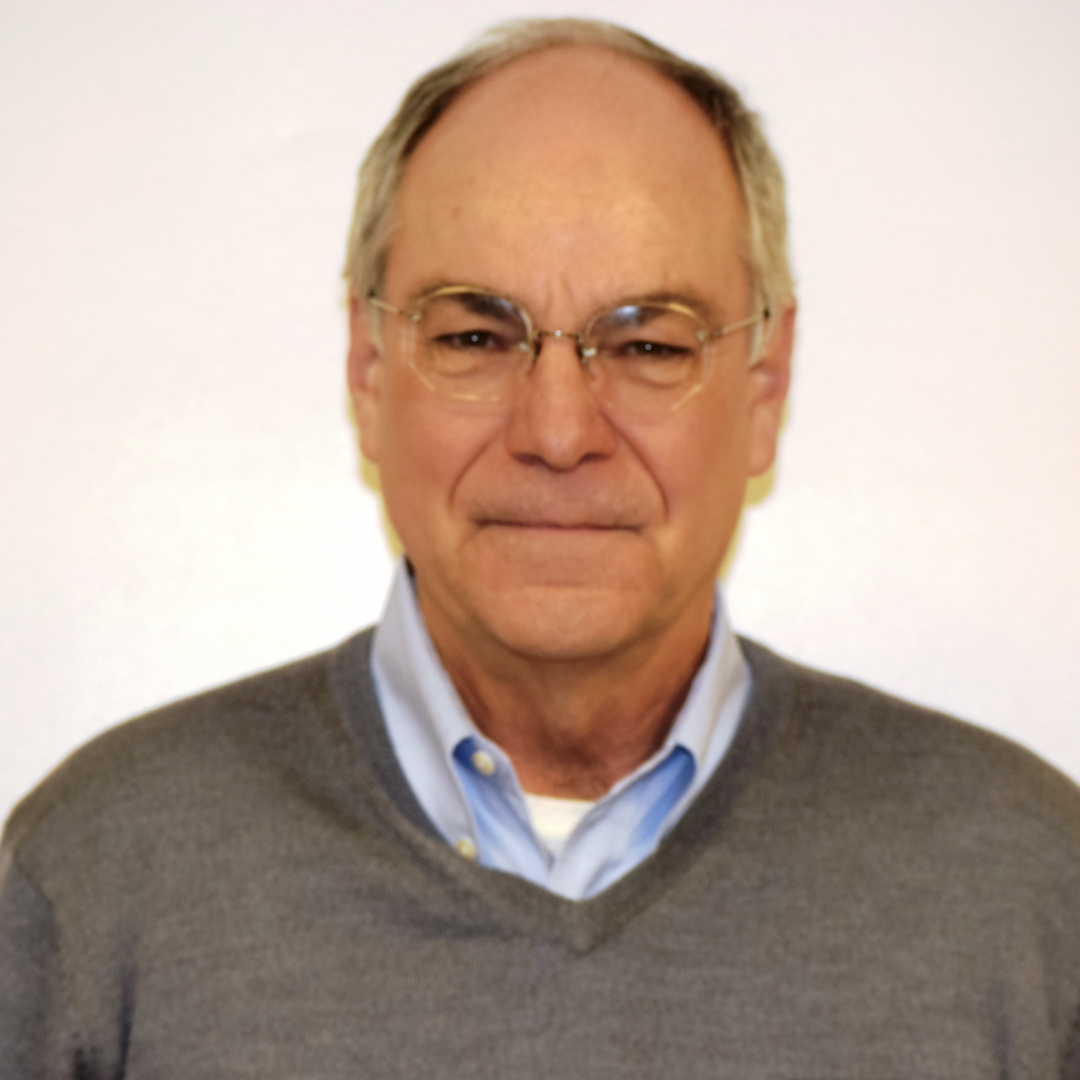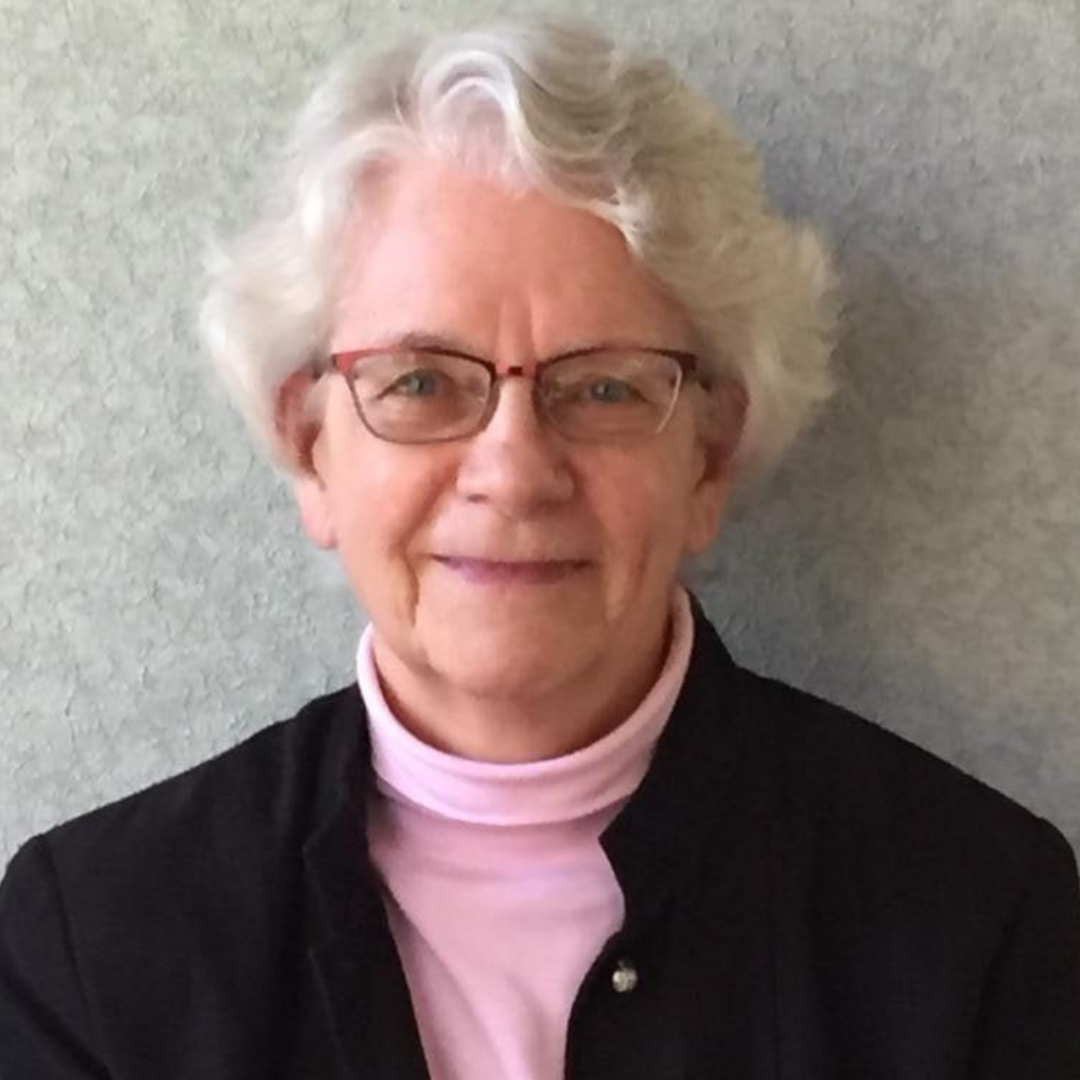 Florence Deacon, OSF
Notre Dame, IN
(Former Board Chair)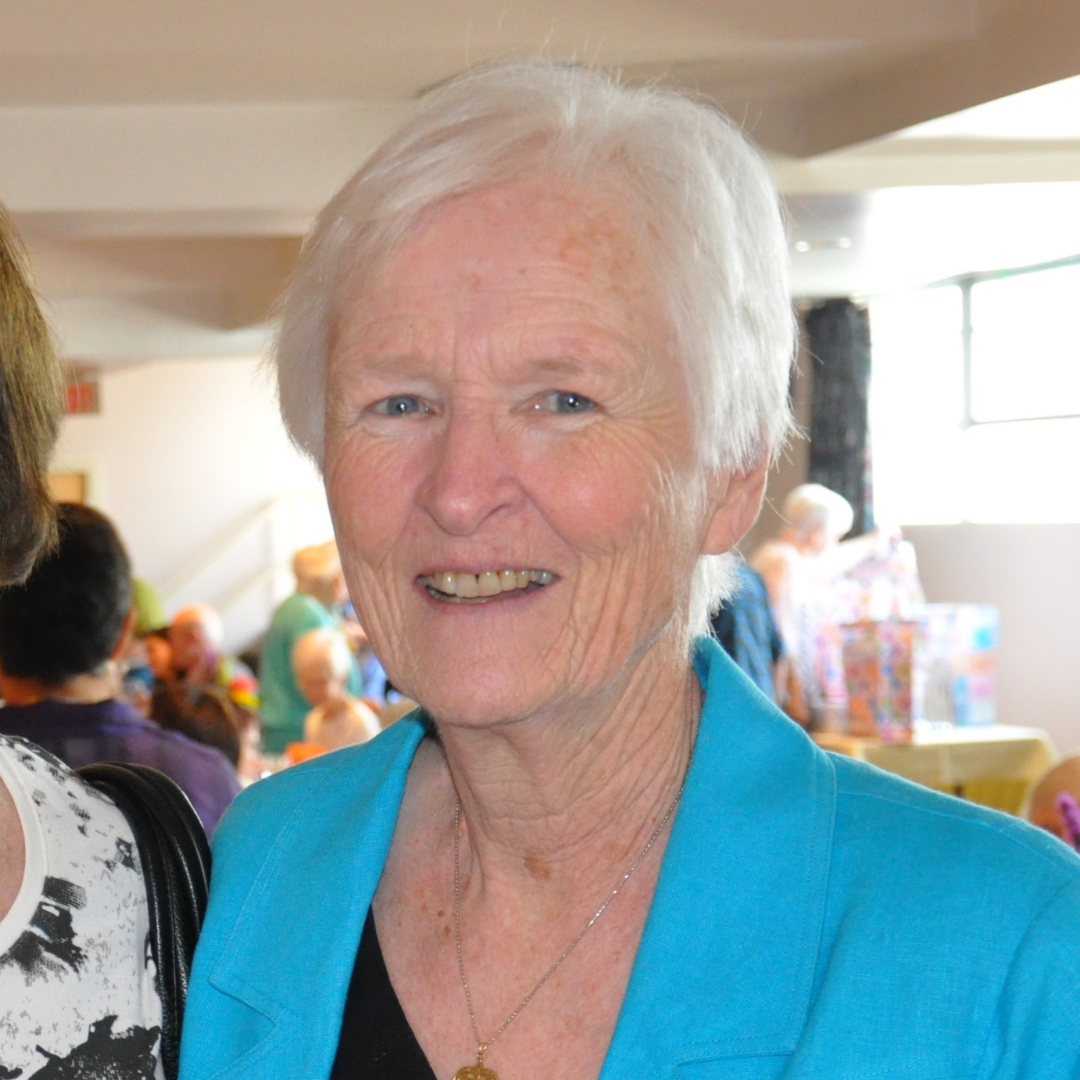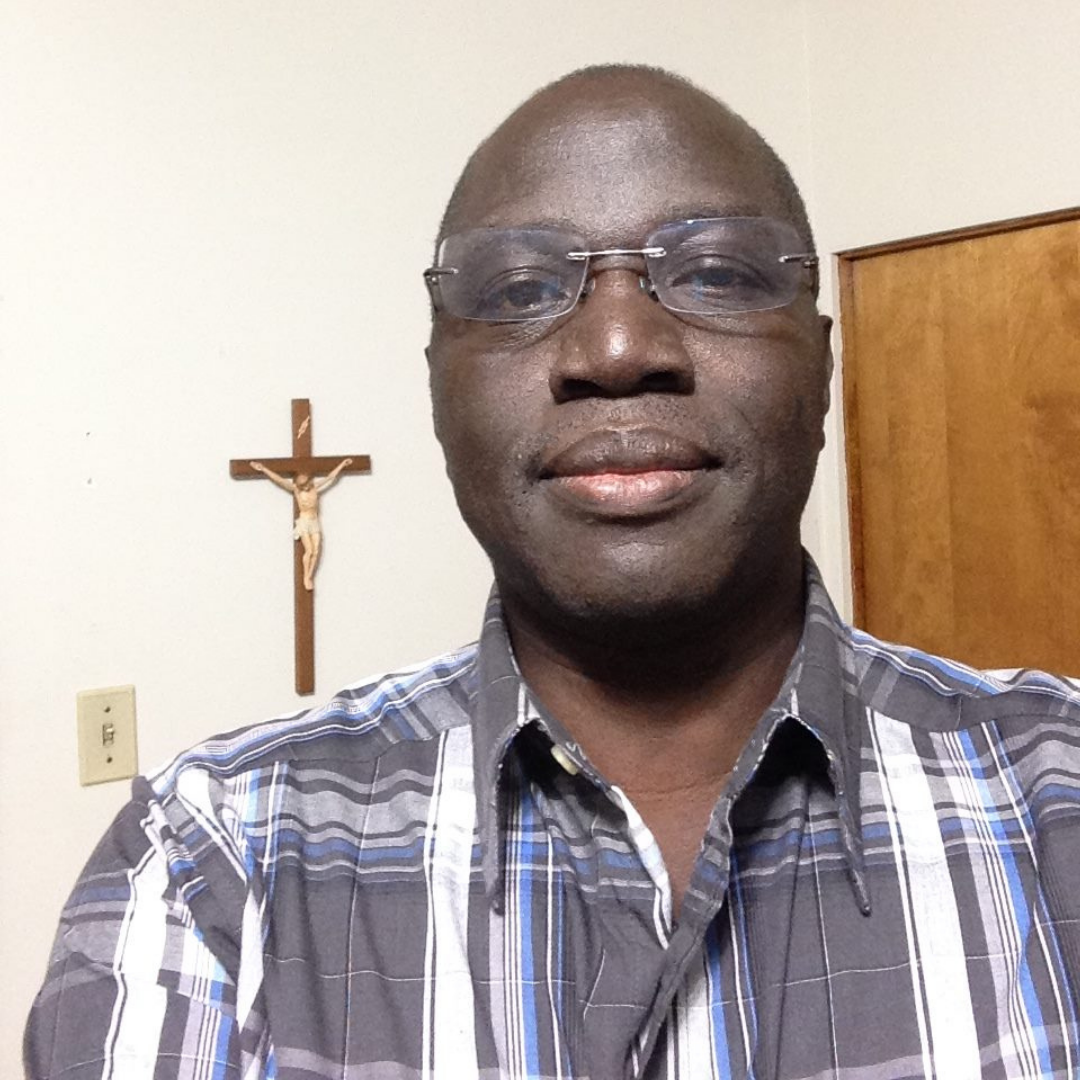 Very Rev. Ruffino Ezama, MCCJ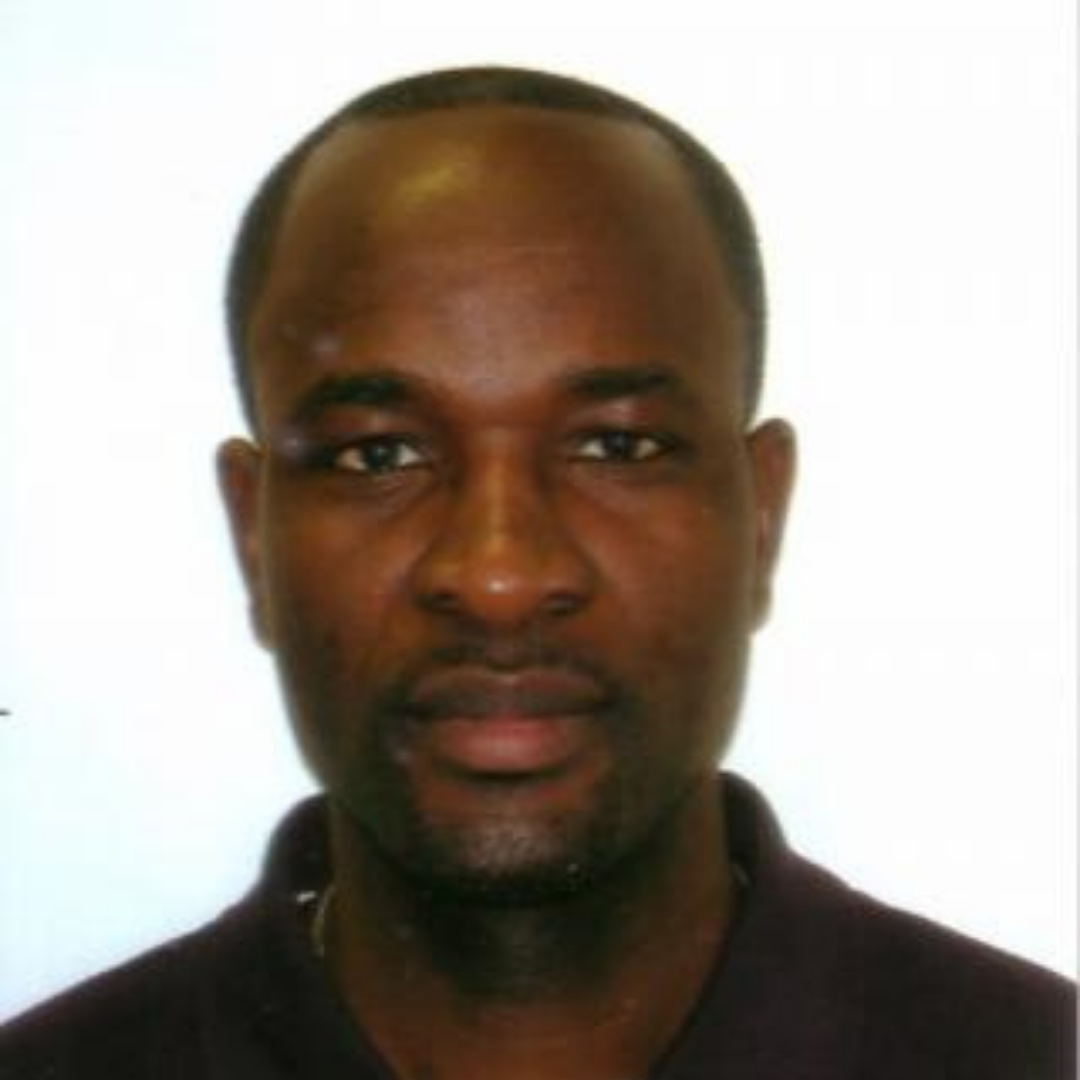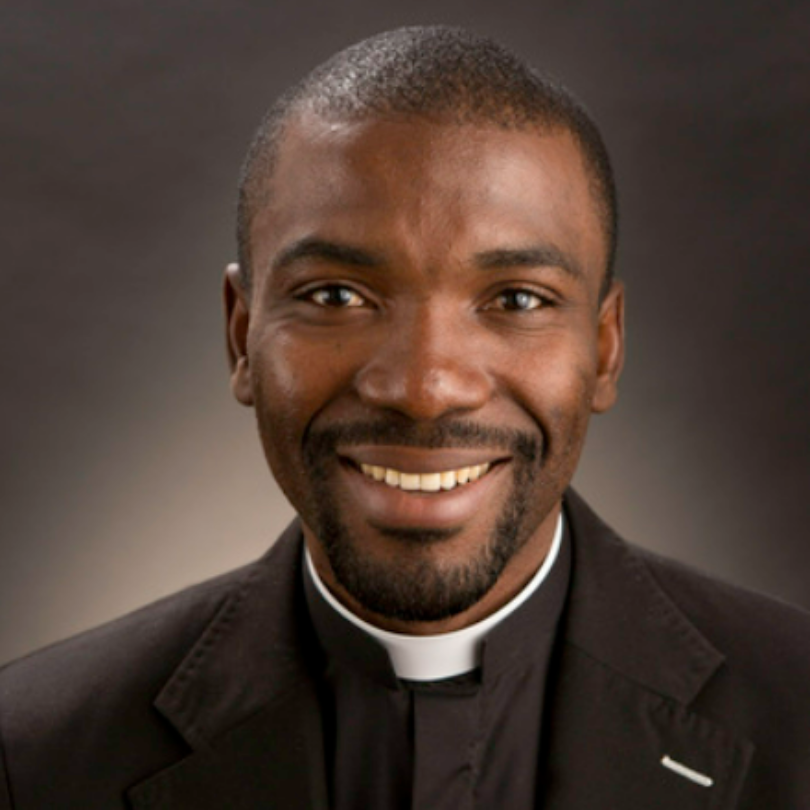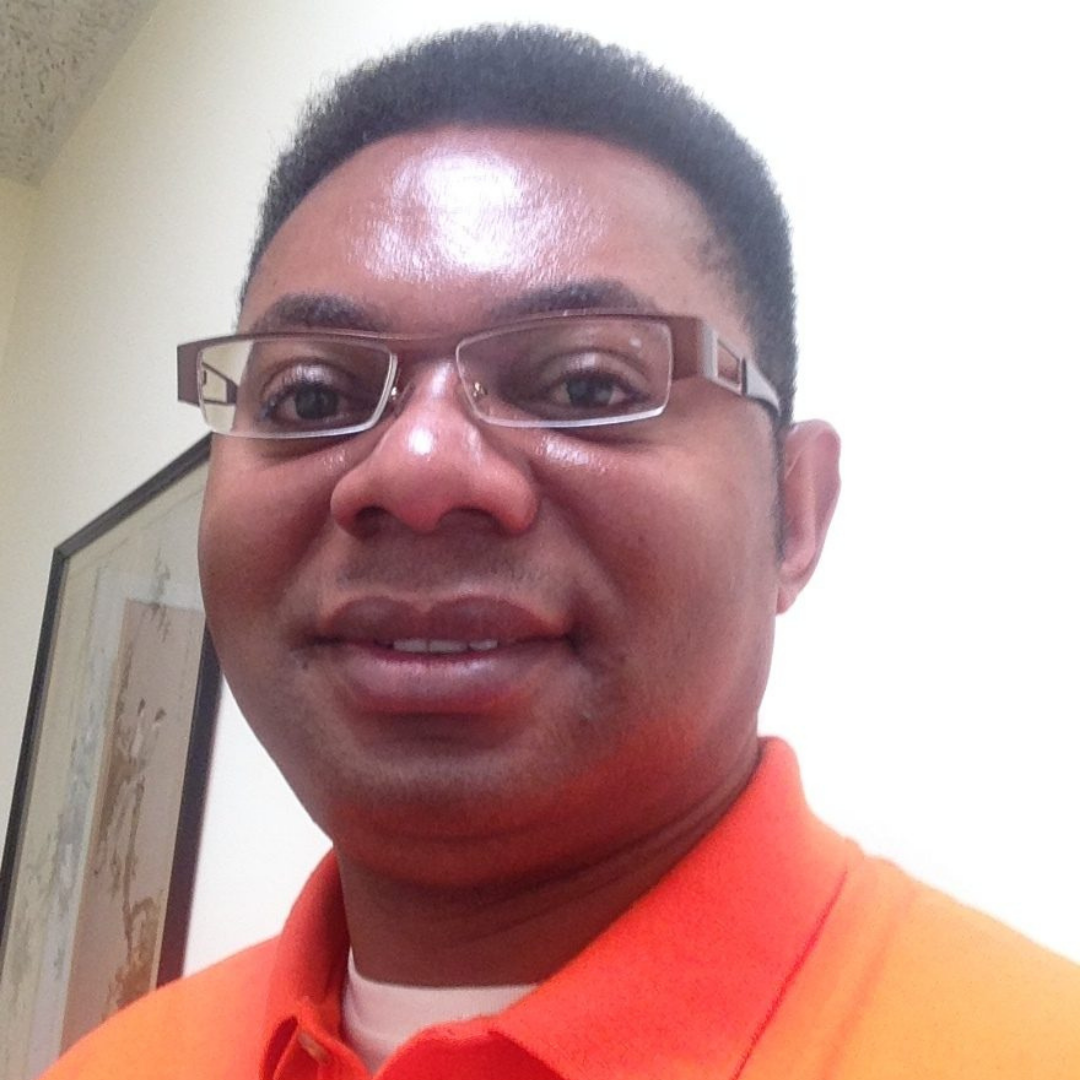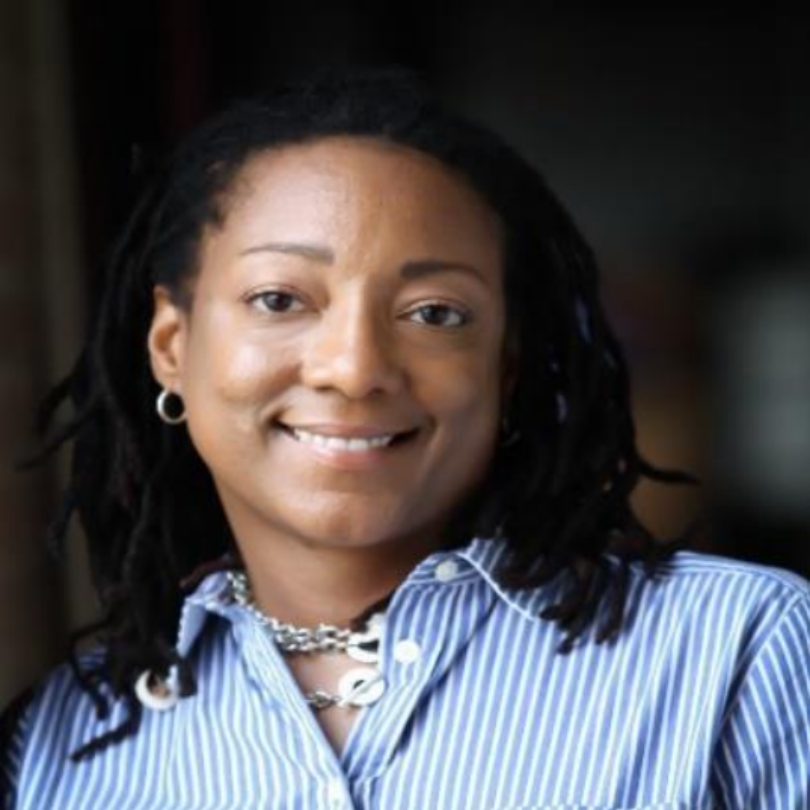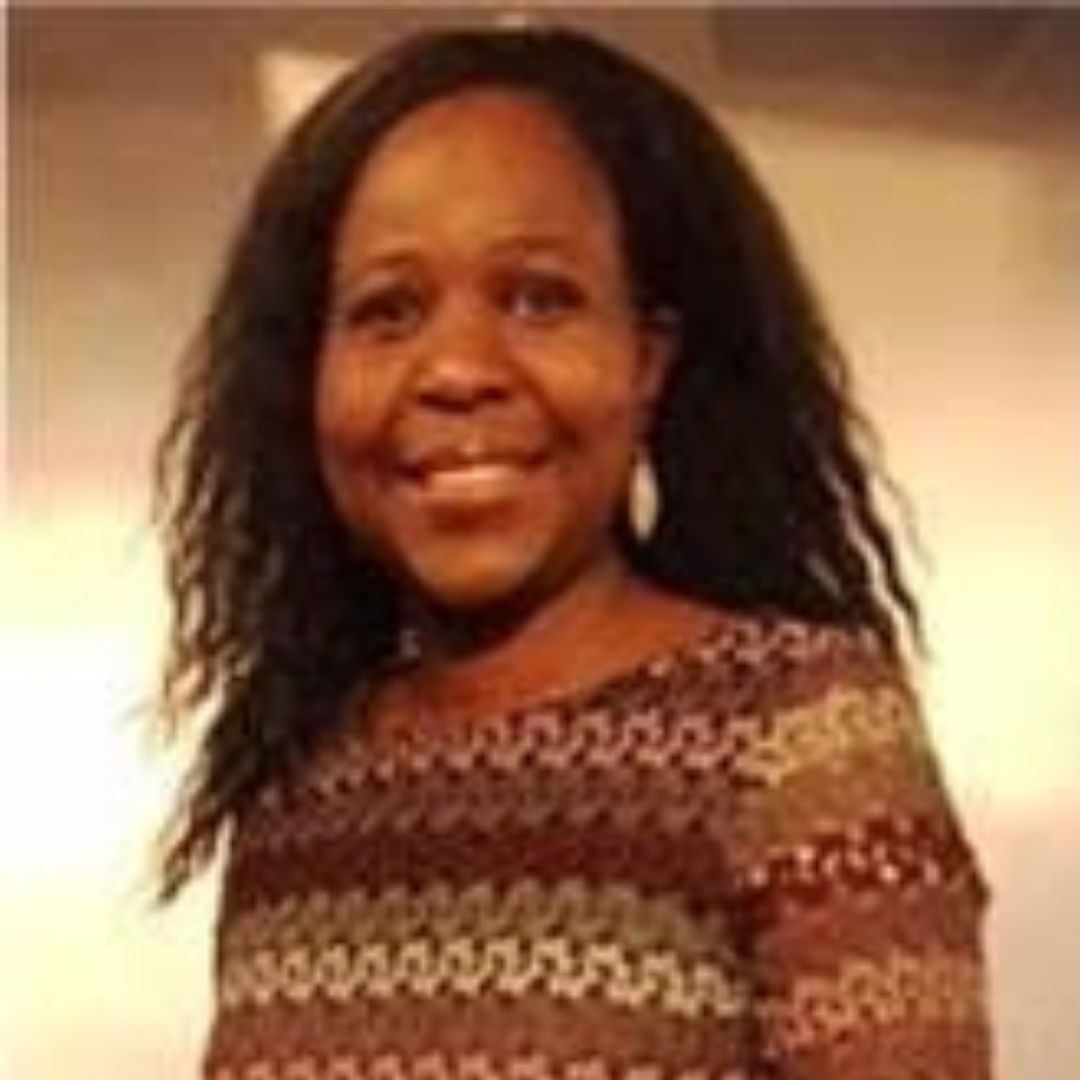 Ms. Faustine Wabwire
Washington, DC
(Former Board Secretary)
Steven Nabieu Rogers, PhD, Executive Director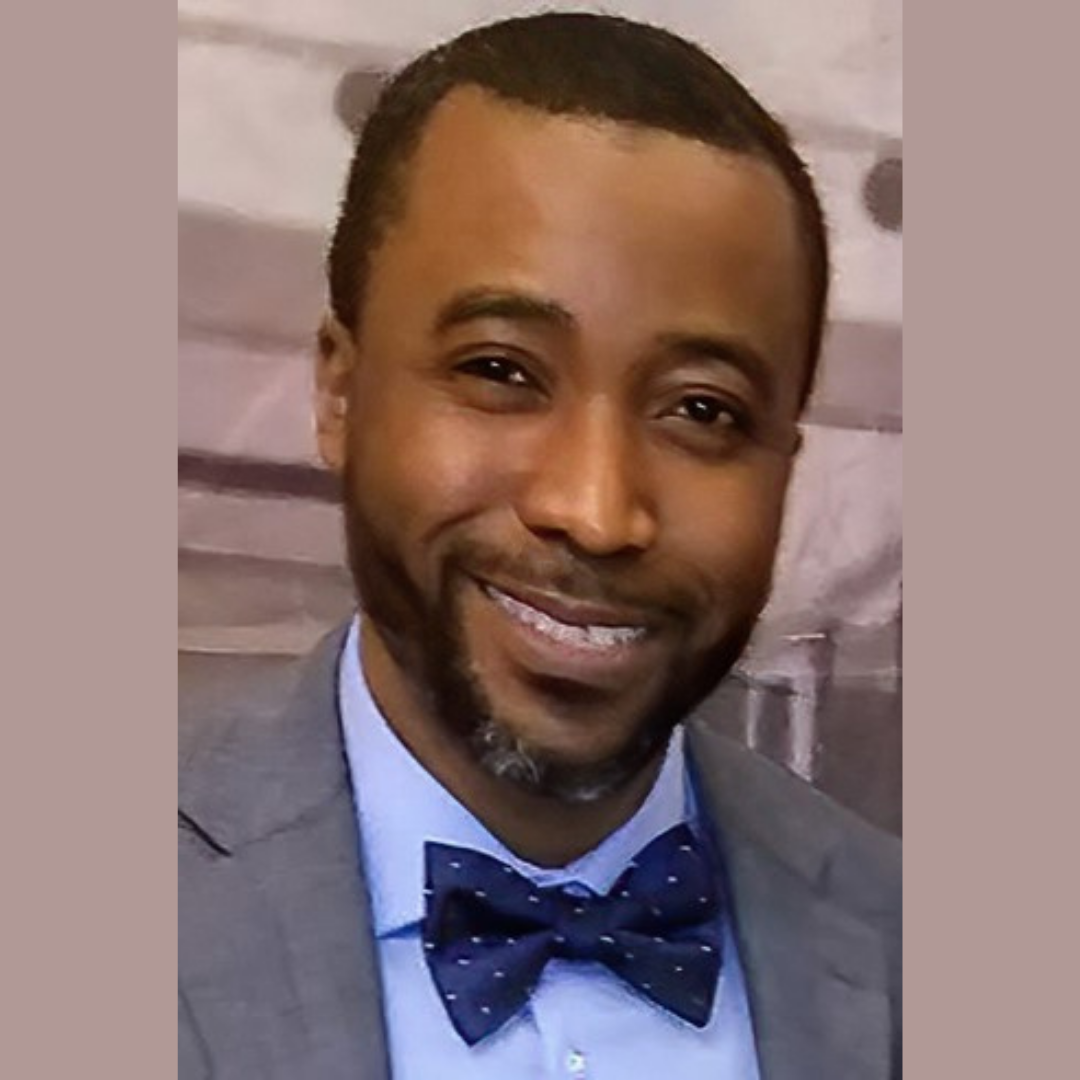 Dr. Steven Nabieu Rogers joined AFJN in May 2022 as the Executive Director. He has a background in public policy and urban planning with a special interest in globalization and governance in Africa. Dr. Rogers has served in the public and private sectors as an academic, researcher, and thought leader. He also has several years of experience in higher education in Sierra Leone, the United States, and South Africa. Prior to joining AFJN, he was an Old Mutual Emerging Markets Fellow and Lecturer at the Graduate School of Business at the University of Cape Town, where he taught courses on Emerging Markets, International Trade, and Globalization. He was a Research Associate at the School of Urban Affairs at the University of Texas and a Corporate Compliance Officer at Children's Aid and Family Services, Inc. in New Jersey.
Dr. Rogers has published articles on globalization, urbanization, and housing in Africa and is also a reviewer of various academic journals including the Review of Radical Political Economy and Review of African Political Economy. He is very optimistic about Africa's future and believes that Africa's needs are best served by an Africa-led intellectualism that should emanate from the lived experiences of Africans.  He has a Ph.D. in Urban Planning and Public Policy from the University of Texas at Arlington, USA, and a Masters in Social and Public Policy from Duquesne University, Pittsburgh, PA. As a youth, he served in various leadership positions in the Catholic Church in Sierra Leone.
Email: director@afjn.org
Ntama Bahati, Policy Analyst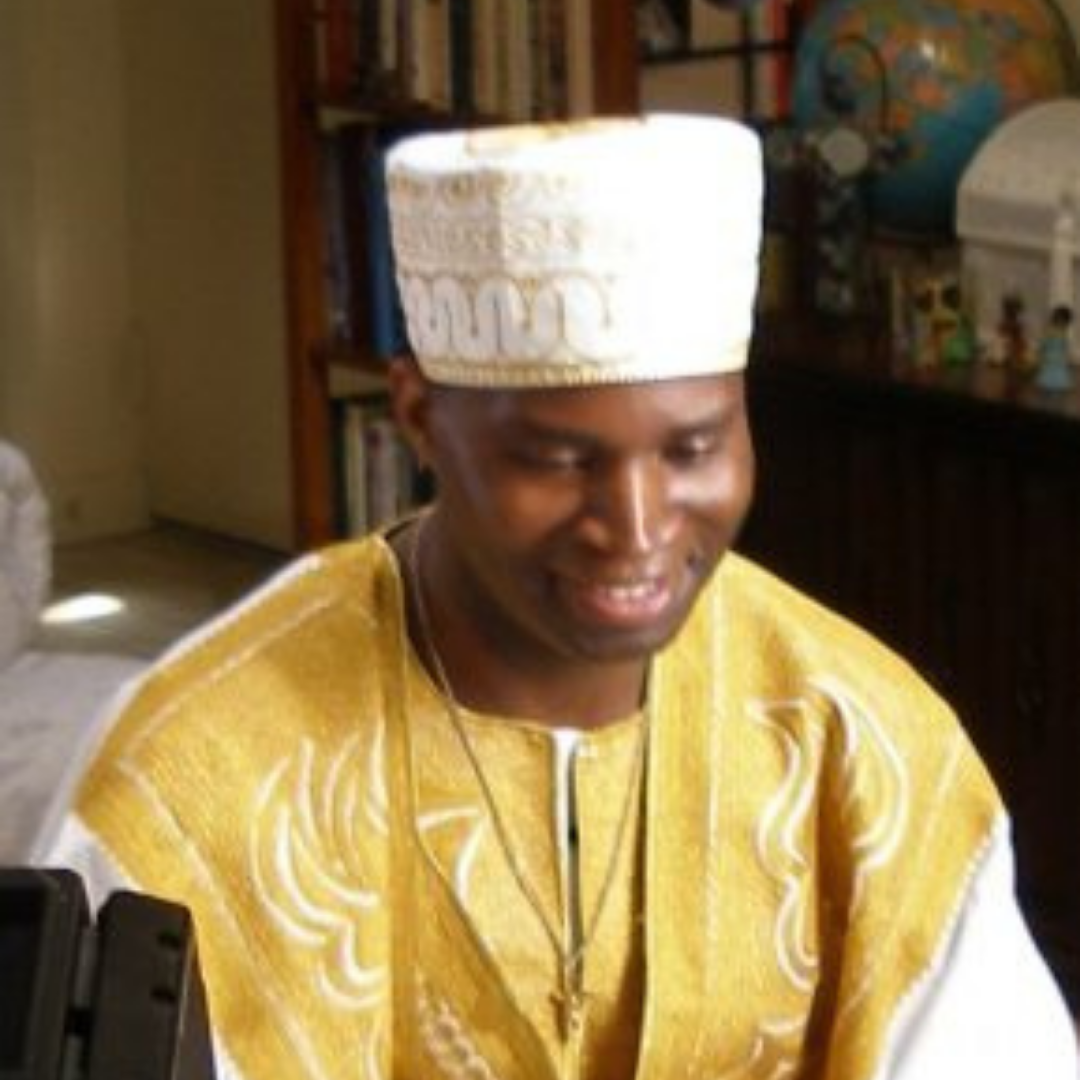 Jacques Bahati is a seasoned Policy Analyst with Africa Faith and Justice Network (AFJN), where he has served since 2007. He obtained an undergraduate degree in Philosophy from La Ruzizi in Bukavu/DRC in 2000, a Masters of Divinity in 2006, and a Masters of Arts in Ethics in 2007, both from Catholic Theological Union in Chicago.
Bahati has a deep understanding of the complex social, economic, and political dynamics that underlie many of the challenges facing Africa today. He has written and spoken extensively on these issues, offering insightful analysis and pragmatic solutions. He is a passionate advocate for justice and fairness, and he fiercely opposes corruption in all its forms, dedicating his career to rooting out this pervasive problem in Africa.
Throughout his career, Bahati has been a vocal champion for the development of intra-African trade and cooperation, firmly believing that the key to Africa's success lies in its ability to harness its own resources and work together to achieve common goals. He firmly rejects ethnocentrism in all its forms, recognizing the immense diversity and richness of Africa's many cultures, and advocating for the need to celebrate and preserve this diversity as a source of strength and unity.
Bahati is fluent in both French and English and proficient in four major languages spoken in Africa's Great Lakes region. He is a practicing Roman Catholic and advocates for women's rights, starting with the right to education. Additionally, he is an admirer of the visions of late Tanzanian president John Pombe Magufuli, Burkina Faso's Thomas Sankara, D.R. Congo Prime Minister Patrice Lumumba, and South Africa President Nelson Mandela. He believes that incompetent, corrupt, tyrannic, selfish African leaders have created a sizable copy in their image within the African citizenry who continue to inflict lasting damage on Africans.
He believes that to foster the Africa we aspire to build, it is crucial that Africa prioritizes the education of our citizens in active, peaceful, and responsible political participation. Moreover, it is imperative for Africa to move away from relying on foreign aid and instead strive to independently finance its needs going forward. 
Eucharia Madueke, SNDdeN, Coordinator, African Women Project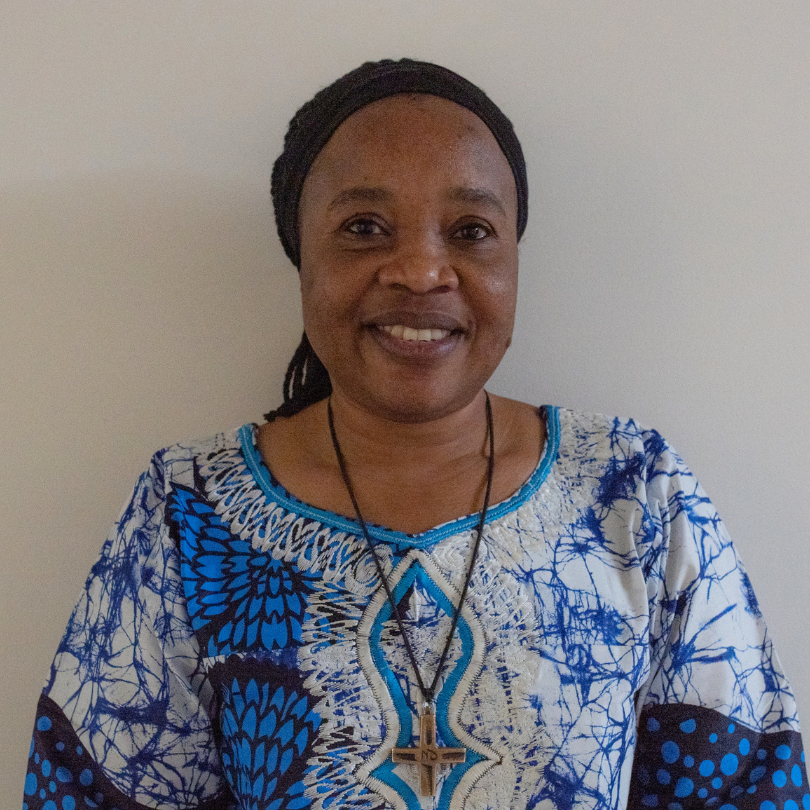 Eucharia Madueke is a Sisters of Notre Dame de Namur (SNDdeN), Nigerian Province, and the Coordinator of the Women Empowerment Project at the Africa Faith & Justice Network (AFJN). Prior to joining AFJN, she was an associate and grassroots mobilizer at NETWORK, a Washington DC-based National Catholic Social Justice Advocacy organization focusing on social action on behalf of the less privileged. Her other work experience includes teaching at Howard University, Washington DC, teaching at Lumen Christi Boys Secondary School Uromi Edo State, Notre Dame Girls Secondary School Oro, Kwara State, Notre Dame Novitiate, Ilorin, and Notre Dame Postulate Agenebode, Edo State in Nigeria. She also served as Provincial of the Sisters of Notre Dame de Namur, Nigerian Province.
Sister Eucharia Madueke received her First Degree in Education and Religion from the University of Nigeria Nsukka, Masters Degree in Social Work from The Catholic University of America, and a Ph.D. in Development and Public Policy from Howard University, Washington DC.  Her skills are in the area of formation and administration, community organizing and development, policy analysis and advocacy, grassroots mobilization, and leadership development. Her other interests include: faith and public policy; education and governance, and women in governance. She has written articles for the Global Sisters Report, focusing on cultural dynamics in African society as well as about Catholic Sisters services in Africa.  
Email: eucharia@afjn.org
Lydia Andrews, Communication and Operations Manager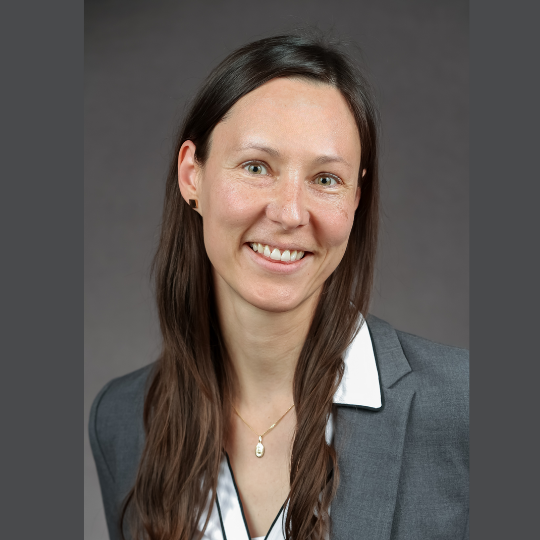 Lydia Andrews has been working for Catholic Non-Profits in the DC area for several years.  She has been brought on to assist in streamlining operational processes, moving AFJN capabilities into the cloud, and improving communications.  She has a Masters in Politics from The Catholic University of America (CUA) and a Bachelors in International Affairs and Spanish from Marquette University. Before working with AFJN, Lydia was an Operations and Program Consultant for Foundations and Donors Interested in Catholic Activities. She was Deputy Director of Jubilee USA Network, and Assistant to the Director at the Institute for Policy Research and Catholic Studies at CUA.
Email: lydia@afjn.org
Patrick Ewgu, AFJN Senior Fellow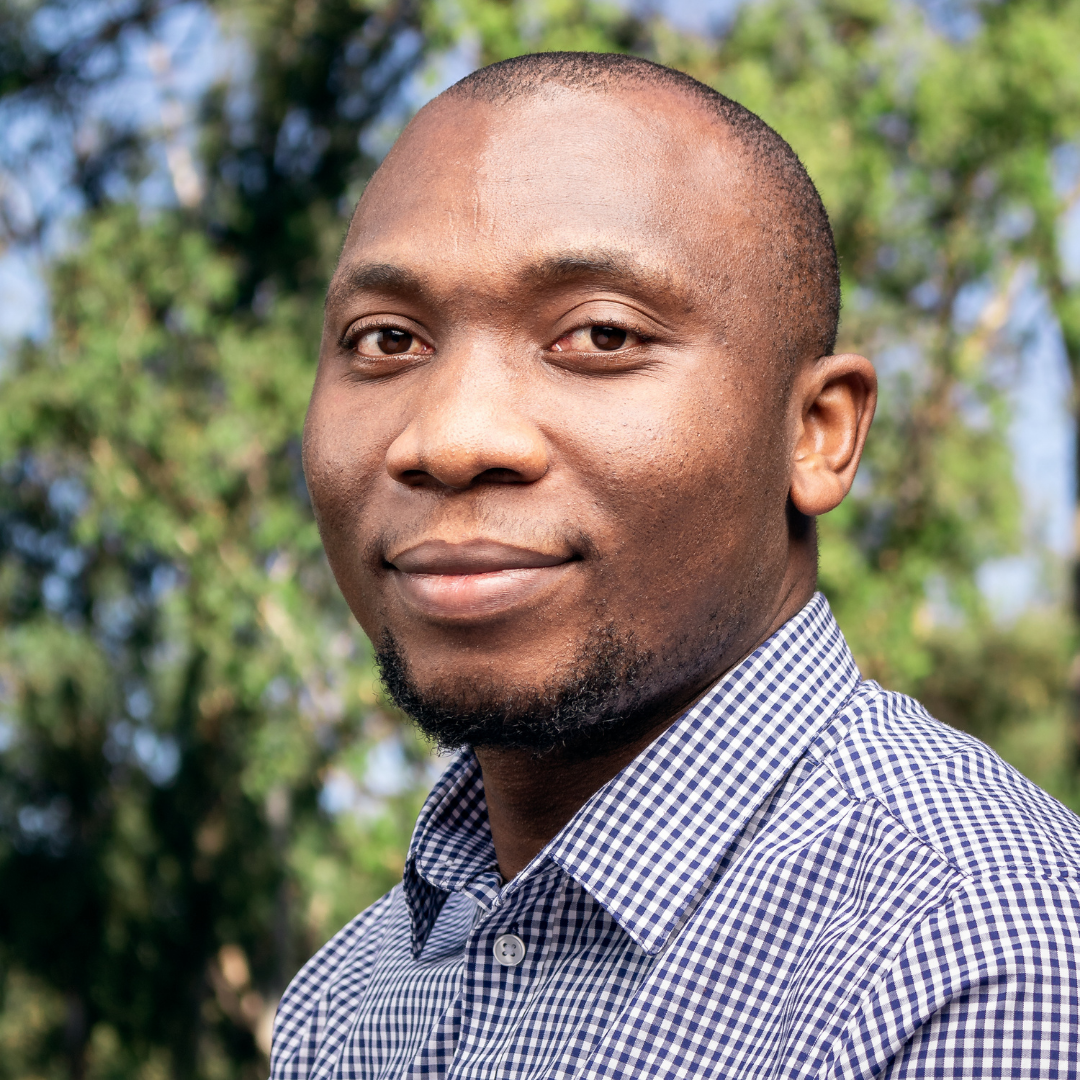 Patrick Egwu is an award-winning freelance investigative journalist based in Johannesburg, South Africa where he is currently an Open Society Foundation fellow on Investigative Reporting at the University of the Witwatersrand. He has covered the work of AFJN on the continent of Africa, with a special focus on AFJN's Women's Empowerment Project. He has more than five years of journalism experience covering conflict, migration, global health, climate change, corruption and other development issues in Nigeria and sub-Saharan Africa which have been published by publications such as Foreign Policy, NPR, African Arguments, Daily Maverick, World Politics Review Ozy, and elsewhere.
Read his full biography here.
Fr. Barwendé Médard Sané, SJ, AFJN Senior Fellow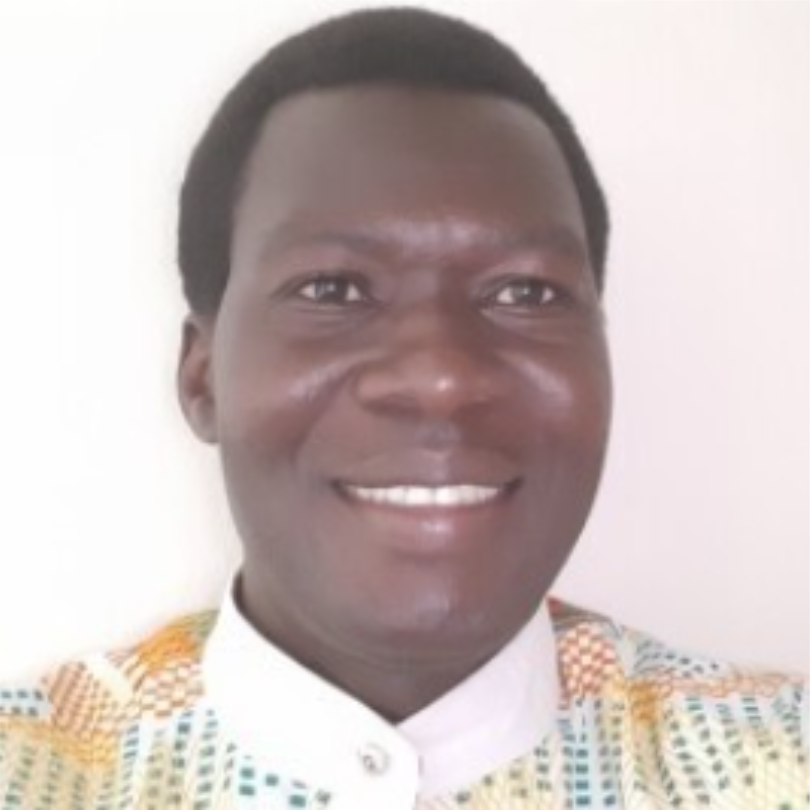 Fr. Barwendé Médard Sané is a Jesuit priest from Burkina Faso, West Africa who interned with AFJN in 2013. In 2023, Fr. Sané received a Doctorate in Education (EdD) from the University of San Francisco (USF) in California where he has also been working at the USF Institute for Nonviolence and Social Justice.  Fr. Sané has a Masters in Theology, a Bachelors of Arts Degree in Political Philosophy and a Certificate of Continuing Professional Development for Public Policy Analysis.  Fr. Sané has worked in several African countries, including the Central African
Republic, Chad, the Democratic Republic of Congo, Ivory Coast, and Burkina Faso.
Br. David Patrick Mahoney, CFX, Editorial Consultant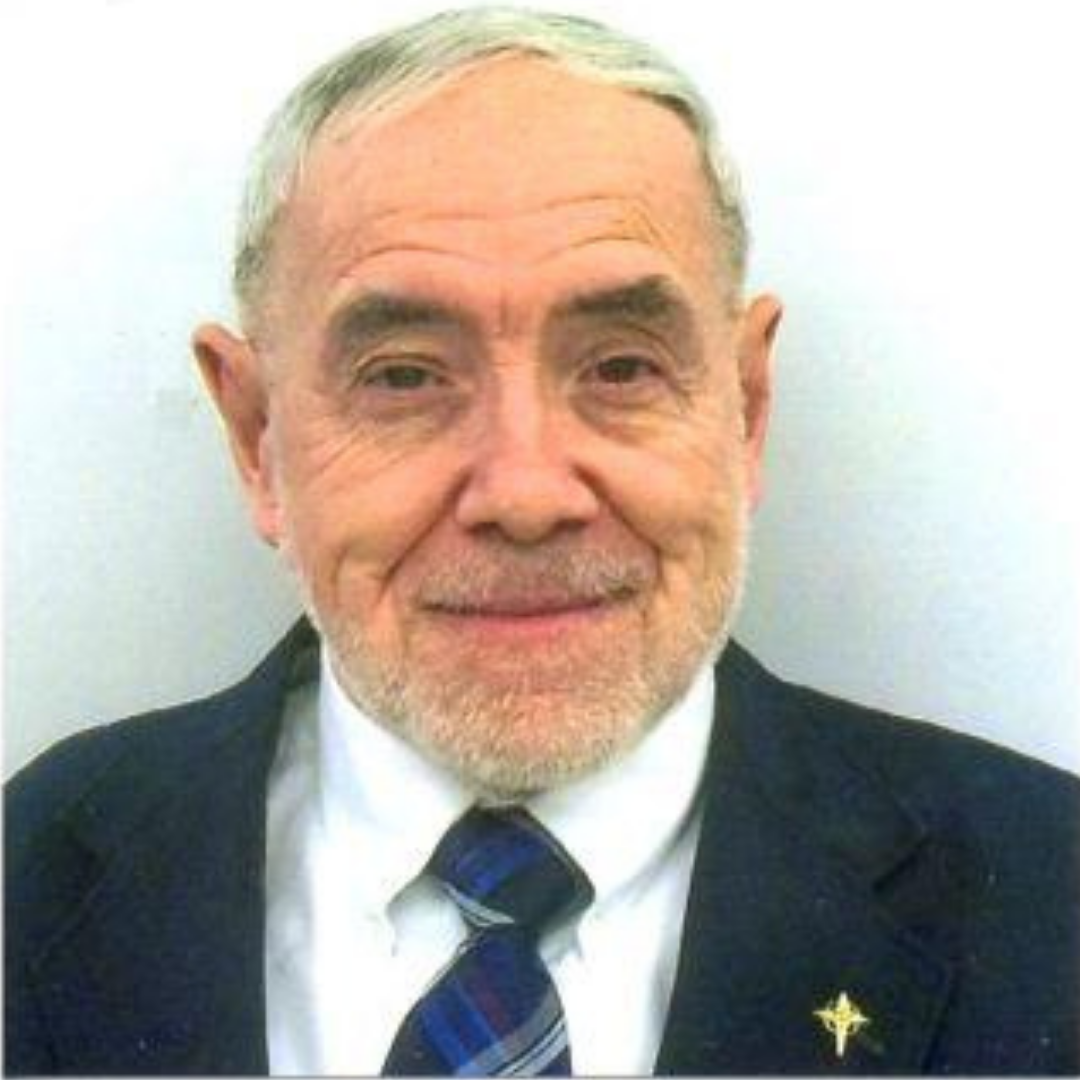 Br. David Patrick Mahoney, CFX, entered the Xaverian Brothers in 1966, just out of high school, and earned a B.A. in Social Relations from Harvard College in 1971 and an M.A.T. from the Harvard Graduate School of Education in 1972. As a bass in the Harvard Glee Club for three years, he enjoyed singing all over the country.
David taught French, English, Social Studies, and video production for 12 years at his alma mater, St. John's Preparatory School in Danvers, Massachusetts, and in 1984 he completed an M.A. in French at the Middlebury College Summer Language School. He studied French at the University of Dijon with a group from Georgetown University.
From 1985 to 1990 he taught high school English and religion in Likasi, D. R. Congo (ex-Zaïre), and from 1991 to 1998 he taught English at the Institut Supérieur Pédagogique de Lubumbashi, a teacher training college. From late 1991 until 1995, after the evacuation of the Consul and consular employees from Lubumbashi, he worked for the U.S. State Department as Approving Officer, overseeing local employees retained at the Consulate and USAID.
After a sabbatical in the U.S. that included time to learn computer skills while working as an assistant school librarian, David returned to Africa in 2000 to serve as a religious formator for ten years in the Western Province of Kenya. From 2010 until 2015 he was a religious formator in Nairobi; an instructor in English at Christ the Teacher Institute for Education (part of Tangaza University College); and Executive Secretary of the Religious Superiors' Conference of Kenya (RSCK), the association of superiors of the 76 men's institutes that minister in Kenya.
Since returning permanently to the U.S. in late 2015, he has continued to edit Yes, Kenya Matters, a two-page reflection paper produced by the Justice, Peace, and Integrity of Creation Commission of the Religious Superiors' Conference of Kenya (RSCK-JPIC).  YKM relates the Sunday Mass readings to the social teachings of the Church and to the social, economic, political, environmental, and moral problems of Kenya.  Priests and religious men and women submit their contributions, usually for a month or so at a time, to fit a template agreed upon by JPIC. After editing, YKM is emailed weekly to nearly 1000 subscribers. It is intended to help homilists be more relevant; to propose material for personal reflection; and to stimulate discussion in Small Christian Communities.
Br. David has also worked as an editor with Pauline Publications Africa, and has helped the Ursulines of Tildonk (Belgium) prepare for their 2018 Bicentennial by translating an 1892 biography of their founder from French to English. He is currently on the staff at the Xaverian Brothers' retirement community in Danvers, Massachusetts.
Fr. Aniedi Okure, OP, Women Empowerment Project Consultant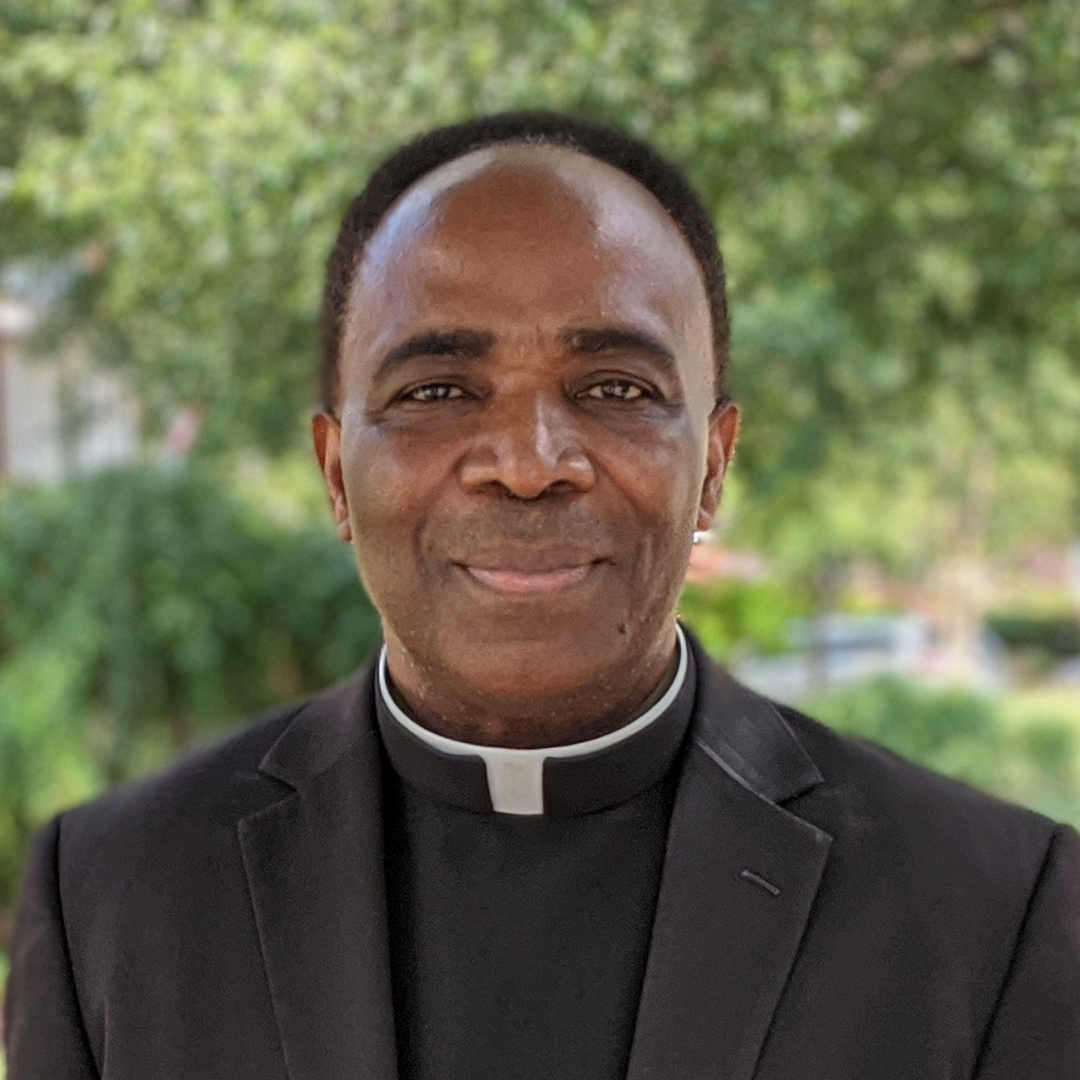 Rev. Aniedi Okure, OP was appointed the General Promoter of Justice and Peace and Permanent Delegate to the United Nations for the Dominican Religious Order. Prior to his appointment Aniedi served as the Executive Director of the Washington DC based Africa Faith and Justice Network (AFJN) and as a Fellow at the Institute for Policy Research (IPR) at The Catholic University of America. His key engagement at AFJN focused advocacy for just US-Africa policies and on formation and training of Civil Society Groups based on Catholic Social Teaching, the techniques of contextual social analysis, and mobilizing the groups for practical advocacy on issues that impact their communities.
Previously, he served as the Coordinator of Ethnic Ministry at the United Stated Conference of Catholic Bishops (USCCB), and as Vicar Provincial for North America and the Caribbean of the Dominican Province of St. Joseph the Worker, Nigeria & Ghana.
Aniedi has diverse pastoral ministry experience in Nigeria, the Democratic Republic of the Congo, and the United States, including serving as youth chaplain, chaplain to the Nigerian Federation of Catholic Students, associate at St. Ambrose Parish Boston Massachusetts, Chaplain at the University of Ife, Nigeria, Chaplain to the Sisters of Saints Cyril and Methodius, and chaplain at Geisinger Medical Center in Danville Pennsylvania.
Aniedi has taught at several universities in the United States and in Nigeria. For many years, he conducted workshops and seminars on cultural orientation for international pastoral ministers and intercultural competency program for immigrant professionals.
Florence Deacon, OSF, Notre Dame, IN – (Former Board Chair)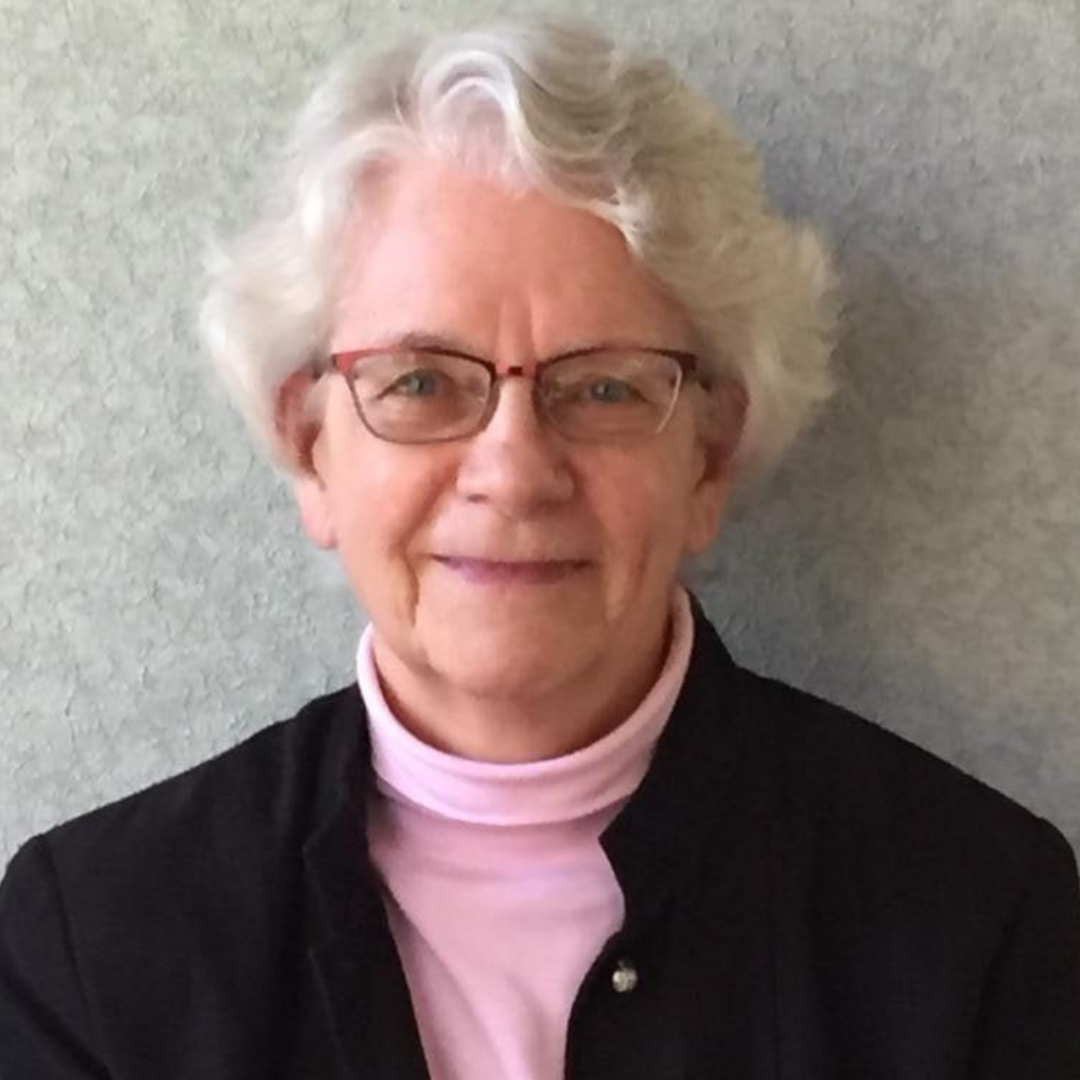 Florence Deacon, OSF, a member of the Sisters of St. Francis of Assisi, is Congregation Justice Coordinator for the Sisters of the Holy Cross who have sisters in Uganda, Ghana, Bangladesh, India, Peru, Brazil, Mexico and the United States.  She minored in African History for both her MA and her PhD degrees in History and taught African, Middle Eastern, US and Women's History at Cardinal Stritch University.   She has visited Africa five times beginning with the International Women's Conference in Nairobi in 1985, with later trips to Tanzania, South Africa twice for UN conferences, and most recently to Cameroon.  She was appointed Director of the New York Office of Franciscans International in 2000 and did full time advocacy at the UN focusing on concern for the poor, care of creation and peacemaking, all issues of concern to the African continent.   She was the leader of her religious congregation from 2007-2015, and during that time was elected to the presidency of the Leadership Conference of Women Religious, which gave her wider experience with the universal church.
Bill Christy, CSSp, Pittsburgh, PA – Board Secretary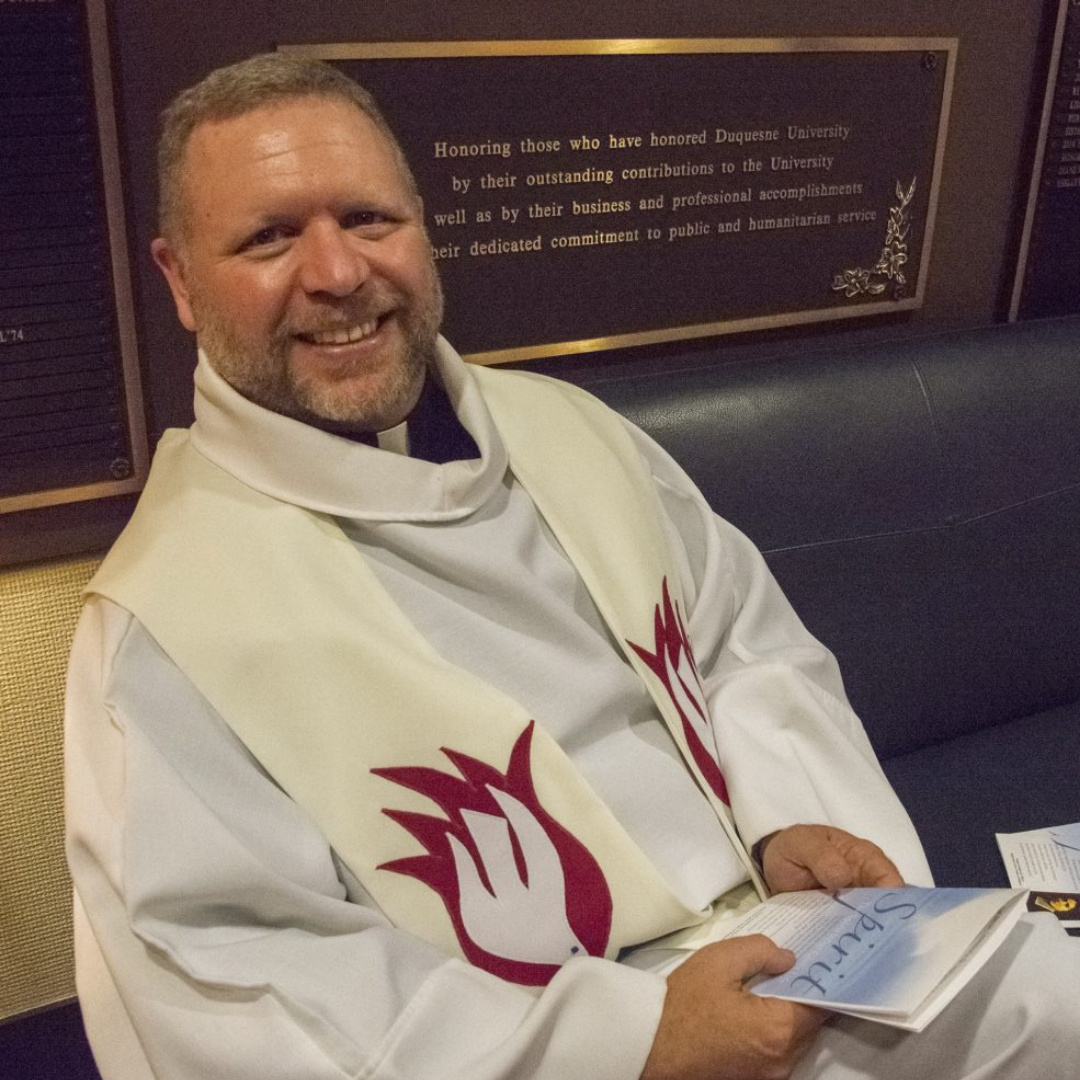 Fr. Bill Christy came to Duquesne University when he entered the seminary and completed his undergraduate degrees in Political Science and Philosophy.  He went on to do his Master of Divinity studies at Chicago Theological Union and was ordained in 1992.
As a Spiritan missionary, he served 15 years in Tanzania, East Africa; 2 years as a graduate intern, and 13 as a priest.  His ministry was primarily in First Evangelization with the Maasai people in North Central Tanzania.  He was recalled to the US in 2004 and served at Duquesne in Campus Ministry for 3 years before being sent to Australia to work in Aboriginal ministry.  He ministered for 6 years in the Aboriginal reservations of Western Australia.  In response to the needs of the Aboriginal ministry, Fr. Bill completed a Master of Counseling Psychology at the University of Notre Dame in Fremantle, Australia focusing on Child and Adolescent Counseling.
Now having returned again to Duquesne he is again part of the Campus Ministry team and resides at Laval House.  Laval House is the formation community for men discerning a vocation to the Spiritans as they complete their undergraduate studies.
Ms. Faustine Wabwire, Washington, DC  (Former Board Secretary)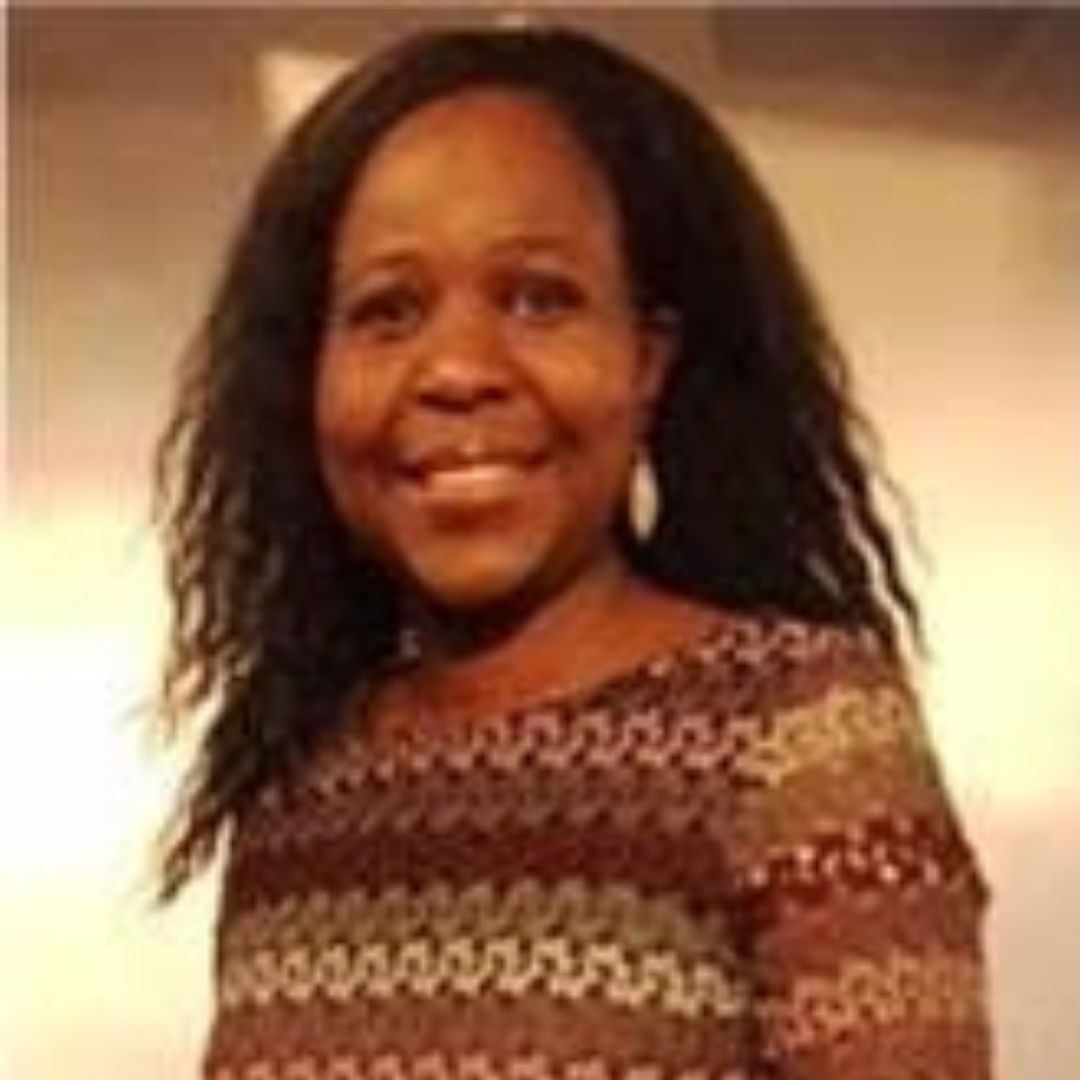 Ms. Faustine Wabwire is Bread for the World Institute's Senior Foreign Assistance Policy Advisor, based in Washington, DC. Bread for the World Institute provides policy analysis on hunger and strategies to end it. The Institute educates U.S. policymakers, opinion leaders, and the public about hunger and poverty in the United States and abroad.
Ms. Wabwire has testified before the Congressional House Foreign Affairs Subcommittee on Africa, Global Health, Human Rights, and International Organizations. At the Institute, Ms. Wabwire provides policy leadership on issues including climate change, bridging the humanitarian-development divide, the need for strong institutions and local capacity to address hunger and poverty, and the role of effective U.S., partner countries, and multilateral assistance in providing solutions.
Ms. Wabwire served on the Reading Committee for President Obama's Mandela Washington Fellowship for Young African Leaders, a program that mentors dynamic young African leaders on leadership. In 2017, she was selected to the Advisory Committee of the Queen's Young Leaders Program. Ms. Wabwire contributes to USAID's Advisory Committee on Voluntary Foreign Aid, is a member of the African Growth and Opportunity Act (AGOA) Civil Society Board, among other taskforces. Ms. Wabwire represents the organization at high-level forums including the annual World Food Prize Laureate Lecture series and as Faculty at the Global Youth Institute in Des Moines, Iowa. She is a regular commentator on Voice of America, where she has shared her expertise on issues affecting sub-Saharan Africa. A native of Kenya, she brings first-hand experience to her global policy portfolio.
Prior to joining Bread for the World Institute, Ms. Wabwire held several positions in academia, research, and international development—at the national, regional, and global levels.  She holds Master's degrees in Development Management (from Ruhr University, Germany), Development Studies (from the University of the Western Cape, South Africa), and Intercultural Service, Leadership and Management (from SIT Graduate Institute, Vermont, USA). She earned her Bachelor of Arts degree in Sociology from Moi University, Kenya. Ms. Wabwire has work experience in Africa, Europe, and the United States. She speaks Kiswahili, English, and some French.
Barthelemy Bazemo, M.Afr – Washington, DC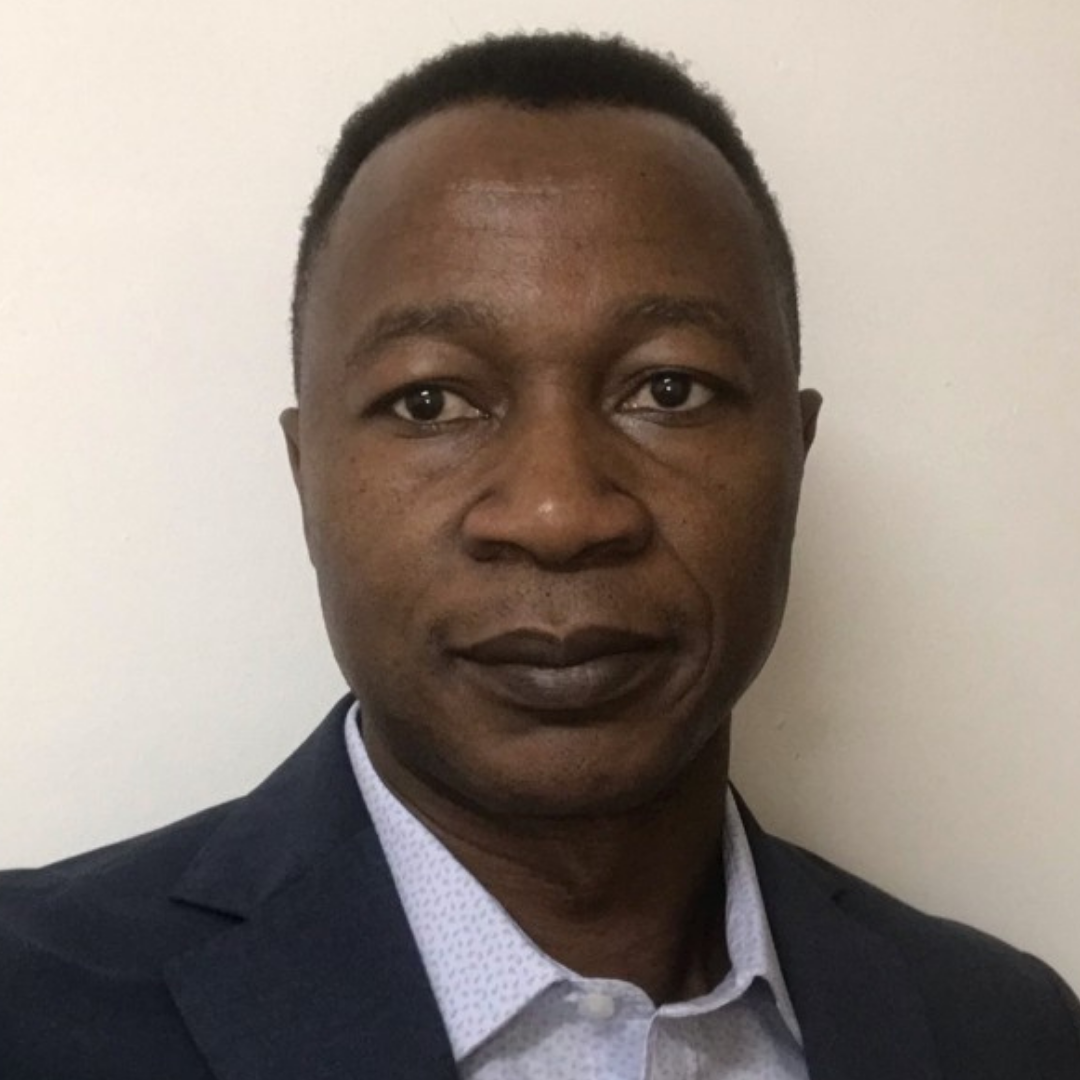 Fr. Barthelemy Bazemo is a member of the Society of the Missionaries of Africa. Born in Ivory Coast and raised in Burkina Faso, West Africa, he has training in peace support operations, conflict studies, international politics, human rights, and diplomacy. Fr. Bazemo serves as a policy analyst and assists the Executive Director in AFJN-SECAM (Symposium of the Episcopal Conferences of Africa and Madagascar) relations. He spent many years in Eastern Africa, mostly in Kenya and Tanzania studying and engaging in active urban apostolate, centered on nurturing Christian values, youth animation, developmental activities, and dialogue with other faiths. He was an active member of Christian Professionals of Tanzania (CPT), a forum for advocacy, human rights, and social ethics in the public square; and Wabunge Think-Tank for specific issues related to constitutional debate, the rule of law, good governance, and peacebuilding. Fr. Bazemo studied at the Catholic University of Eastern Africa (CUEA), Tangaza College, Hekima College Nairobi Kenya, and Centre Supérieur de Philosophie, Ouagadougou, Burkina Faso. In 2010 he studied at the National Peace Academy (NPA) at Wilmington College. He holds a Ph.D. in African Studies with a specialization in Africa in World Affairs, Governance, and Foreign Policy. His Masters degree is in Peace Studies and International Relations. He also holds an STB in Sacred Theology, a graduate diploma in Communications, and Certificate in PPI (Peacebuilding Peacelearning Intensive); He speaks and writes French, English, and Swahili.  Email: bazemo@afjn.org
Charles Brown, SCJ – Franklin, WI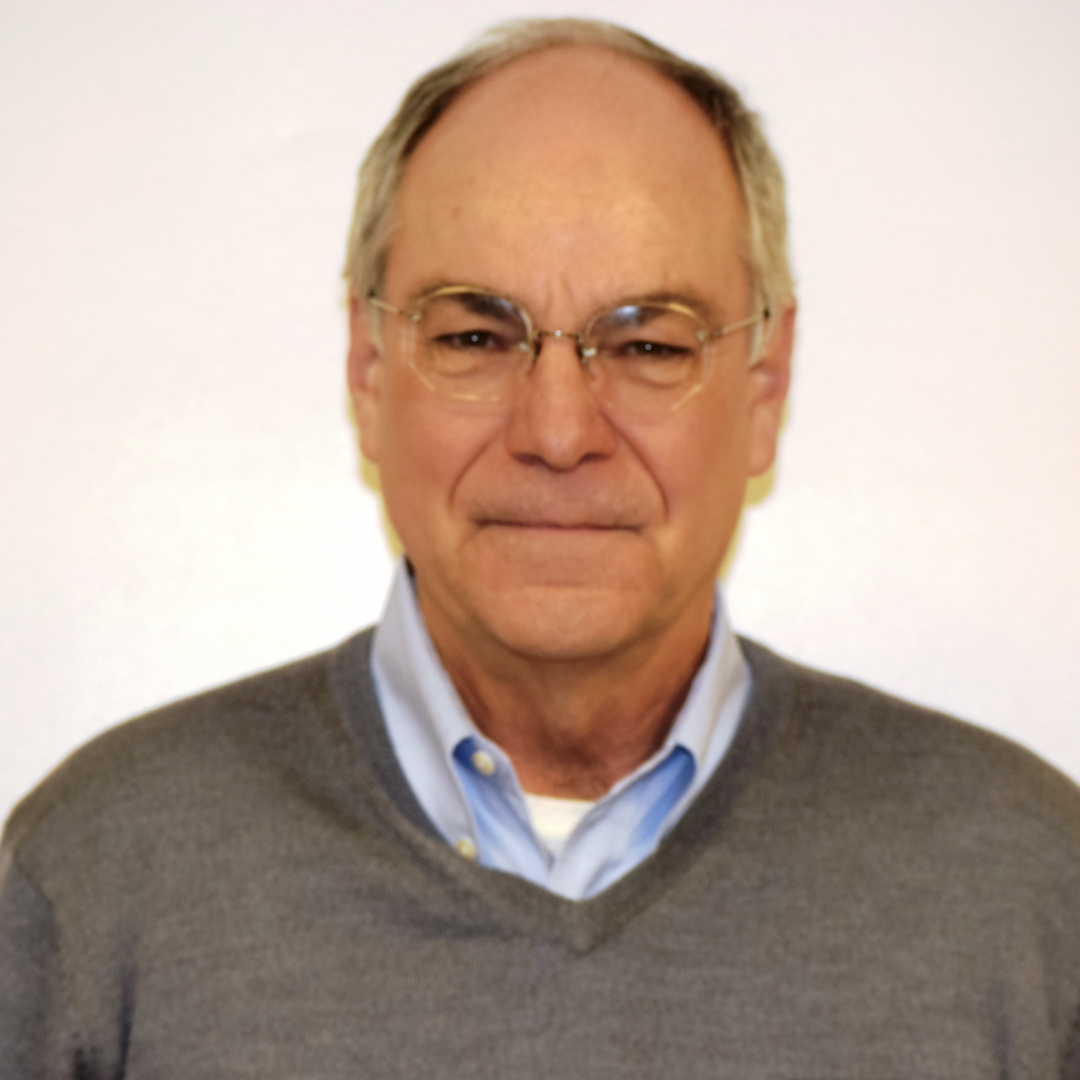 Charles T. Brown, S.C.J. is a member of the Congregation of the Priests of the Sacred Heart. Brown holds a Ph.D. in New Testament and Early Christianity and is presently on the faculty of Sacred Scripture at Sacred Heart Seminary and School of Theology, Hales Corners, Wisconsin. Brown began his priestly ministry in the Ituri Forest of the eastern Democratic Republic of the Congo, and he taught for ten years at St. Joseph's Theological Institute, KwaZulu-Natal in the Republic of South Africa. He is currently the Secretary of Missions for the U.S.A. province of his congregation.
Maura Browne, SNDdeN, Board Vice-Chair – Washington, DC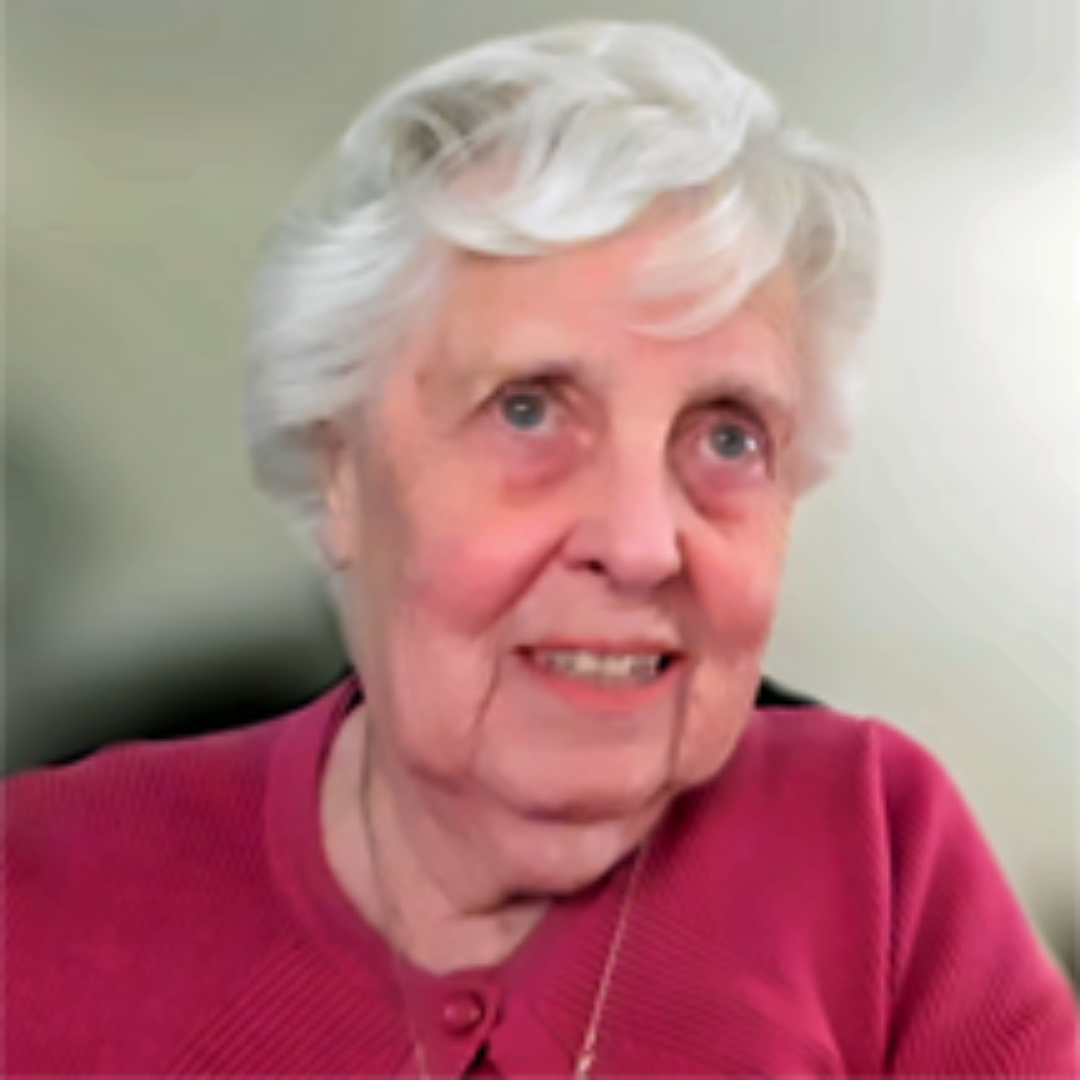 Maura Browne, SNDdeN is a Sister of Notre Dame de Namur. In October 2022, Sr. Browne was elected Vice-Chair of AFJN's Board of Director. She served AFJN first as Associate Director, then as Executive Director, she was a member of AFJN's Board of Directors and most recently served as AFJN Interim Director in 2021. She is a graduate of Emmanuel College and the Northeastern University School of Law, both based in Boston, Massachusetts. Prior to her AFJN service, Sister Maura taught biology and science in Catholic schools in Massachusetts, before serving as the Principal of a Mikinduri Girls High School in Kenya. Subsequent to serving as the Executive Director of AFJN, Sister Maura served in leadership positions within her religious congregation and as the International SNDdeN Coordinator of Justice, Peace and the Integrity of Creation. She has traveled to fifteen African countries during the course of her career.
Margaret Doyle, SHCJ – Rosemont, PA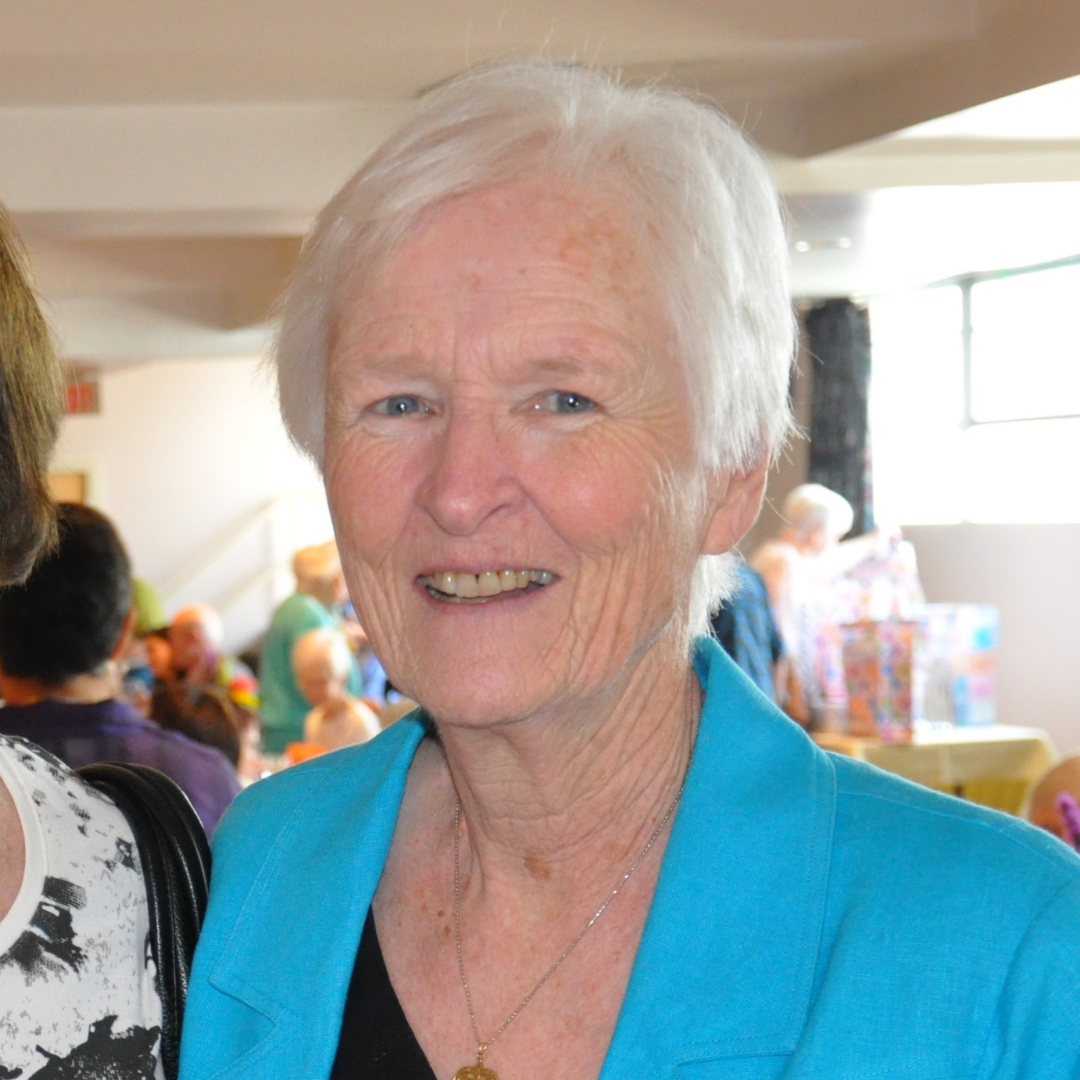 Margaret Doyle, SHCJ lives in Rosemont, PA. She is a member of the Society of the Holy Child Jesus, an international congregation with an African Province composed of over 160 sisters serving in Chad, Ghana and Nigeria. The Society was a founding member of AFJN and Sister Margaret has been her congregation's representative on the AFJN Board since 2019. In 1999 her congregation helped to found the African Sisters Educational Collaborative that offers on-line courses to African sisters in ten sub-Saharan Africa.
Before coming on the Board Sr. Margaret taught in and administered parish schools in MA, ILand NY and was principal of Connelly School of the Holy Child, Potomac, MD. She served on the leadership team of the American Province of the Society and in that capacity attended meetings in Nigeria and Ghana. Currently she is Vice President for Mission and Ministry at Rosemont College and serves on the Board of Directors of Casa Cornelia Law Center, San Diego and Providence Center, Philadelphia.
Both her undergraduate and graduate degrees were earned at Loyola University, Chicago, IL. She took graduate courses at the Jesuit School of Theology, Berkeley and was a participant in the Ignatian Immersion Program, Manresa in 2018.
Nkechi Iwuoha, PHJC, Board Chair – Whiting, IN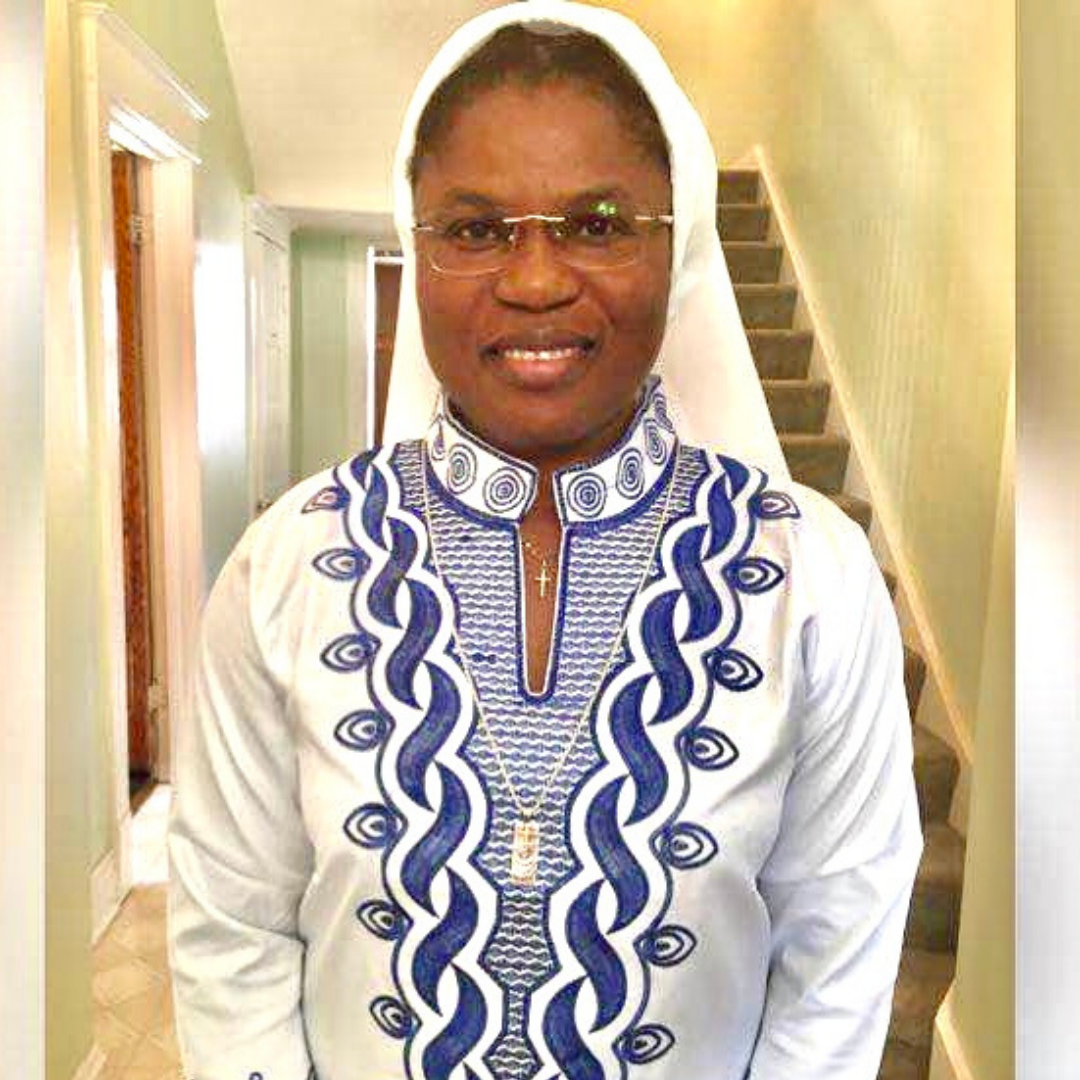 Sr. Nkechi Lilian Iwuoha is a Nigerian member of the American Province of the Congregation of the Poor Handmaids of Jesus Christ (PHJC). In October 2022, Sr. Iwuoha was elected Chair of AFJN's Board of Directors. She is on the Provincial Leadership of her congregation. She has a legal and social education background. Prior to joining the PHJC Sisters, Nkechi worked among the Sidama people of Ethiopia, Eastern Africa. She authored two books: "Worn Out Shoes of St. Katharina, A symbol of Transformation" and "The interconnectedness between African Proverbs and Christianity".
Sister Nkechi obtained her doctorate degree from Walden University, Minnesota, U.S.A. She studied Criminal Justice with a concentration in Law and Public Policy. She is also an Adjunct Professor at Calumet College of St. Joseph in Whiting, Indiana, where she teaches Ethics in Criminal Justice and Introduction to Corrections.
George Kintiba, SVD, Washington, DC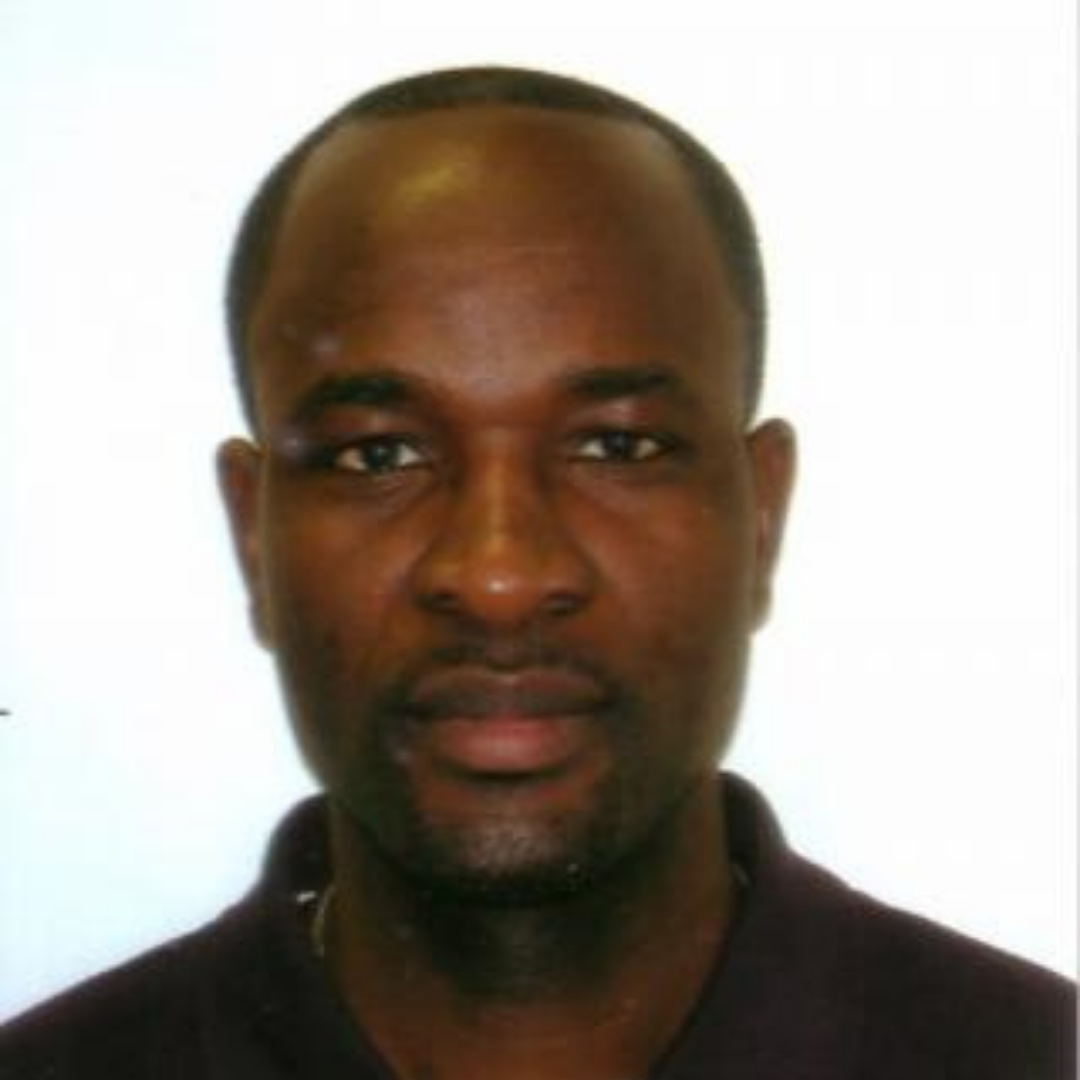 Jean-Marie Mvumbi, CICM, Arlington, VA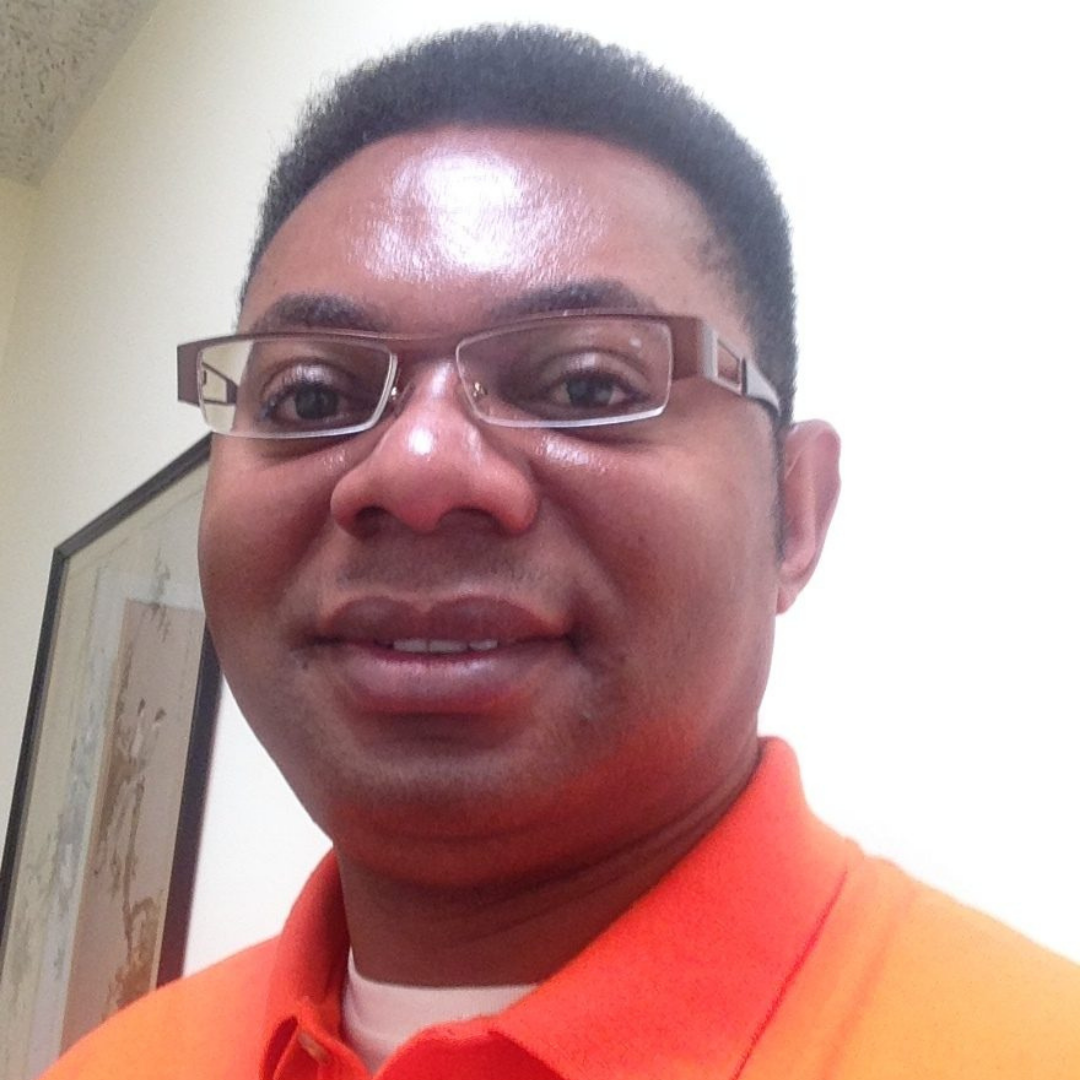 Jean-Marie Arnold Mvumbi Phongo is a member of the Congregation of the Immaculate Heart of Mary (Missionhurst-CICM), an international missionary congregation serving in many countries around the world including the Democratic Republic of the Congo, Cameroon, Zambia and the Central African Republic and many others. A native of the Democratic Republic of the Congo, Jean-Marie Mvumbi was sent by his order to the United Stated in 1997 after his Bachelor's in Philosophy from Saint Augustine University (Université Saint Augustin) in Kinshasa. He earned his Master of Divinity from Oblate School of Theology in San Antonio, Texas in 2003. After his ordination in 2003, Father Jean-Marie Mvumbi served as Associate Priest at Sacred Heart Parish in San Antonio, Texas and Pastor of Divine Providence Catholic Church in San Antonio, Texas before being asked to become the Provincial Treasurer of American IHM Province, Inc., the US Province of Missionhurst-CICM with its headquarters in Arlington, VA since January 1, 2016.
Very Rev. Ruffino Ezama, MCCJ, Cincinnati, OH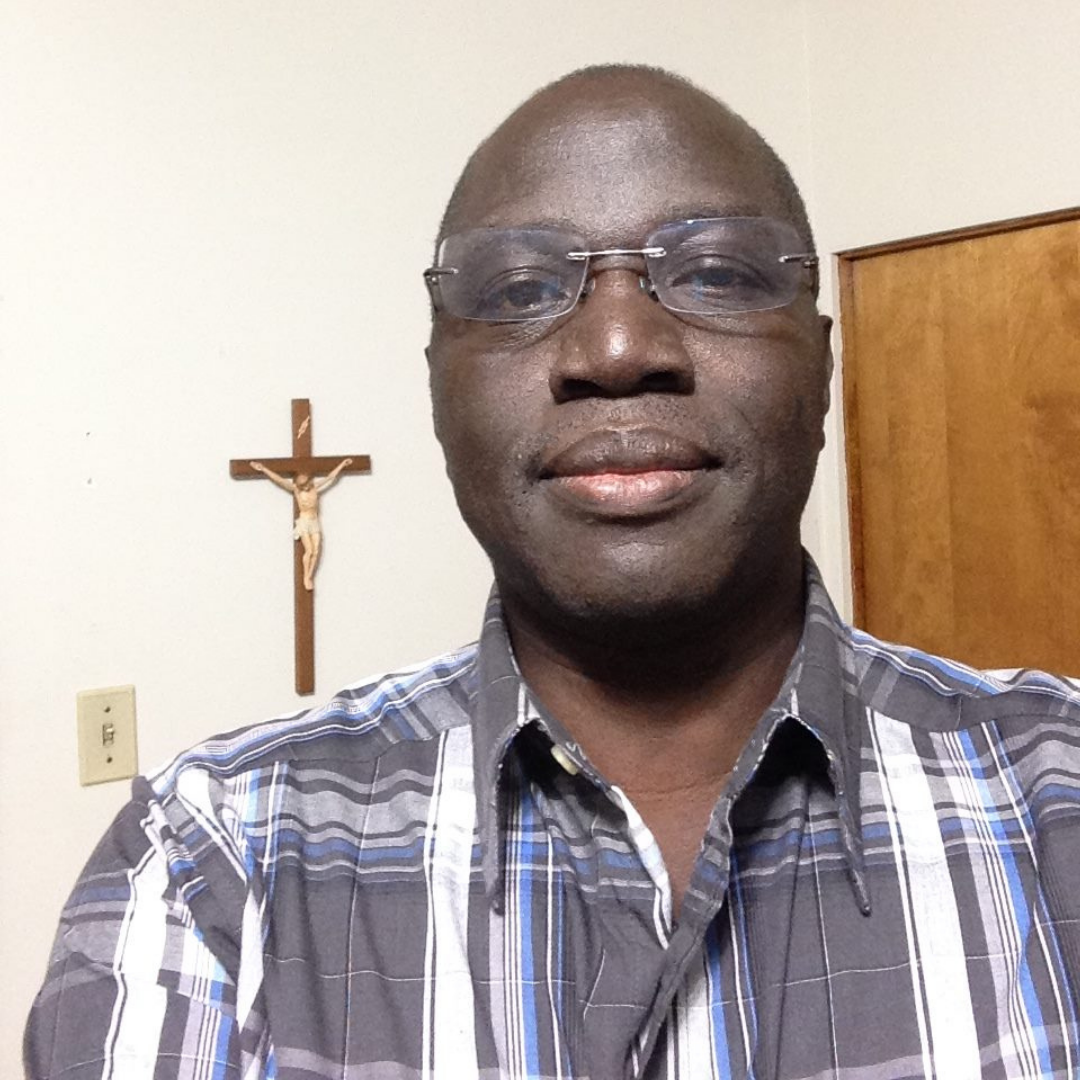 Ruffino Ezama, MCCJ is a Comboni Missionary who was born in Northwestern Uganda. Fr. Ezama attended primary and secondary school in the West Nile sub-region of Uganda.
Fr. Ezama received a PhD in Philosophy from Makerere University in Kampala (Uganda). He earned both a Master's Degree in Philosophical Anthropology and a Bachelor's Degree in Theology from Gregorian Pontifical University and a Bachelors of Arts in Philosophy from Urbaniana University in Rome (Italy). Additionaly, he has a diploma in Religious Studies from Alokolum National Major Seminary.
Fr. Ezama has served as a Comboni Missionary in their Province of Togo-Ghana-Benin. After serving some time in his home country working in the parishes and assisting in vocational ministry, Fr. Ezama now belongs to the North American Province. He is the Leadership Team Coordinator (Provincial Superior) of the North American Province (2021-2023).
Ms. Jemima Andan, Bear, DE, Board Treasurer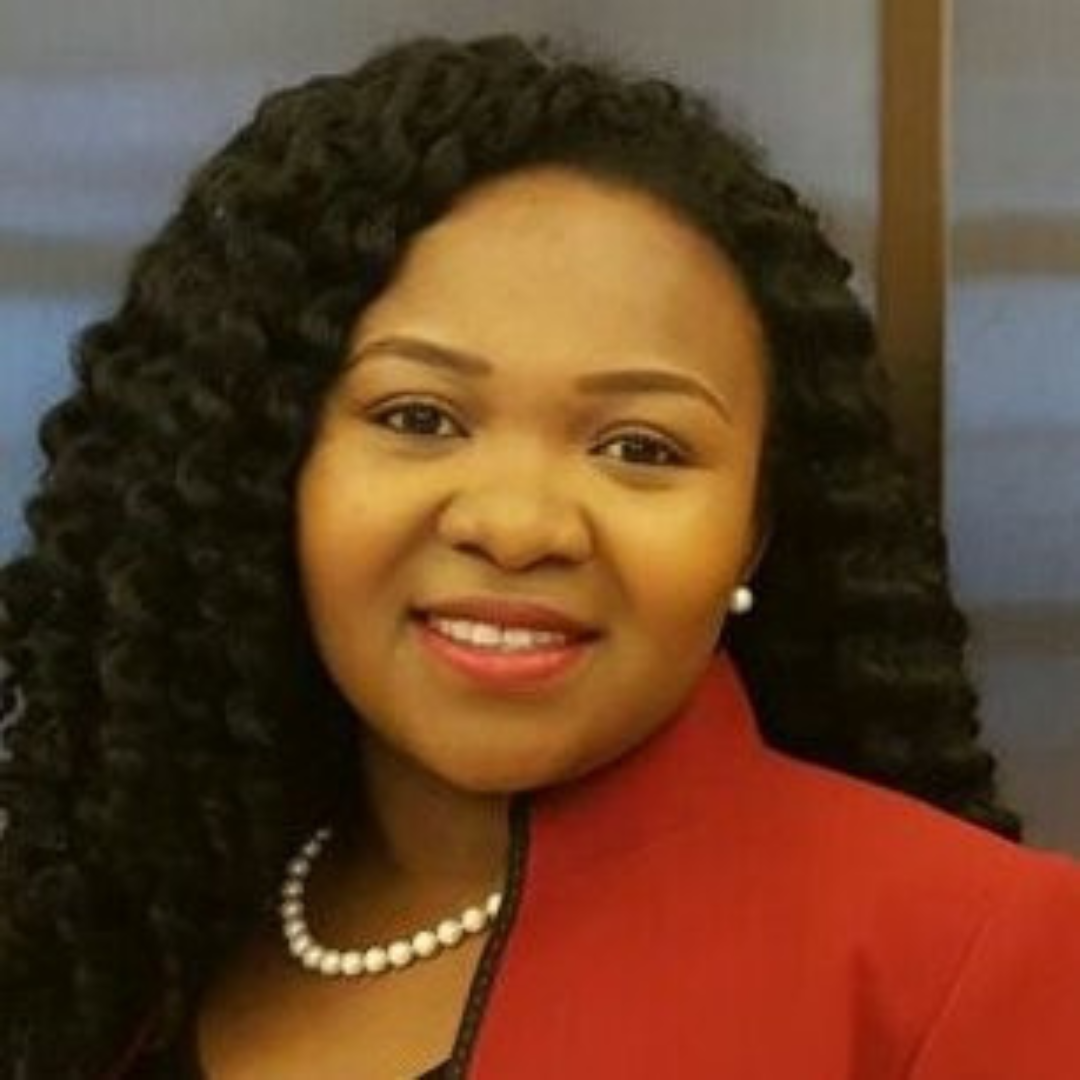 Ms. Jemima Andan was elected the Treasurer of AFJN's Board of Directors in October 2022. Ms. Andan is a Capital Markets professional with over 15 years of progressive experience within the banking sector, with expertise in process improvement and risk mitigation in financial, operational, and strategic processes. She is currently a Vice President within Global Loans – Quality Control for Citigroup. She received her Masters in Business Administration from Georgetown University's McDonough School of Business in 2018 and her Bachelor of Business Administration in Accounting from Berkeley College in 2005. In her spare time, Ms. Andan volunteers with Franciscan Charities of Newark, mentors with Global Give Back Circle, and runs races to eradicate cancer and raise awareness of mental illness.
Fr. Ebuka Mbanude, Washington, DC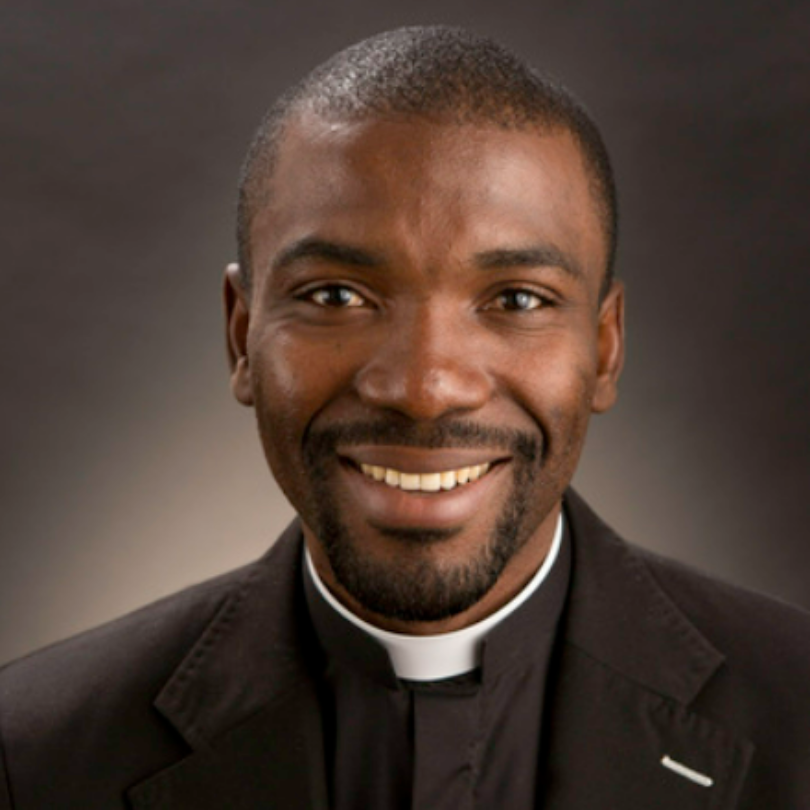 I was born and raised in Onitsha, Anambra State, Nigeria. My parents, Edwin and Regina, made the house a home for all seven of their children and for the many aunts, uncles and cousins that lived with us at different times. I attended private school for my primary education and later, I attended Christ the King College, a Catholic secondary school founded by Irish missionaries in Nigeria. The seed for spiritual life was planted by my parents, at home, with daily family morning prayer and evening prayer. I learned to pray and read the scriptures from my parents. 
In 2007, I immigrated to the United States and settled in DC with my relative. I held different jobs in the city at Target store, DC Department of Parks and Recreation and other internship positions. I earned a Bachelor of Science degree in Biology from The University of the District of Columbia in Spring 2013. 
In Fall 2013, I was admitted to the priestly formation program of the Archdiocese of Washington. I completed two years of pre-theology program at St. John Paul II seminary and was sent to Mount St. Mary's Seminary Emmitsburg for four years of formation and theological studies. I was ordained a priest of Jesus Christ on June 15, 2019, by Archbishop Wilton Gregory, and served as a parochial vicar at Holy Redeemer parish in Kensington, MD (2019-2022), and currently serving as a parochial vicar at St. Mary's Catholic Church, Landover Hills, MD. 
Africa has always been on my mind ever since I left home, for to me 'home is home'. I love the United States, but I also love my country Nigeria and Africa as a whole. I long to see Africa rise from the ashes of colonialism to self-actualization; to see an Africa that is food secure, economically robust, internally peaceful and safe, and globally relevant, not relying on foreign aid but aiding foreign nations to stand on their feet. With all its natural wonders and beauty, I long to see an Africa that is not just a tourist destination, but a place where people migrate to leave and settle down.
Ms. Arleen N. Peterson, Plymouth, IN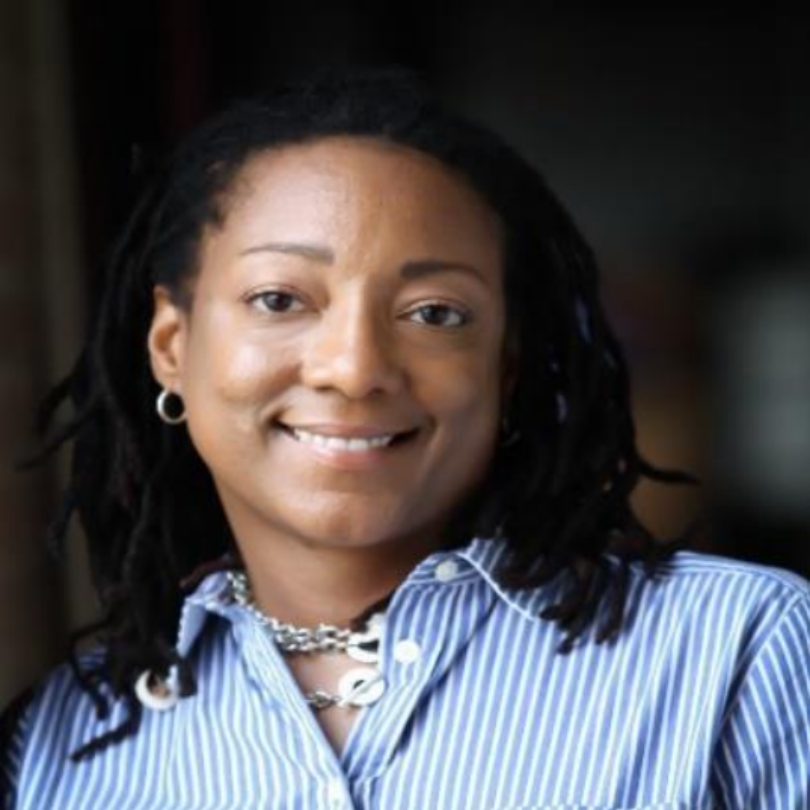 Arleen N Peterson is nonprofit leader and community organizer with over 20 years of experience. Arleen holds degrees from Indiana University (BA '94) and Ball State University (MA '97) and she is parenting her son, Myles Peterson. Arleen joined Delta Sigma Theta Sorority Incorporated in the Fall 1988. Arleen began her formal community organizing on Chicago's Southside community in 1997 with the Lugenia Burns Hope Center an affiliate of Centers for New Horizons. Arleen worked with various community leaders, including our 44th President, Barack Obama. The Hope Center implemented a leadership training program that used public advocacy and African-centered principals to organize public housing residents during the gentrification of the community.
In 2004 Arleen joined Voices for Illinois Children, a non-profit, non-partisan, statewide group of child advocates. Arleen spent most of her career with Communities In Schools National, spanning more than 12 years. Arleen trained and organized community stakeholders, developed and taught nonprofit Board of Directors in nonprofit management, and helped implement a national community engagement process. Arleen moved to Washington DC area to head up three national education initiatives: The Performance Learning Centers®, Diplomas Now™, and the Communities In Schools Race Equity Initiative. Arleen briefly served as the Vice President of Education Initiatives for the Simon Youth Foundation, she directed their $2 million-dollar yearly scholarship program and rebuilt the Simon Youth Academy at Opry Mills mall. Arleen returned to Northwest Indiana Region and joined the Food Bank of Northwest Indiana as the Executive Director to help fight hunger to food insecurity.
In her consulting practice, ENZI® Consulting Services, she completed two large consulting projects with Indiana Youth Institute and the Lilly Foundation Counseling Initiative and the University of Chicago Arts+Public Life 2018 Bloomberg Philanthropies public art challenge initiative: ArtHouse: A Social Kitchen. Arleen is passionate about uplifting vulnerable communities of color; and joined Sojourner Truth House in August 2017 as the Director of Operations, a ministry sponsored by the Poor Handmaids of Jesus Christ (PHJC) focused on homeless women and children. As PHJC created lay person leadership team, Arleen joined the Executive Service Directors, as Executive Director, Relational Services in February 2020.
The COVID-19 pandemic and the death of George Floyd changed our landscape and brought to the forefront another wave of social justice and structural racism, and it laid the foundation for the Arleen's expanded responsibilities. In her tenure, Arleen supports the Communications, Marketing, and Development and is completing her Executive Certificate in Religious Fundraising (ECRF) with the Lake Family Institute/Lilly School of Philanthropy. The capstone project is a hybrid training series for Board and Senior Managers in fundraising, philanthropy, and social justice leadership, called Invitation to Generosity©. Additionally, operates as a liaison with one of 10 ministries of PHJC, Lindenwood Conference & Retreat Center. Aligning the practices of retreat centers, Arleen sits on the Retreat Center Collaborative (RCC) Steering Committee. RCC is a collaboration network of retreat centers that support the power of place and space of retreat centers, cultivate the interplay of inner and outer work, and value a commitment to universal flourishing. RCC received its first collaborative grant called Retreat Centers Fostering Transformation for Racial Healing & Racial Equity; a $1 million dollar investment from the Kellogg Foundation. Arleen leads the PHJC core JEDI (justice, equity, diversity, and inclusion) team. Through JEDI, Arleen provides training, education, and speaker series for the Sisters, coworkers, and residents.