As an organization which strives to bring social justice to U.S.-Africa relations, we rely on people like you to take action to help transform policies made by Congress and the U.S. administration.
Sign up to receive our email alerts.
We always encourage our members to speak out against unjust policies by writing letters, holding forums, hosting fundraisers, and using your creativity! Check out the "Get Involved" and "Toolkits and Resources" sections of the site to find out more about what you can do to promote peace and justice in Africa. Click here to look up your representative.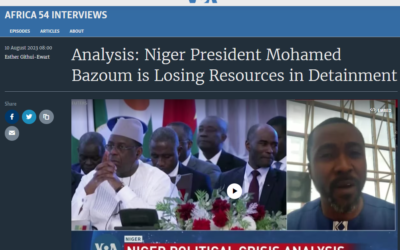 On August 10, 2023, Dr. Steven Nabieu Rogers, Africa Faith and Justice Network's Executive Director, was interviewed by Esther Githui-Ewart in "Analysis: Niger President Mohamed Bazoum is Losing Resources in Detainment" on Voice of America's Africa 54 program
read more