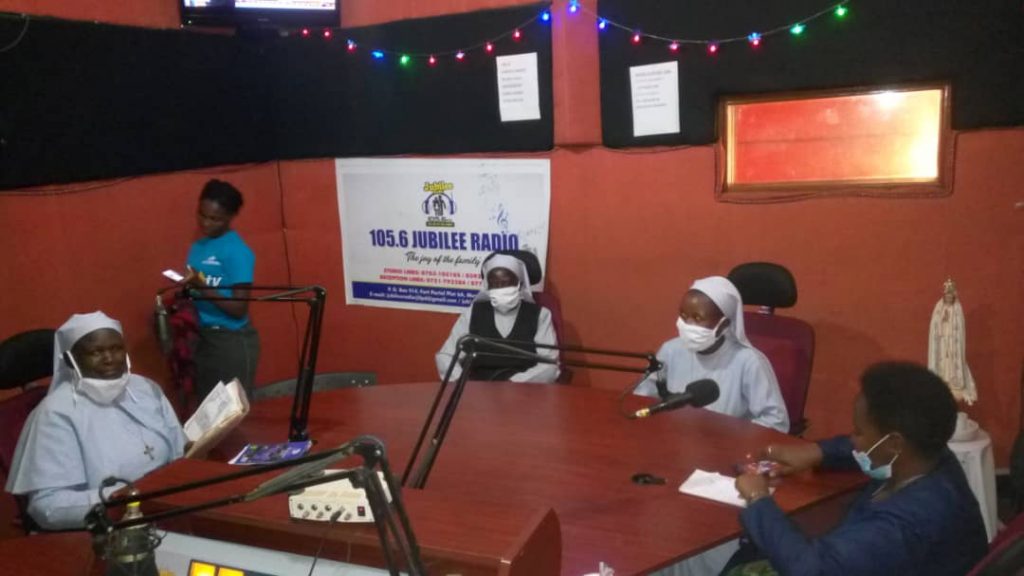 The Africa Faith and Justice Network Uganda Chapter of women religious have been talking about the domestic violence crisis in Uganda due to COVID-19 on Jubilee Radio. For one hour each week, the sisters talk in the local language about the issues surrounding domestic violence, educate the local population about the different forms of abuse (physical and mental) and the effect on innocent children, and share the resources that are available to tackling this important issue. During the program, people in the surrounding area are able to call in and talk about their experiences. Domestic violence is affecting everyone, women children and even men are suffering from abuse. The sisters provided listeners with encouragement noting that people need to take action now to stop domestic violence in their home and within the communities because the government is listening and is committed to stop this evil within the country. The sisters told people not to give up hope and many times, each person needs to look within their own heart and see how they are hurting one another and then commit to change for the common good.
The sisters appeared on Jubilee Radio 105.6 for one hour each Friday for four weeks.
Featured speakers:
Sr. Gaudensia Tumuhairwe, DST
Sr. Florence Kabasinguzi, DST
Sr. Margaret Kabanywezi, DST
Sr. Semerita Mbambu, CSC
Br. Andrew Ngabirano
To watch a video clip from their June 26, 2020 appearance on Jubilee Radio click here.
To listen to a short audio clip click here.