Governance is a sacred responsibility entrusted to those in leader-ship. Leaders must safeguard just governance that upholds the common good, guarantees peoples' rights, promotes subsidiarity, ensures the rule of law and equitable distribution of resources.
Failure to do so creates a culture of impunity, violations of human rights, lack of accountability, and corruption. African Bishops have identified corruption as Africa's major problem and describe it as a "cancer that stands in the way of Africa's development." AFJN works to empower communities in Africa to tackle these problems and engages the United States government and the public in addressing these issues.
---
Cameroon
Diocese of Bafoussam continues to be a model in the fight against corruption with our partnership. The awareness on the effects of corruption on individuals and society is ongoing. While COVID-19 delayed AFJN's work in schools, we were able to continue to fight corruption in the government system of issuing birth certificates. We have noticed a decline in the number of people asking for assistance in obtaining birth certificates which indicates that the previous obstacles have also been reduced.
Nineteen people who participated in the Babete Monestary workshop reported to have taken either individual or collective action. Fr. Elie Poundeu, a school Principal, reported that he refused to give bribes to the police twice and instead accepted the delays. He also took to take the fight against corruption to his school and plans to resume as soon conditions permit.
Mr. Kongne Isaac noted the fees posted at the police station for different infraction. When he was cited for for a vehicle infraction, instead of paying bribes, he went to pay the fine at the office, requesting a receipt. He was so proud that he refused to perpetuate corruption by not paying a bribe.
Ghana
AFJN is in communication with the Diocese of Wa on a campaign to promote just investments and against land grabbing. AFJN is working with Fr. John Kuupiel from the Justice and Peace Commission to hire Projects in African expert to research the current state of these issues in the diocese. This research will be used as evidence in the campaign.
Liberia
Plans to implement the project of "Promoting a Culture of Transparency and Accountability in Our Communities" was hampered by the restrictions on gathering due to COVID-19. However, AFJN in collaboration with the Bishop of Gbarnga and the implementation team have taken to the radio to keep the project going. Radio Paraclete which covers five counties is currently conducting programs on the subject.
---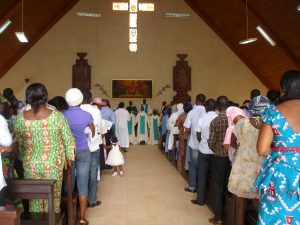 AFJN's Projects in Focus
AFJN has many projects going on at any given time and please click below to see some of the projects that we are focusing on at this time. Read More
---
Latest Stories