Executive Director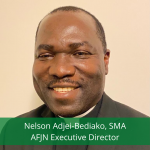 Rev. Fr. Nelson Adjei-Bediako, a member of the Society of African Missions (SMA), was appointed Executive Director to the Africa Faith and Justice Network in January 2021. From January 2018 – December 2020, Fr. Nelson was the Local Superior of the SMA in Takoma Park, MD and the Coordinator for the Justice, Peace, and Integrity of Creation for the SMA Fathers Province. When Fr. Nelson was the Pastor of St. Theresa Parish, Adamavo in Lomé, Togo (2014-2016), he established a micro-finance project for the parish community.
From January 2009 to October 2013, he was elected Superior (provincial) of the Gulf of Guinea District. As Superior, Fr. Nelson established a working relationship with the Symposium of the Episcopal Conferences of Africa and Madagascar along with the bishops in the Economic Community of West Africa Region. He also coordinated the activities of the SMA Fathers in Ghana, Ivory Coast, Liberia, Sierra Leone and Togo; served as liaison between the SMA Fathers and the Dioceses in the afore-mentioned countries. He also supervised the construction of the SMA Formation Centre of Agodeke in Lomé, Togo. Fr. Nelson was a Councilor for African District in Formation of the SMA Fathers, a unit responsible for all of Africa, from October 2007 to November 2008.
He was ordained Roman Catholic priest on July 18, 1998 and sent to the Northern part of Nigeria where he served God's family in St. James Parish, Gombe; St. Giles Parish, Gambar in Bauchi State; St. Peter Parish, Sabon Tasha, Kaduna and Holy Family Parish, Life Camp – Gwarimpa, Abuja. He has extensive pastorial experience – counseling, preaching, motiving, leadership, adminstrative and experience in community development.
Fr. Nelson also holds a Masters of Arts in International Relations an Conflict Resolution from American Public University System, Charles Town, WV (May 2018) and a Bachelors of Theology from the major seminary Saint Cœur de Marie in Anyama, in Ivory Coast (June 1998).