On the Calendar of the liturgy of the Catholic Church we remember and celebrates today February 8th Josephine Bakhita, a former slave who as a child was sold by her kidnappers to Arab slave traders. Josephine Bakhita was born in the village of Olgossa in the Darfur region of Sudan. As a slave she was sold many times including to the Italian Vice Consul, Callisto Legani in 1883 who later brought her to Italy. Like the migrants from Sub-Sahara Africa her journey to Italy took her through the Red Sea, and the Mediterranean.  She became a nun and was proclaimed a Saint by Pope John Paul II in 2000. You can learn about her amazing journey to freedom and life as a slave here.
Unfortunately, out of the public eye and far from camera crews, black people in Africa are still being enslaved, held against their will, auctioned like animals for all kinds of purposes including farming and sex slavery. Collectively, we must work to end this madness.
On December 4, 2017, Congresswoman Karen Bass introduced H.Res.644, a resolution condemning "slave auctions of migrants and refugees in Libya." The resolution basically calls for domestic and international cooperation to deal with the situation. As of February 2, 2018, the resolution has been cosponsored by 42 members of the Congress – three Republicans and 39 Democrats. Africa Faith & Justice Network (AFJN) encourages every American to call or write a letter to their members of Congress, asking them to cosponsor this resolution if they have not already done so.
Recently, various news reports show that migrants are being trafficked and auctioned as slave laborers. Following a late 2017 CNN report, the Libyan government was pressured to confront this issue; it has since started an investigation of the reported slave trade in the country. However, after the fall of the Gaddafi regime in 2011 and the political and power vacuum that followed, there is very little confidence that the Libyan government is capable to deal with the current slave trade of African immigrants.
According to a report by the Organization for Migration and the U.N Migration Agency, more than 150,000 individuals used Libya to cross the Mediterranean Sea within the last three years. Furthermore, the agency reported that more than 3,000 refugees died within the last four years while attempting to cross from Libya into Europe. Most of the people who attempt to reach Europe have fallen victims of criminal networks of smugglers and human traffickers. Many are given inaccurate information about the journey and the empty hopes that life is better in Europe. The U.N Human Rights Agency reported that there are more than 400,000 individuals who are trying to leave are detained in Libya facing robbery, rape and murder charges.
The government of Libya agreed to repatriate refugees that are abused in detention. However, there are no details on how the follow up mechanisms for repatriation could be effectively implemented.
The meeting of authorities from Africa and Europe in Ivory Coast at the end of 2017 and their agreement to send back refugees to their home country was considered a big step towards helping abused and desperate refugees in Libya. Yet, such a measure by itself does not address the root causes of and lasting solution towards ending human trafficking from sub-Saharan Africa to Libya and beyond.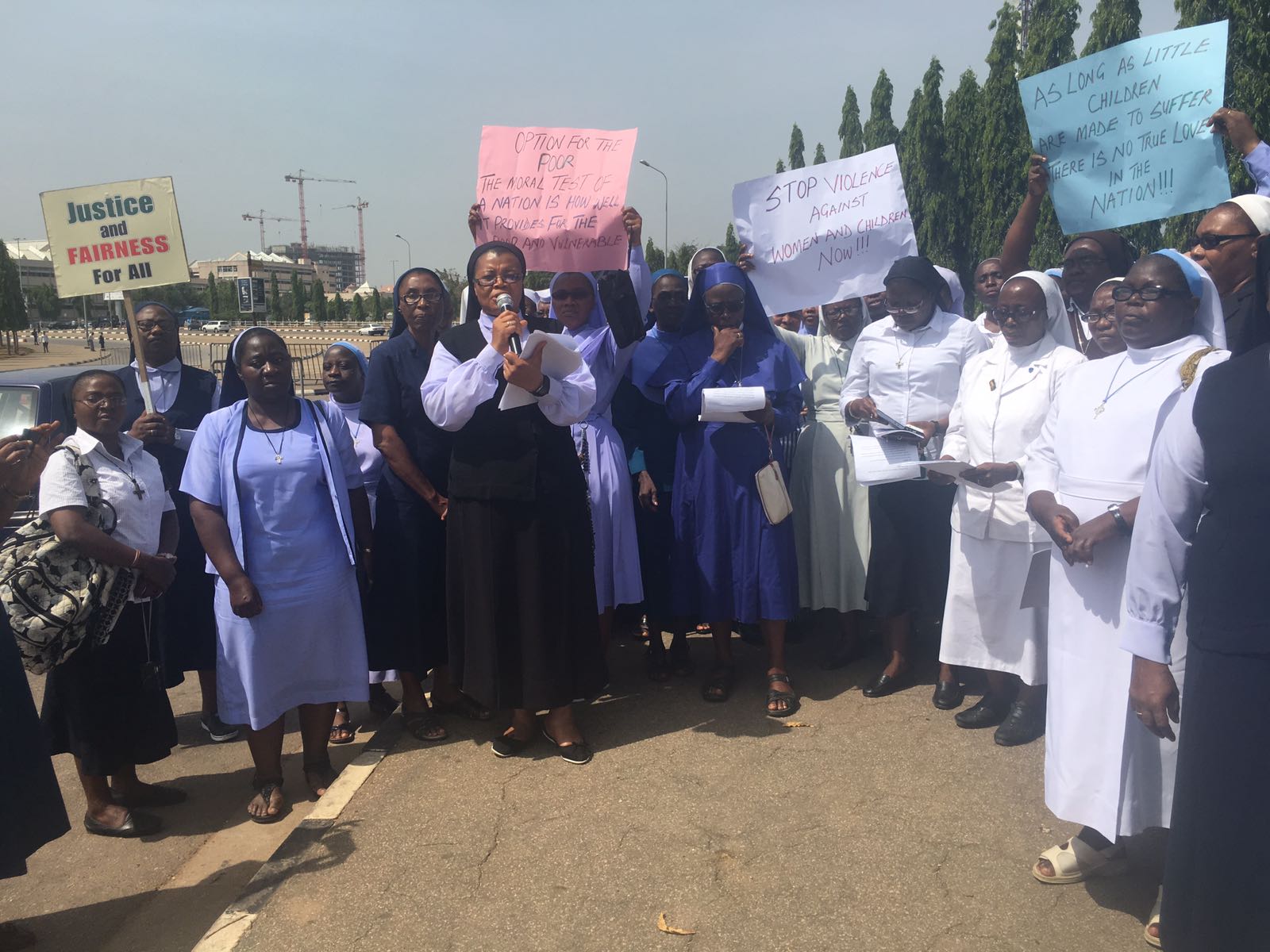 AFJN has been addressing the issue of human trafficking long before the CNN report which shone light to this issue. In November 2017, in partnership with its sister organization based in Nigeria, AFJN mobilized women, men, youth, traditional leaders, government officials and law enforcement in Edo State in Nigeria to confront human trafficking in their communities. This program, led by Catholic nuns, is teaching people about the dangers of domestic and international human trafficking and sex exploitation, rape, domestic violence and community complacence in the face of abuse of women and girls.
As a result, an active anti-trafficking taskforce was established by the state governor and a very robust anti-trafficking law introduced in Edo state house of assembly with the hope that, this law if passed, will help end the network of traffickers in the state and in Nigeria as a whole.  One of the Sisters' achievements has been the identification and confrontation of a feared and "untouchable" brothel owner of a well known sex trafficking site in Ujagba in Esan West in Edo State. His case is still with the Edo state police.
Further, the sisters' work in April 2017 with the chief of Ogwa village in Esan West and his community led to a very decisive decree from the chief and his governing team calling the people for a total isolation of another brothel owner in this village, prohibiting buying or selling or conduct any transactions with him and his family. A relative of the chief broke the order and was severely punished, which strengthened the measure more. Finally, the brothel owner was forced to close down his brothel and flee the village. Aware that this is a pervasive problem that continues to affect communities, the Sisters are using these cases as a model for tackling human trafficking at the local level.
By Etsegenet Kedir, Ntama Bahati Jacques and edited by Lauren Rogers