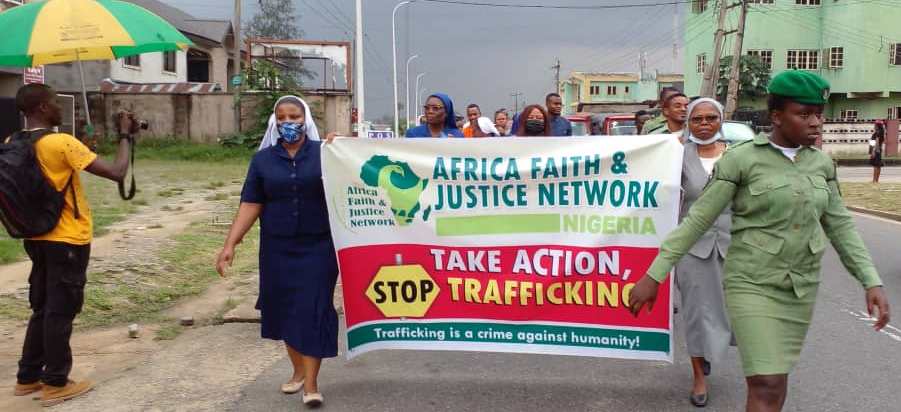 Africa Faith and Justice Network (AFJN) has taken the challenge of crying out against human trafficking in its recent activity in Uyo, Akwa Ibom State. Amidst the insecurity in the country, AFJN members in Nigeria took ten days in July to hold advocacy and awareness programs on human trafficking in order to sensitize the people of Akwa-Ibom State on its menace. This is because human trafficking is eating deep into the fabric of our society and everyone is called to speak out against it.
The research AFJN conducted shows that Akwa-Ibom state is one of the states in Nigeria highly impacted by human trafficking. It is on this basis that AFJN-N took it upon herself to engage the stakeholders in the state: the traditional chiefs, Immigration, Civil Defense, Correctional Service, Police, Youth, Knights, Women, the National Drug Law Enforcement Agency (NDLEA), and Custom Services, to bring to their awareness the extent of damages human trafficking is doing in the State.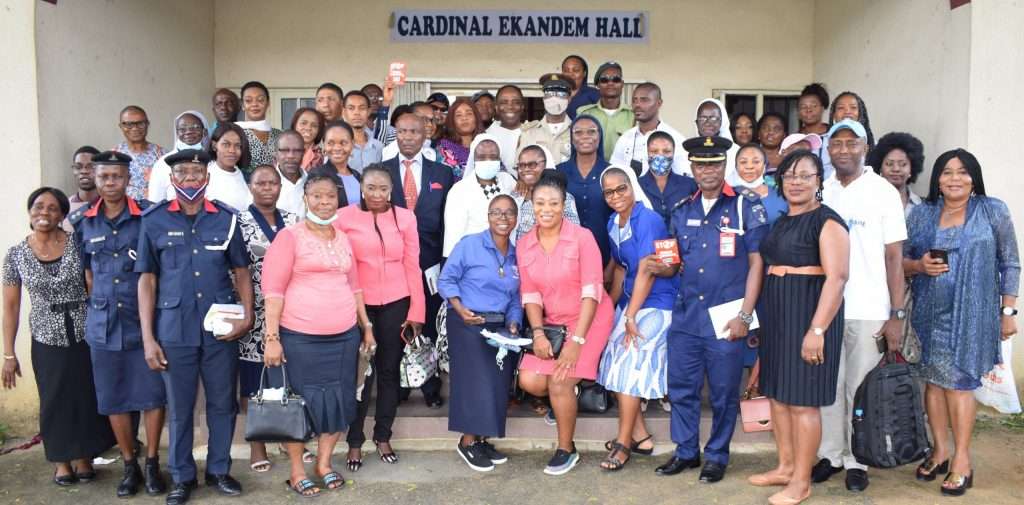 During our engagements with the numerous stakeholders in Uyo, the capital of Akwa-Ibom State, Rev. Fr. Aneidi Okure, OP, the former Executive Director of AFJN spoke extensively on how many of our youth are lured into human trafficking because many youth are eager to leave the shores of Nigeria hoping for a better life abroad. He observed that the perpetrators of this crime are everywhere looking for any slightest opportunity to strike. This is what traffickers tell them and they believe, and want to leave by all means. Many youth have died during their exodus to Italy, Libya, Malysia, Lebanon for good jobs and better offer, they were cajoled to believe. Many are still suffering in the hands of their perpetrators after false hope that they were promised. Worst still, many of our young girls are taken for sexual exploit, domestic workers, drug trafficking and other unspeakable crimes. Sr. Eucharia madueke, the Coordinator of AFJN Women Empowerment Project Washington DC urged the numerous stakeholders that attended one of the advocacy event to join in the fight against human trafficking by learning how to spot the signs as well as sharing the knowledge about human trafficking in their various places.
Talking to the students in one of the high schools we visited during the campaign, Barrister Amaka Ilodigwe, a member of AFJN-N admonished the youth to be purposeful in life, not looking for an easy way in making money. Most youth have lost their lives in trying to make quick money. She advised them to take their studies seriously and be focused. A meaningful and purposeful live give fulfillment, she said.
AFJN-N activities were not limited to the city. We also went to the hinterland to meet with the people at the grassroots who are often the potential victims of human trafficking. We visited about six local communities, and three high schools to empower and sensitize, and to bring to the people's awareness on the tricks of the human traffickers. They are people very close to us, uncles, aunts, brothers, relatives and friends. One will not suspect that they are traffickers because one feels safe with the people they know, WRONG. Often, perpetrators convince their potential victims of fictious life outside Nigeria and raise their hopes so high that nothing someone else tells them will dissuade them from the grips of the traffickers. Sometimes, they come as helpers telling parents or guardians of their victims that they want to train their children and make their lives better. Based on trust and better life for their children the parents will willingly give out their children not knowing what the future holds for them.
Human traffickers work so hard to buy the trust of their victims before they strike. Once trust is established nothing can dissuade their victims from their grips. Many of the people expressed their joy for the good news because a lot of young people have gone outside the country and the State nothing has been heard of them because those who took them have not allowed them to make contact with their families.
AFJN-N also has been working to rehabilitate Hope, a victim of human trafficking to get back on her feet. During our engagements, Miss Hope shared her touching story of surviving human trafficking. To ensure her economic stability and prevent her from being re-trafficked, AFJN helped Hope set up her sewing business. Receiving the empowerment from AFJN, Hope gave an incredibly inspiring speech touching on her thankfulness and her resolve to get back on her feet. She said "It is totally unbelievable. This beautiful act of kindliness is definitely going to change not only my life but many more lives around me".
by Sr. Theresa Anyabuike