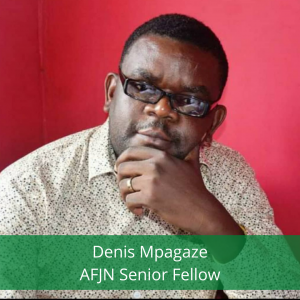 The Africa Faith and Justice Network (AFJN) is excited to have Denis Mpagaze, teacher, researcher, author, journalist, consultant and the voice of the of the voiceless marginalized communities in Tanzania, as our newest AFJN Senior Fellow. Denis has over 12 years of teaching experience at St. Augustine University of Tanzania, a university owned by Tanzania Catholic Bishops. Apart from teaching he manages Radio Jogoo a community radio station (93.0 Mhz in Tanzania). It is the leading community radio station in Songea and Ruvuma region at-large in reporting issues affecting the marginalized community!
Over the last few years, Denis has been working with the sisters and youth in Tanzania on the Women's Empowerment Project's workshops among other projects. He has produced several documentaries and articles about the injustices taking place in Tanzania on land grabbing, human trafficking, and gender-based violence. Several of these videos are featured on AFJN's YouTube page and other YouTube Channels (just type his name DENIS MPAGAZE in a YouTube search). Please join AFJN in thanking Denis for his contributions to AFJN-Tanzania and welcome him to the AFJN family.
Watch the video "Youth for Change: A one day conference" Songea, Tanzania hosted by AFJN (Feb 18, 2021) https://youtu.be/yxSQeJwgt6Q.
He also assisted in gathering video clips for the Africa Liberation Day 2021 – Africa Remember Who You Are video https://youtu.be/ntGLZs9GzU4