January 2023
Dr. Steven Nabieu Rogers' article "Will 2023 Be The Defining Moment for Sustaining Democracy in Africa" was featured in the "maiden edition" of Sierra Eye Digital Magazine that was posted on twitter @sierraeyesalone on January 29, 2023 on page 22.
Click here to read the pdf.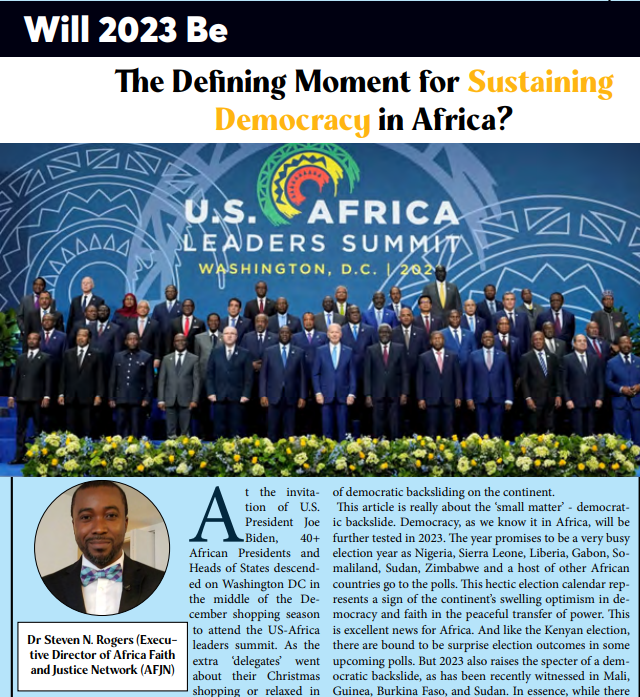 Will 2023 Be The Defining Moment for Sustaining Democracy in Africa
By: Dr. Steven Nabieu Rogers
At the invitation of U.S. President Joe Biden, 40+ African Presidents and Heads of States descended on Washington DC in the middle of the December shopping season to attend the US-Africa leaders summit. As the extra 'delegates' went about their Christmas shopping or relaxed in posh hotel lobbies to watch the World Cup, US government officials and their African counterparts formed new partnerships and associated funding for health, infrastructure, climate adaptation, democratic elections and governance. The outcome of the 3-day summit was a $55 billion package of US assistance to Africa over three years. The obvious big elephant in the room was China and Russia's influence in Africa. Then there was also the small matter of the fear of democratic backsliding on the continent.
This article is really about the 'small matter' – democratic backslide. Democracy, as we know it in Africa, will be further tested in 2023. The year promises to be a very busy election year as Nigeria, Sierra Leone, Liberia, Gabon, Somaliland, Sudan, Zimbabwe and a host of other African countries go to the polls. This hectic election calendar represents a sign of the continent's swelling optimism in democracy and faith in the peaceful transfer of power. This is excellent news for Africa. And like the Kenyan election, there are bound to be surprise election outcomes in some upcoming polls. But 2023 also raises the specter of a democratic backslide, as has been recently witnessed in Mali, Guinea, Burkina Faso, and Sudan. In essence, while there has been a steady rise in democratically elected governments on the continent, these governments, however, have failed to deliver on key promises. As a result, some of the continent's brightest democratic spots have seen an alarming upsurge in inequality, poverty, unemployment, and insecurity, thus providing a textbook breeding ground for susceptibility to political instability. To underscore the criticality of this development, this minor detail was not lost on the Biden administration's invitation list. In addition to committing millions of dollars to counter democratic backsliding, at least four African countries that recently had military coups (Sudan, Guinea, Mali, and Burkina Faso) were not invited to the summit.
What does this mean for 2023? It means good governance will be key to the survival of democracy as we know it. With Covid19 now in hindsight, many elected governments will have to find new narratives to justify their legitimacy beyond winning free and fair elections should they continually fail to deliver on their election promises. For instance, Nigeria's high youth unemployment and Sierra Leone's raging drug crisis have already provided some prelude to the serious security challenges ahead of 2023. They will be among the many thorny issues that the governments of these countries would have to contend with to survive. It means African leaders will have to look for answers within their borders rather than outside. Because while China and Russia have no sustainable interest in Africa, there is very little to suggest that the West (including the United States) can help bring real change to the continent. Like China and Russia, they have very narrow vested interests. The Ukrainian President's visit that immediately followed the summit demonstrates this. Ukraine's president Zelenski boarded a US Air Force plane to Washington and left with $45 billion after having a face-to-face talk with Biden and making a speech to a joint session of Congress. Despite nearly a year of planning, none of that was afforded to any African leaders. Ukraine has roughly 39 million people compared to Africa's 1.3 billion people. But all the African leaders walked away with were photo-ops and funding yet to be tabled before Congress for approval. I firmly believe that America's strategic interest in Africa is far less ambitious in comparison to Africa's real economic potential. But that economic potential will only be harnessed through good governance. Only good governance will lift people out of poverty and sustain democracy in Africa as we know it because wealth and economic development will never come from abroad. And 2023 will be a defining moment.