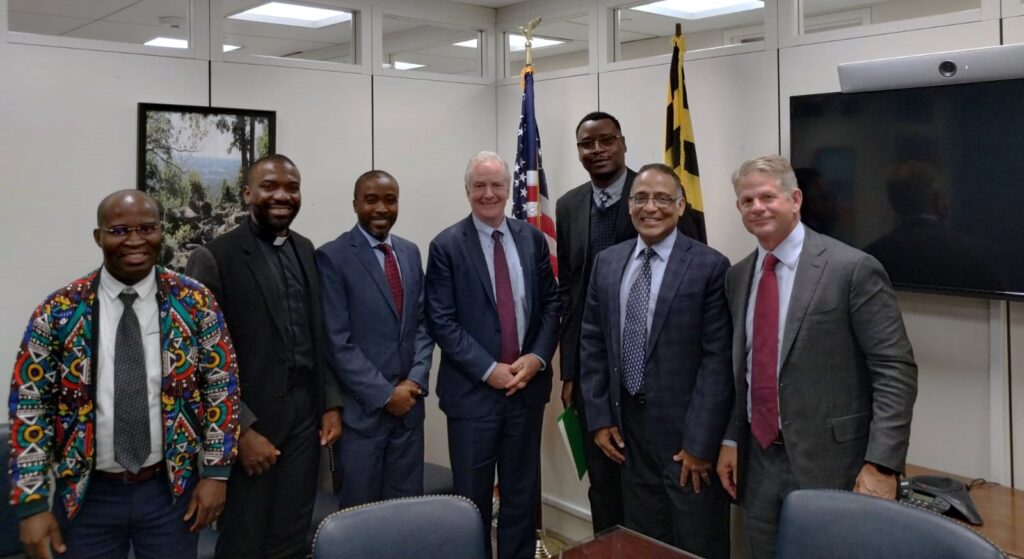 In a meeting with US Senator Chris Van Hollen (D-Md) on Thursday, November 2, the Africa Faith and Justice Network (AFJN) urged the Biden administration to implement The White House Global Water Security Action Plan that was published by the administration in 2022. Conveying the message to the Senator at his Capitol Hill office, we urged that investing in water security in Sub-Saharan Africa can restore the U.S. position as the leading partner of Africa and while enhancing the US national security interests. 
The White House Global Water Security Action Plan, recognizes water security as "… essential to the United States' international efforts" in achieving global peace and security. This comprehensive plan addresses pressing global challenges related to water insecurity, conflict, and access, particularly in Sub-Saharan Africa. It aims to globally assist those who lack access to water, while also taking proactive measures to prevent potential conflicts arising from water scarcity. Additionally, it emphasizes the need to address the interplay between climate change and water access.
The past two US-Africa Leaders' summits have produced little tangible progress. Therefore, in light of ongoing calls from African leaders for authentic and mutually beneficial relationships with international partners, AFJN views the White House Global Water Security Plan as one of the most promising programs that is capable of positively impacting the people of Africa while achieving US foreign policy objectives. AFJN therefore calls upon the Biden Administration to proactively execute the plan laid out by the administration with the support of the entire US Congress.
The World Health Organization estimates that one in three people lack sufficient access to water in sub-saharan Africa. Climate change-induced shifts in temperature and precipitation patterns exacerbate droughts and localized flooding, further straining water resources. The pivotal role of water in conflicts and subsequent migration patterns cannot be understated. The availability and equitable distribution of water resources can be a driver of peace or instability, underscoring the importance of proactive water security measures.
To avert water-related crises exacerbated by climate change and population growth, AFJN believes that financial investments in water infrastructure will be imperative. These investments are vital for securing sustainable access to water for Africa. Therefore, prioritizing this investment in Sub-Saharan Africa will bolster US national security interest by reestablishing its status as a key geopolitical player on the African continent, while countering the predatory expansion of China and Russia on the continent.
AFJN therefore looks forward to further engagements with the executive and legislative branches of the US government to implement this plan, which embodies a holistic approach to addressing water-related challenges. We believe that if well executed, it has the potential to become the second most referenced US project in Africa after the bipartisan U.S. President's Emergency Plan for AIDS Relief (PEPFAR), which has been supported by all presidential administrations since its initiation by President George W. Bush in 2003.