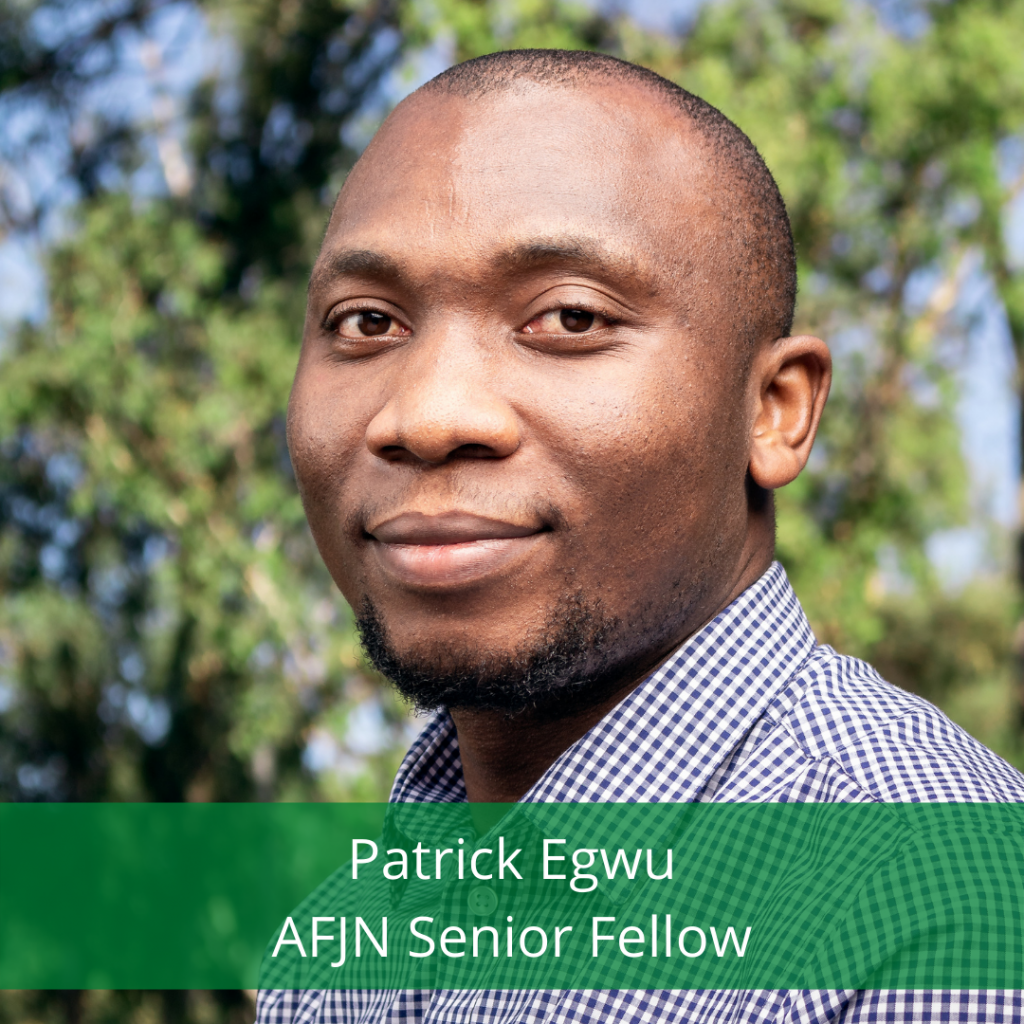 Patrick Egwu is an award-winning freelance investigative journalist based in Johannesburg, South Africa where he is currently an Open Society Foundation fellow on Investigative Reporting at the University of the Witwatersrand. Patrick has covered the work of AFJN on the continent of Africa, with a special focus on AFJN's Women's Empowerment Project.
Patrick has more than five years of journalism experience covering conflict, migration, global health, climate change, corruption and other development issues in Nigeria and sub-Saharan Africa which have been published by publications such as Foreign Policy, NPR, African Arguments, Daily Maverick, World Politics Review Ozy, and elsewhere.
His work on religion, social justice and interfaith dialogue on the continent have been published by National Catholic Reporter, Global Sisters Report, Christian Century, Catholic World Report, America Magazine, Sojourners and elsewhere.
Patrick won the 2021 ICFJ Global Health Crisis Reporting award. He was also part of journalists at the GSR recently honoured by the Associated Church Press and the Religion Communicators Council with an Award of Merit for in-depth coverage of the Covid-19 pandemic.
In 2020 he won the DeRose-Hinkhouse Memorial Awards in the United States for reporting on migration and human trafficking; the 2019 Hostwriter Story Prize in Berlin, Germany for a cross-border collaborative reporting on female genital mutilation in Nigeria, Kenya and Senegal; and; the Hostwriter Pitch Prize in Warsaw, Poland in 2018. In 2017 and 2016 respectively, he was announced winner of the Ameenah Gurib-Fakim award for Science and Technology in Ethiopia and the 2016 Haller Prize for Development Journalism in Kenya for reporting on victims of Boko Haram insurgency in northeast Nigeria.
Patrick has an honours degree from the University of Witwatersrand, master's and bachelor's degree in Mass Communication from University of Nigeria in 2019 and 2014 respectively and is currently studying for a PhD at the same institution.