The Africa Faith and Justice Network's Sr. Eucharia Madueke, SNDdeN spoke on a panel about her advocacy training work coordinating the AFJN Women Empowerment Project in Africa. The multi-day event, which took place from October 26-28, 2022 in Nairobi, Kenya, brought hundreds of Catholic sisters from around the globe together to share and reflect on their experiences, challenges, and triumphs. The event was sponsored by Conrad N. Hilton Foundation who funded over 250 organizations.
There were different panel discussions and activities including an exhibit hall featuring posters from the different projects and programs. AFJN also submitted a poster that featured key highlights that spanned the multi-year Women Empowerment Project.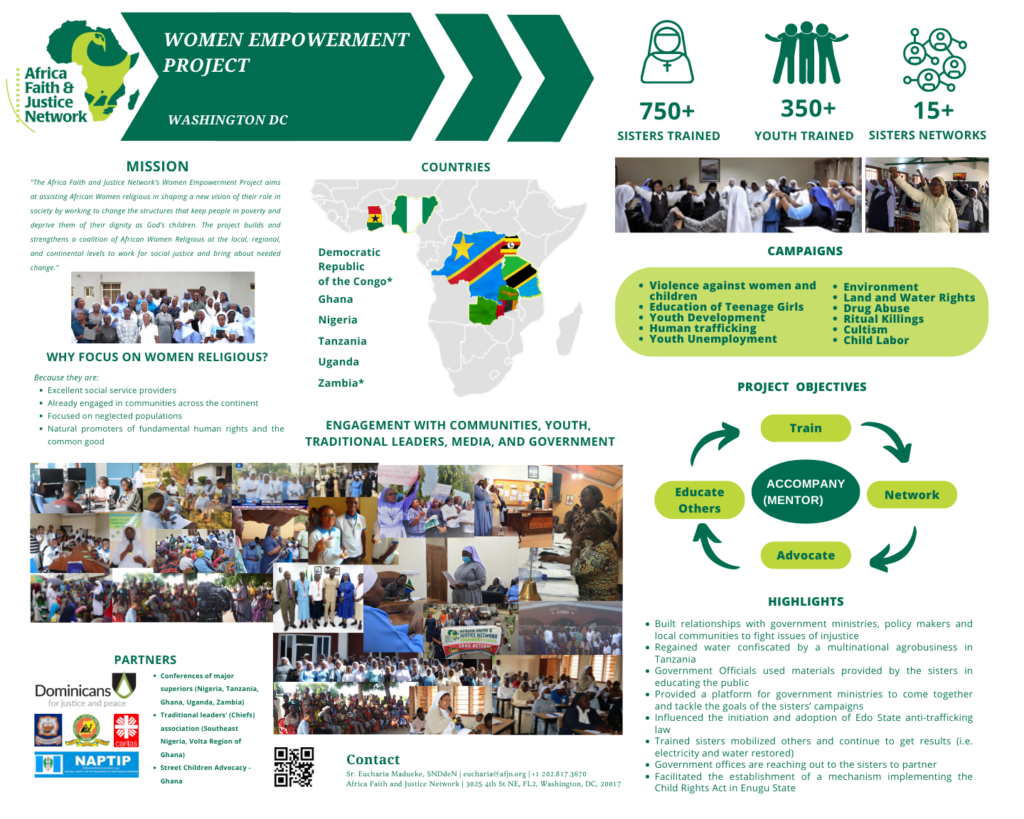 Sr. Eucharia shared her experience working in advocacy training and human development during the panel discussion. She emphasized the challenges of advocacy in relation to influencing policy. She demonstrated, through her work with AFJN's Women Empowerment Project, how advocacy is a long process that requires numerous efforts and persistence. It begins with a change in one's perception, one's state of mind. Sr. Eucharia said "I was really trying to push for sisters, understanding that doing advocacy is not an easy job. You can't do advocacy without opening your eyes and seeing the policy and knowing about the policy." She continued, "sometimes we blame the victim rather than looking at the structure" causing the issue by using the example of girl high school dropouts and addressing the underlying causes.. She said there was much discussion during the question and answer portion of the event. For some sisters' this brought to light a new perspective on how to view advocacy and societal change. These events are very important for opening discussions and furthering understanding of these complex topics and social injustices.
Sr. Eucharia said the event was a success, and provided other sisters a network to connect with. As a speaker and a listener herself, Sr. Eucharia touched on how spiritual it was to listen and talk to all the sisters who attended the event. The event was also a way grantees learned about the new reporting metrics that the foundation will be using for future grants.
This event was also covered in Global Sisters Report where Sr. Eucharia was quoted. Read the full article here. https://www.globalsistersreport.org/news/events-affirms-how-networking-and-collaboration-can-support-catholic-sisters