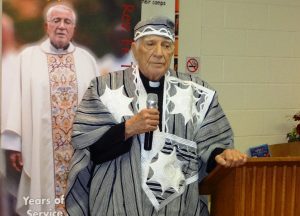 Celebrating a life well lived, the Africa Faith & Justice Network (AFJN) announces the transition to eternal life of Society of African Missions (SMA) Father Thomas E. (Ted) Hayden, founding member and past Executive Director of AFJN.
Born in the United States on January 31, 1932 in Milton, Massachusetts, Ted Hayden became a permanent member of the Society of African Missions on June 6, 1957, and was ordained to the Priesthood on February 3, 1958. He enjoyed studies and eventually achieved a Ph.D. in anthropology from Howard University in Washington, D.C., focusing on certain African cultural matters.
Fr. Hayden launched into a very active and engaged pastoral life, serving in various leadership positions and as an educator in Liberia, Sierra Leone, Kenya, the United States, and within his religious community.
Most of Fr. Hayden's ministry engagements during his years in Africa were in Liberia. He served as the Director of Catholic Relief Services in Liberia from 1959-63; as pastor in the Diocese of Cape Palmas Liberia, from 1963-69; assistant administrator for the Archdiocese of Monrovia from 1995-96 and for the Diocese of Cape Palmas from 1999-2001; and Pastor of St. Anthony Parish, Diocese of Cape Palmas from 2004-2013.
Elsewhere in West Africa, he was a lecturer and Catholic Chaplain at the University of Sierra Leone, Freetown.
In Kenya, he was Superior of the SMA African Foundation in Kenya from 1991-1995, and lecturer at the Catholic University of Eastern Africa, Nairobi from 1990-94.
In the United States, Fr. Hayden served as Vice Provincial for the SMA American Province from 1969-1973. He also served as Vice President and Academic Dean, and Professor of Anthropology and Pastoral Theology at the Maryknoll School of Theology in New York from 1973-1978. He was Provincial Superior of the SMA American Province from 1978-83. Fr. Hayden headed the SMA Fathers Department of Social Concerns from 1983-1986.
It was during this period that he and members of a few other missionary congregations became concerned about the way decisions in the U.S. and elsewhere affected the lives of Africans far away. They came to the idea of establishing a network to educate and advocate for Africa in the U.S. Thus was born the Africa Faith and Justice Network, in 1983. Fr. Hayden served as AFJN's Second Executive Director from 1987-89.
Also, within his community, he served as Associate Director of the Office of Justice and Peace, later as the National Director of Development for the American Province from 1996-99, and as Vice Provincial of the American Province from 2001-2004.  In 2013 Fr. Hayden retired to his community in Tenafly NJ where he lived until his death.
Fr. Hayden was extraordinarily dedicated to improving the lives of people in Liberia, Kenya, and elsewhere in Africa. He devoted his great energies to that purpose throughout his life. He helped many individuals achieve schooling at all levels, while also trying to use Catholic Social Teaching to influence public policies toward Africa on a large scale through AFJN and other means.
On March 29 & 30, 2014, AFJN Executive Director Aniedi Okure and Policy Analyst Jacques Bahati were at the SMA community in Tenafly, NJ to present a seminar on "Seeking Peace and Forgiveness: Conflict Resolution and Reconciliation in Africa." While they were there, the Liberian Community in the U.S. held a grand celebration and reception to show appreciation for Fr. Hayden's many years of priestly ministry on behalf of Africans. The photo above shows Fr. Ted standing before his life-size picture, thanking the Liberian community and other well-wishers shortly after the Liberian community vested him with unique African attire on March 29, 2014.
The Africa Faith & Justice Network Board of Directors, Staff and AFJN Members extend appreciation to the SMA community for their support of the ministry of AFJN especially through Fr. Ted Hayden. May God's eternal light shine upon him; may his good works accompany him to God's Glory.