On March 2, 2011, on Capitol Hill,  in the House of the Representatives, the African Great Lakes Advocacy Coalition (Africa Faith and Justice Network,Friends of the Congo, Foreign Policy in Focus, African Great Lakes Action Network, Foundation for Freedom and Democracy in Rwanda, Congo Global Action Coalition, International Humanitarian Law Institute of St. Paul, Mobilization for Peace and Justice in Congo) held a congressional briefing for Members of the Senate and House and their staffs in order to raise the profile of the UN Mapping Report exercise released on October 1, 2010.
Representative Ann Marie Buerkle of the 25th Congressional District of New York (pictured, second from left) came and briefly addressed the audience in these terms:  "I am on three committees, but I am on Foreign Affairs and I am on the Subcommittee on Africa and Global health issues.  So, these issues are important to me.  I am a registered nurse.  I am very interested in health issues and global health.  So, I look forward to meeting with you. I gave you my contact information so that we can sit down, go over the issues and have a hearing and hopefully get some of the issues brushed out and see what we can do for you."
See pictures from the briefing


The goal was to rally U.S. support for justice for the crimes committed during the war against Congo from 1996 to 2003 by the Rwandan, Ugandan, and Burundian armies, their Congolese collaborators and others named in the report.  The briefing  offered some solid background witness and research that would help Congress take a  clear stance on this issue particularly to support the UN Mapping Report recommendation to set up an in-depth investigation to determine whether the targeted and massive killing of Congolese, Burundian, and Rwandan Hutu were a genocide.   
Over 70 people attended this event, including staffers from House offices, press, representatives of the embassies of Congo and Rwanda, Congolese Senator Nkoy Mafuta Bernadette who happened to be visiting the US, documentary producers, bloggers and many activists for peace in the Great Lakes Region on Africa.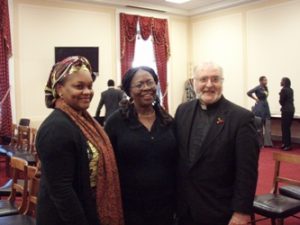 .
 The African Great Lakes Advocacy Coalition asks the US government to do the following:
1. Hold hearings on the UN Mapping Exercise Report
2. Call on President Obama to instruct Ambassador Susan Rice to make the UN Mapping Exercise Report a priority and address its recommendations.
3. Investigate whether or not the Leahy Amendment is being violated in the Great Lakes Region. The Leahy Amendment, first introduced by Sen. Patrick Leahy (D-VT) as an amendment to the 1997 Foreign Operations Appropriations Act, prohibits U.S. security assistance to foreign military or security units "against whom exist credible allegations of gross violations of human rights."
4. Cease military support of Congo's neighbors implicated in the report of having committed mass atrocities, crimes against humanity, war crimes and possibly genocide. Public Law 109-456 Section 105 authorizes the Secretary of State to withhold aid from Congo's neighbors who have been destabilizing the country. We recommend that the Obama Administration fully implement PL 109-456.
5. Support efforts to establish an international tribunal as requested by over 200 Congolese Non-Government Organizations (NGOs).
The panel
The coalition also reminded the audience that in support of the UN mapping report, 220 Congolese NGOs had the following recommendations:
1. Establish new general policies of justice that would build on the creation of several complementary mechanisms, judicial and non-judicial.
2. Establish accountability measures in public institutions that would result in the removal from its management people such as General John Bosco Tanganda and General Numbi accused of serious violations or attacks against human rights defenders so they could face prosecution.
3. Institute appropriate mechanisms to ensure justice and shed light on crimes and massive violations of human rights denounced in the report, including:
    The creation of special courts or special chambers within the Congolese courts,
    The creation of a new Truth and Reconciliation Commission,
    The establishment of compensation programs for victims, and
    The true and thorough reforms of the entire security sector (army, police and Justice).
4. A regional reconciliation mechanism of the peoples of the Great Lakes region, which will accelerate the free movement of people in the region, facilitate cross-border trade, strengthen judicial cooperation, and demilitarize public services at the borders.
5. Support a regional accountability and reconciliation mechanism to address issues of impunity
Africa Faith and Justice Network urges you to ask your Representatives and Senators to join Congresswoman Ann Marie Buerkle in calling for a hearing on this important issue.  Click here to learn how to contact your elected officials.
Listen to the briefing:  Part I (the volume for the first 4 minutes of this segment is very low, but afterward it is good.)  Part II (Questions and answers).   
Read the UN Mapping report and more here.  Want to know what President kagame  thinks about the report,  click here
Pictured below: Nita Evele, DRC Senator Nkoy Mafuta Bernadette, Fr. Rocco Puopolo